What are the Safest Ways to Complete Your Live Scan during the Covid-19 Pandemic?
Share This Article
Despite sustained efforts such as the necessary social distancing measures being implemented, the spread of COVID-19 continues to spread rapidly throughout the country.
This pandemic has affected governmental agencies, workers, private companies, and residents alike.
Due to the Coronavirus, many businesses witnessed significant losses while others had to shut down completely, which lead to an increase in unemployment rates as well as a worldwide economic impact through financial complications, stock market shifts, slashed interest rates in banks, and more.   
In the United States, BBC reported the proportion of unemployed people has hit %10.4, according to the International Monetary Fund (IMF); this signals an end to a decade of expansion for one of the world's largest economies. During these tough times, we all need to work on using the best practices to ensure the safety of ourselves and others.
Since a live scan background check is a vital part of the hiring and employment process, we're going to discuss what is the safest way to get a live scan done.
Why does getting a live scan matter for employment?
Almost all jobs/ positions require you to get a background check and the most efficient and fastest way to do that is through a live scan service. Positions in the healthcare, law enforcement, education, and financial industries like a doctor, teacher, police officer, or even a private company employee need to get a background check done before working.
A background check is the only way an employer can verify the employee's info like their qualifications, education degrees, etc. It also helps the employer ensure a safe work environment and avoid liability issues in the future. By hiring the right person the first time around, you don't need to go through rehiring or spending money on the wrong fit.
It is also needed for certain certifications and licenses like a real estate license, driver's license, firearm permit, and more.
Currently, running a background check is specifically important in critical healthcare and medical positions to ensure a quick hiring process and to avoid the degradation of these services.
How to get a live scan done safely?

In order to stay safe, you need to avoid interactions with others as much as possible and ensure you're taking the right precautions for you and your employees' safety.
There are two ways to get a live scan done safely, through an online enrollment service (minimum level of contact!) or a mobile service. Social Distancing Live Scan: With this online enrollment service, you can get most of the process done online and only need to go to a live scan location to provide your fingerprints, with as little physical contact as possible.
You can request a live scan service online through these simple steps:
Fill out the request for live scan form (submission & contribution agency info, applicant info, employer info, etc.)
Pay online (you no longer need to pay at the location!)
Receive a token to represent the live scan technician
Print a copy of your Request for Live Scan form
Schedule an appointment with a live scan location
Give the technician the form and a photo ID
Get live scanned!
Mobile Live Scan service: If you're a business looking for an on-site live scan service to ensure the safety of your employees by not having them go to various live scan locations, you're in the right place.
Offering flexible scheduling, a live scan technician will come out to your workplace and fingerprint your employees at one time. All fingerprints are sent within 24 hours to the government for a background check so you don't need to worry about getting the results late.
Click here to learn more about this service and to schedule your mobile live scan.
What happens when you get to the live scan location?
The California Department of Justice is implementing a new method to capture fingerprints called "FLATS on APPS" which promotes less physical contact between the applicant and the live scan technician.
This option allows the live scan device to submit flat fingerprints instead of rolled fingerprints, which would have induced more contact with the technician.
Conclusion:
By using these two live scan methods, you'll avoid the risks of getting this disease and ensure your safety as best as possible. Be sure to wear your mask and practice social distancing when you go to the live scan location or at the mobile live scan site, the rest is easy!
Please visit us at CertifixLiveScan.com to find your nearest location, or give us a call at 1-800-710-1934, or email us at support@certifixlivescan.com.

Read more about: What are the Best Practices for Live Scan Providers During the COVID-19 Pandemic?
Image Credit:
Background vector created by freepik – www.freepik.com
Get your Live Scan Fingerprinting Near You
Live Scan & ink Card Fingerprinting
Schedule an Appointment Now!
We Offer a Nationwide Network of 1200+ Fingerprint Enrollment Centers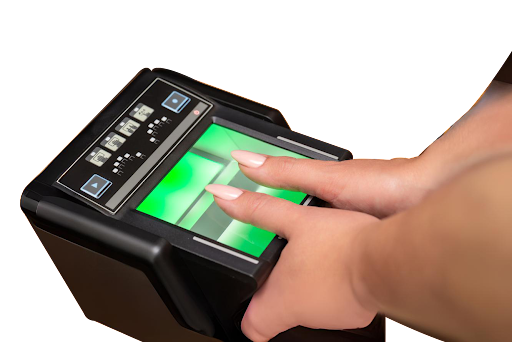 Frequently Asked Questions
How does Live Scan work?

The requesting agency provides the applicant with a Request For Live Scan Service Form. 
The applicant then takes the form along with proper identification to the nearest live scan location to get fingerprinted via live scan.  
This is then sent to the DOJ, FBI or both to be processed.

Is live scan the same as fingerprinting?

Live scan is fingerprinting done electronically performed for an agency or an individual to receive a background check from the DOJ and FBI.

Who can I contact to pay an invoice?

Please contact our billing department by phone at 1-800-710-1934 ext 4 or by email at Billing@CertifixLiveScan.com

How can I find my criminal background for personal use?

You can print out a Record Review Live Scan Form, take it to the nearest live scan location and the results would be sent to your address.
DOJ fee is $25, plus rolling fee at the location.
This can be used if you need to visit someone in prison.
View All Questions
Enjoy this article? Don't forget to share.