5 Things You Need to Know About Pre-Employment Background Checks
Share This Article
Running a background check on a potential candidate is a vital step in the hiring process for any sized company. A background check is a thorough investigation into someone's criminal record and their past to ensure you're hiring qualified and trustworthy employees. It is a common problem that many applicants provide false information or exaggerate on their resumes; a recent survey has shown that 53% of applicants provide wrong information on their job applicants.
There are multiple types of background checks including criminal history search, employment verification, drug and alcohol screening, and more. In this article we cover five points you need to know about pre-employment background checks.
What is a Pre-Employment Background Check?
The pre-employment screening process is done on potential job candidates you're most serious about. It consists of multiple stages and can vary depending on the job position you're filling. For example, if you're hiring an accountant you'd want to check their credit and criminal history; if you're hiring a driver, you'd want to check their motor vehicle and driving record.
A background check can help verify the applicant's personal information like their identity, social security number, passport, etc. Background checks also include criminal history searches and verification services like education and employment verification. Employment background screening federal and state laws are set by the Fair Credit Reporting Act (FCRA), Equal Employment Opportunity Commission (EEOC), and the Federal Trade Commission (FTA). Running a background can be mandatory for many professions, especially for employees working with children or the elderly, like doctors, caregivers, teachers, etc.
Additional checks may include a social media check to get a better idea of the nature of this person and assessment or evaluation tests to evaluate their skills and if they'd be fit for the job.
Why do Employers Need to Conduct Background Checks on New Hires?
Ensuring a safe work environment: In order to avoid theft, violence, or fraud, in the workplace, employers need to avoid hiring someone with a dangerous criminal history that can be a potential threat to their business and employees.
Filter the bad apples: Mention in the job post or during the application process that there will be background checks, this way, applicants will be transparent instead of trying to hide anything and only serious applicants will apply for the job.
Avoid negligent retention and reduce liability: Failing to pick the right employees from the start can lead to theft, lawsuits, legal fees, and a huge loss for your business. For example, if you hire someone with a criminal history for a financial position, how can you trust them with customers' banking and personal information? You will be putting your business at potential financial risk. Negligent hiring is a serious liability that can harm your business and employees, so don't ignore vital employment background checks.
Don't waste your time and money by rushing: Many small businesses think background checks are unnecessary and would rather speed through the hiring process. Eventually, sooner or later they find out their new hire isn't as qualified as they thought or learn about their criminal past. So instead of saving money, they end up having to waste more money and time on another hiring process.
What Are the Components of a Background Check?
There are many components to a background check, so we've put together a helpful list of the most widely used background checks. Unfortunately, there isn't one package that fits all applicants, so you need to set a background check policy that works for your business needs and the job position.
Criminal History Record: The most common way to check someone's criminal history is by getting a live scan. A live scan is an inkless, electronic method of capturing fingerprints that are then transmitted to a state repository like the DOJ or the FBI for a higher level of clearance. A live scan reveals crimes related to child abuse, elder abuse, sex offenders, or convictions like theft, assault, drug crimes, etc. within the last 7 years.
Employment Verification: This requires HR to reach out to the applicant's previous employers to verify if the applicant worked there, job titles, dates of employment, pay history, and so on. You can conduct reference checks with their managers or colleagues to confirm qualifications, character traits, and if they'd recommend them for the position.
Social Media Screening: This is a way to understand the applicant more, their humor, interests, and overall character. This isn't as important as the other checks but it's a good way to learn if this person would fit with your work environment and team.
Education Verification: This verification is to confirm an applicant's degrees and certificates and this can be checked with the University or institutions directly. Many companies ask for a diploma or a sealed transcript from the school but others can take it a step further and contact the institution to confirm degrees, dates of attendance, majors, etc.
Credit History Check: This should be conducted with applicants in financial positions like an accountant or CFO; you can get a detailed credit report from major credit reporting agencies like TransUnion, Equifax, or Experian. This report includes current or past debts, loans, credit history, account balances, etc.
Drug and Alcohol Screening: Hiring a school teacher or caretaker with a history of drug abuse can be risky. Hire responsibly and have a consistent drug & alcohol testing policy set in the workplace.
Motor Vehicle and Driving Records: You can request a report from the local DMV which includes driving accidents, violations, tickets, or convictions for driving under the influence. You can request this report in person or online.
How Long Does it Take to Run a Background Check?
This varies depending on the type of background check you are running, if you are working with a screening company, you can ask them how long it will take to get the results. For a live scan background check, you should get the results back within 72 hours but if the FBI check is needed as well, it could take longer.
Furthermore, it can take a couple of days to reach out to previous employers and educational institutes. There may also be manual procedures that are needed like going to the court for files, not everything would be available online.
How Much Does a Background Check Cost?
If you're using a screening company, be sure to get quotes from other agencies and compare prices before you settle on a company. A live scan costs from $60 – $80, depending on the checks you need (DOJ, FBI, or both). As for driving records, you can get a report from the DMV for as little as $5. Drug and alcohol tests performed at a laboratory can cost $50 – $80. The rest of the checks you can do for free but will need to put some time and effort into it!
Please visit us at CertifixLiveScan.com to find your nearest location, or give us a call at (800) 710-1934, or email us at support@certifixlivescan.com.
Read more about: What are the Safest Ways to Complete Your Live Scan during the Covid-19 Pandemic?
Image Credit: Business photo created by yanalya – www.freepik.com
Get your Live Scan Fingerprinting Near You
Live Scan & ink Card Fingerprinting
Schedule an Appointment Now!
We Offer a Nationwide Network of 1200+ Fingerprint Enrollment Centers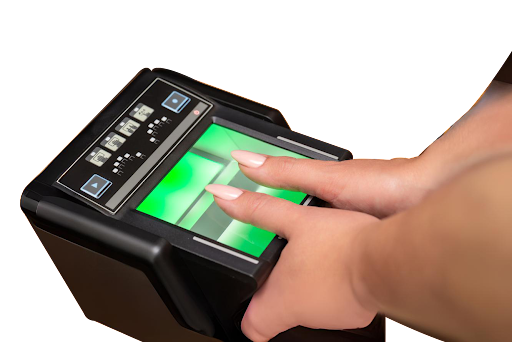 Frequently Asked Questions
How far back does a live scan background check go?

The live scan results will contain your entire criminal history. 

This will not include expungements.

Who can I contact to check the status of my live scan?

You can check the status of your live scan on the Department of Justice Applicant Status Check website: https://applicantstatus.doj.ca.gov/checkstatus which will let you know if it is still processing or if it has been completed. You will need your date of birth and ATI number. The ATI number should be located at the bottom of the live scan form you received after you did live scan.

What if the agency didn't get the FBI results or background check?

1. Ask if they submit a California live scan. 

2. If yes, they have to contact the Department of Justice. 

3. They can check on the status on the DOJ Hotline (916) 227-4557 and their applicant agency can send an email to "appagencyquestions@doj.ca.gov" for more information. They should not include any personal information such as date of birth or social security number.  They need to include the ORI #, ATI # and the first and last name. 

4. There isn't a separate email contact for the FBI for these transactions.

How can I find my criminal background for personal use?

You can print out a Record Review Live Scan Form, take it to the nearest live scan location and the results would be sent to your address. 

DOJ fee is $25, plus rolling fee at location. 

This can be used if you need to visit someone in prison. Read More
View All Questions
Enjoy this article? Don't forget to share.