Where to Get Your Fingerprints Taken in Your Area for Different Purposes
Share This Article
If you are looking for a place to get your fingerprints taken, this article is for you. There are many places where you can do this, and we will list some of them below.
Why You Need Fingerprints Taken
There are different purposes for live scan fingerprinting. For instance, several employers require you to provide your biometric details for job hunting criminal background checks. Similarly, to get enrolled for a driver's license, you also need to provide your fingerprint for identification purposes.
Often, you may need your fingerprint to be in several places, and it may be quite uncomfortable to be in all these places. A good solution presents itself in the fingerprint card.
A fingerprint card is a paper card with which you can imprint or impress your fingerprints. Otherwise called the ten-print card, it often comes with ten spaces for each finger and will typically contain your name, address, and each of these fingerprints.
You need to visit an enrollment center and have officials take your prints to get this fingerprinting done. All you need to do is visit the website of a fingerprinting service provider and search for the "Fingerprinting near me" section on their website.
You will need to fill out and submit a form with your personal information at the fingerprinting center.
Fingerprints and the Process of Getting Them Done
The actual fingerprinting process is straightforward. Read on to see the steps below:
The service provider offers you an inkless pad to press your fingerprint against it to make an impression on your fingers.
With the ink already on your fingertips, you press your fingertip against the fingerprint card to create a print.
You repeat this process for each finger.
Where to get fingerprinted near me?
Getting your fingerprints done is a crucial process for securing your identity, and the reasons for getting them are numerous. First, fingerprinting is an integral part of the application process for many jobs, and it can be used to identify people in the event of a crime.
Then, you can use your prints to establish eligibility for certain government benefits, such as food stamps or Medicaid.
Where to Get Your live scan Fingerprinting Done and Why You Need Them
There are several places to get your live scan fingerprinting,one of the best is Certifix Live Scan. To select a fingerprint service, there are some factors to consider.
For one, your provider of choice must enjoy high levels of credibility and expertise in the business of fingerprinting and related services. Having existed for several years is a big plus. Getting an inexperienced firm to handle your sensitive information can prove dangerous.
Furthermore, you need a company that commands a positive reputation and top ratings from previous users. Then, your provider must possess requisite resources in the form of workforce and equipment.
Certifix Live Scan provides all of the above features and more.
What's more, you don't need to travel long distances to get your fingerprinting done, as it has over 500 locations nationwide, with several outlets in California and Florida. Above all, the company is a live scan fingerprinting provider certified by DOJ, FBI, and the FDLE.

The second one is to determine your Live Scan location from a list of places to get fingerprinted near you, then contact them. You should inquire about the hours of operation and if an appointment is needed different locations may have different requirements in that regard. Also ask which payment methods are accepted at that location.

Read more about: Streamline Your Fingerprinting Process with Certifix Live Scan at UPS stores.
3 Places Near You to Get Fingerprints Taken
You can get your fingerprinting done at a variety of places. However, the three most common places near you where you can a background check are:
County Superior Court or Sheriff's Office.
State Superior Court or Sheriff's Office.
A Third-Party live scan fingerprinting service (an excellent example is at Certifix Live Scan).
We will explain each of these better below:
1) County Superior Court or Sheriff's Office
You can start your search by visiting your local superior court. The clerk or any law enforcement agency would be able to give you a criminal background check from that county. In most cases, infractions will also be archived and accessible.
Note that the office clerk may conduct the search for you for a fee.
Furthermore, this search for criminals will only be limited to the county where the court is located. If any criminal activity occurs in another county, you won't find it during the search in this particular county.
2) State Superior Court or Sheriff's Office
For the best chance at finding your background information, it's important to search all counties that show the potential of having your records. One good resource for this criminal search is the State Bureau of Investigation.
The State Bureau of Investigation can search for criminal histories in your state. However, note that not all public safety departments, police forces, and courts contribute criminal record information to a centralized.
This search may give you a more comprehensive database of criminals, but the state database often has missing information or new records that have not been entered correctly. As such, it may not be the most optimal option.
3) A Third-Party live scan fingerprinting service
A Third-Party Live Scan Fingerprinting Service helps capture fingerprints digitally. They then match these fingerprints against the information stored in the database of the law enforcement agencies. Private companies typically provide this third-party live scan fingerprinting service to businesses and organizations.
The businesses contracting this third-party live scan fingerprinting service mainly use it for background checks and employment verification.
With this, they can check the fingerprints of applicants for employment in sensitive roles against the FBI's criminal history records and those of state and local law enforcement agencies.
Searching for a person's criminal background is not a difficult task, as there are plenty of means to do so, ranging from basic illegal background searches on the internet to checking government records. However, to get a full picture of a person's records as an employer, you need more than these as these government-based searches and sources may be lacking in some areas.
Instead, running background checks through third-party agencies can provide an accurate search. When prospecting for these records, you want to ensure the information you get is comprehensive and authentic.
These third-party background check services understand the limited depth and reliability of court and state criminal records searches and have stepped in to provide more.
In addition to these, getting the right background screening partner will offer surplus benefits such as
Finally, the right background screening partner like certifixlivescan.com will offer additional reliability, privacy, and security benefits.

How Much Does It Cost To Get A Set of Fingerprints Done Near Me?
The cost of fingerprinting services depends on the company you choose. So it is essential to know what they charge before you commit. Nonetheless, the average price of accessing fingerprinting services should rolling fee typically ranges, you can see How much does a Live Scan cost here.

these are in addition to the applicable government fees depending on the level of service required by your agency.
These fees may range depending on the type of agency requesting your live scan.
How to Get Copy of Your Own a live scan fingerprinted
The process of getting a copy of your own live scan fingerprinting is somewhat uncomplicated. All you need to do is contact the company where you did the live scan fingerprinting.
You will need to provide them with your name, date of birth, and the last four digits of your Social Security Number (SSN). With this, they should send you a copy of your live scan fingerprinting for free.
To get a live scan fingerprinting result, you need to register for an account on the FBI's Next Generation Identification (NGI) System. The registration process is pretty clear and can be done online by filling out a form. Once your application is processed, you will be notified by email and provided with a temporary password. You will also need to provide your fingerprints to complete the registration process.
Final Thoughts
Fingerprints are the easiest way to identify an individual. They are unique to each person and have helped solve many crimes. Also, it helps potential employers carry out the necessary checks before hiring you. Hence, the need for you to enroll for one.
The Fingerprinting process is not complicated, and it can be done in a few minutes. While there are different centers and locations where you can carry out your fingerprinting, the best places are in third-party centers such as Certifix Live Scan.
The combination of speed, convenience, safety, and security you get with Certifix is unrivaled.

You Might Also Like:
Get your Live Scan Fingerprinting Near You
Live Scan & ink Card Fingerprinting
Schedule an Appointment Now!
We Offer a Nationwide Network of 1200+ Fingerprint Enrollment Centers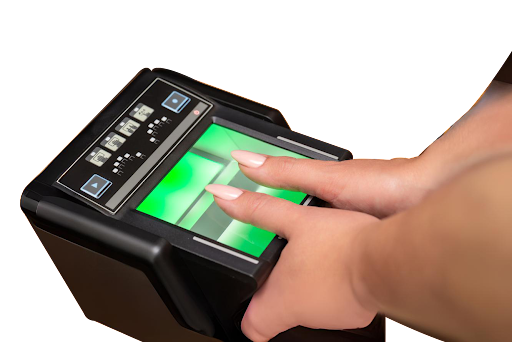 Frequently Asked Questions
How does Live Scan work?

The requesting agency provides the applicant with a Request For Live Scan Service Form.  

The applicant then takes the form along with proper identification to the nearest live scan location to get fingerprinted via live scan.  

This is then sent to the DOJ, FBI or both to be processed. 

The DOJ then sends the results to the requesting agency only.

What do I need to get a live scan?

The requesting agency should provide you with a "request for live scan service form". You will need to fill that out, you will also need to bring a primary form of I.D. such as a Driver's license or a CA ID

 

How much does live scan cost?

The fingerprint rolling fee typically ranges between $25-35, these are in addition to the applicable government fees depending on the level of service required by your agency. 

The typical fees are Department of Justice (DOJ) $32 and FBI $17. 

These fees may range depending on the type of agency requesting your live scan.

If I get a live scan done, can I get a copy of my fingerprints?

The only way to obtain a copy of your live scan results is to ask for a copy from your requesting agency. It is at their discretion to release that information. If you would like to obtain a copy of your personal background check, you can visit https://oag.ca.gov/fingerprints/record-review for more information about how that process works.
View All Questions
Enjoy this article? Don't forget to share.