Do Small Businesses Need to Run Background Checks?
Share This Article
It is wrongly misunderstood that only large businesses require employment background checks to avoid trouble while smaller businesses think it's a waste. However, it has been proven that smaller businesses might just need employment background checks more than large corporations. Why is it necessary?
A small business has a limited number of employees, this means employees interact closely with each other and in many cases; some wear various hats. For example, the content writer can also be doing the copywriting and social media for the business, sound familiar? So each employee has their share of responsibility, they need to be someone you can trust with the workload and critical matters to help your business grow. And that is why the hiring process for small businesses is very important and must be handled efficiently.
Running an employment background check before hiring is reassurance that you made the right choice and can trust this person, so why aren't small businesses or startups doing it regularly? Because they have a tight budget and think it's time consuming and too expensive.
Here's why small businesses need to run background checks:
There are multiple types of employment background checks like license verification, criminal record, education or employment checks, and more. A criminal background check is the most common of them; it is done by small and large businesses. Some professions require background checks to ensure safety on the job. For example, if you're hiring a driver, you'll need to check his driving history or if you're hiring a teacher, you should have a childcare and criminal background check done. Here's why it's important to get this stage done before hiring anyone.
Only serious candidates will apply for the job position. When you set a straight-forward policy for your business. It will be known to your employees and any potential candidates that there is a thorough pre-screening process before hiring, this will automatically filter the applicants.

Verify Employment & Educational info. You can hire someone just by believing they're a "good fit" or seem trustworthy, or, you can confirm it yourself. Running a background check will verify the potential applicant has the degrees they're claiming and will verify the employment history on their resume. People tend to put false info or exaggerate on their resumes for job applications. You need to make sure your hire has the qualities you need for this position and isn't lying about their past just to get the job.

Avoid negligent hiring and lawsuits. Hiring an applicant that harms your business or your employees will not only ruin your reputation but might even bring your business to an end. For example, if you hire an accountant with a bad credit history but you failed to acquire this, you or your clients can be at risk of theft. Also, hiring someone with a criminal violent record or drug abuse can put your employees in danger. When you fail to protect your employees or clients, this leads to lawsuits.

Create a safe workplace. By running efficient background checks, you're reassuring a safe environment for your employees where everyone is safe and can be trusted. This will portray a positive image for your business.

Save your time and money. You may think that you're saving money when you hire based on a few interviews and a gut feeling but you're actually doing the opposite. If you find out that your new hire is unqualified or lied on his resume, you will have to go through the hiring process all over again consuming your time and resources. Doing things right the first time around guarantees you hire an honest employee from the start.

How to get a background check done?
1.DIY:
Some employers take matters into their own hands and think that searching for the applicant online and going over their social media and LinkedIn profile is good enough. However, you can't tell that this person has a criminal record with a good Google search nor can you guarantee they're qualified.
For a better approach, you can set a policy that applicants must have professional references and learn more about them and their work ethics through their previous employers. This will give you a small idea of who you're hiring but isn't the best way to do this.
2.Hire a Screening or Search Agency:
There are specialists out there that can conduct searches and get background checks done. However, you will need the written approval of the applicant before doing anything and it will cost you.
As stated before, there are many types of background checks; you can choose specific checks that are important according to the position. The benefit to this is that you just pay for the clearance you need; however, some agencies charge higher than others. The downside would be there is no guarantee that these results are 100% accurate. You must be very careful when choosing an agency in regards to pricing and efficiency.
3.Get a Live Scan Fingerprinting:
A live scan fingerprinting is electronically capturing the applicant's fingerprints and then having them sent to the DOJ (Department of Justice) or the FBI to run a thorough background check. The procedure is simple and quick, it will only take 10 minutes. The applicant walks into a live scan location, gets fingerprinted and then the transaction is sent to the government parties for processing. You should get the results within 3 – 7 days.
This is probably the most advanced and accurate way of getting a background check done. A basic live scan includes a criminal background check (both within the state and nationwide) in addition to other needed clearances like CACI or Firearms. However, the FCRA (Fair Credit Reporting Act) set the rules for what appears in a live scan report. It can vary from state to state or from one company to another. You can check out Certifix Live Scan to learn more about how to get a live scan done or to find the closest location to you.
Conclusion:
The U.S Small Business Administration recommends getting background checks done to avoid making the wrong hire and putting your business in a tight spot. Taking the necessary precautions to guarantee the safety of your employees and clients is the best step you can take for your business's development.
Please visit us at CertifixLiveScan.com to find your nearest location, or give us a call at 1-800-710-1934, or email us at support@certifixlivescan.com.

Read more about:
Enhancing Identity Verification: The Role of Reliable Identification Processes.

What are the Safest Ways to Complete Your Live Scan during the Covid-19 Pandemic?
You Might Also Like:
Image credit Business photo created by pressfoto – www.freepik.com
Get your Live Scan Fingerprinting Near You
Live Scan & ink Card Fingerprinting
Schedule an Appointment Now!
We Offer a Nationwide Network of 1200+ Fingerprint Enrollment Centers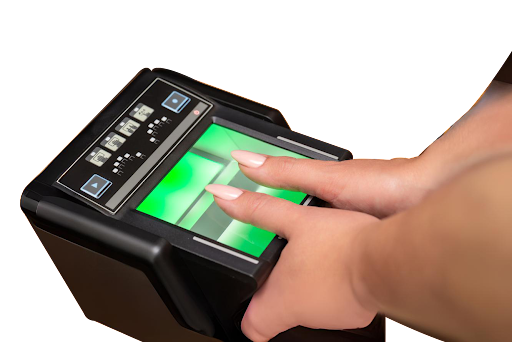 Frequently Asked Questions
Where do I get the Live Scan request form?

The agency that is requesting the Live Scan must provide you with the Request For Live Scan Service form. Your requesting agency should have their information entered for you on the "contributing agency information" section of the form. Live scan locations will not have the live scan request form for you on site.

Who can we provide live scan submissions for?

We can process transmissions to most request agencies in California with a few exceptions: TSA Pre-Check, HAZMAT, TWIC, FINRA, and Military Purposes. If applicants to any of these agencies require ink fingerprints on FD-258s, any of our locations that offer ink can provide that service.

How do I become a Live Scan provider?

You can get started by applying to become a Private Service Provider or Live Scan operator with the Department of Justice. f you are interested in becoming a Private Service Provider or Live Scan Operator, please e-mail your request to livescansupport@doj.ca.gov
It is important to note the owner/contact person and all fingerprint rollers must be certified to roll fingerprints prior to approval of your application. You can visit the Department of Justice Fingerprint Roller Certification page to find basic information as well as the application to get certified.

How much is a mobile live scan?

The pricing for a mobile event depends on the number of applicants. Please see our pricing table.
View All Questions
Enjoy this article? Don't forget to share.