6 Reasons Why We Love Live Scan
Share This Article
Livescan is a modern way of taking fingerprints to perform background check needed for getting a job, joining a nonprofit organization, or even issuing a license. Fingerprint technicians capture fingerprints digitally through special scanners and the images are instantly transferred without using snail mail.
#1 Faster
You must've figured that out already. Livescan is super fast. Images are digitally transferred from live scan centers (where they are originally captured) to the DOJ (California's Department of Justice) for verification. Once images are verified, the DOJ digitally transfers the results to the requesting agency (an employer or a license issuer).
Results are delivered in only 2 days. Ink cards are different; they are delivered through snail mail which is a complete waste of time.
#2 Better Quality
What is great about the live scan is that there is no ink. No fingerprints will be harmed during capturing fingerprints. Ink is messy. It smears the cards and leaves the applicants with stains on their fingers. Digital scanning of fingerprints is way easier. Fingerprints are scanned and not covered with ink.
Also, the technicians can take as many images as they like to ensure quality and if the image quality is not up to the DOJ standards, the live scan software will instantly reject it. So, live scan offers high-quality fingerprint images with no smudging or smearing that can be found in ink cards.
#3 Popular
Livescan is becoming very popular nowadays. The fact that it is easy and the results come out quickly encourages everyone to request it as an essential requirement for joining any agency. Instead of waiting for 2 months for traditional ink card results, your employer or requesting agency get your results in just 2 days.
If you are clear, you will get your dream job right away. Because it's easy, fast, neat, and offers high-quality images, almost all requesting agencies ask candidates to get a live scan. So, there's a huge chance the next time you're asked to present a background check it's going to be live scan.
#4 Trusted
A lot of agencies request it because of its importance in ensuring a safe workplace and society. No matter who you want to hire or give license to, you should make sure they can be trusted and live scan offers that in the fastest way possible. Of all the background check methods out there, the live scan is the best.
When you go for a live scan, your fingerprints will be compared to the criminal records database of California (DOJ background check) and/or criminal records database of the U.S. (FBI background check). These databases contain records collected from courts and police stations so they give a clear idea of a person's misconducts, felonies, or crimes. Other background checks that do not cross fingerprint images to official criminal records databases do not give the whole picture.
#5 Available
With live scan, locations are available everywhere across the state of California, so it's not hard to find a location where you can get fingerprinted. You can find the nearest location to get the live scan by clicking here.
#6 Mobile
When you don't feel like going to get a live scan, live scan comes to you. No matter who you are, you can call and a technician will come to have you or your employees fingerprinted wherever you are. Requesting a mobile live scan is very easy.
So here is why we love live scan. Unlike traditional ink cards, the live scan is modern, easy, fast and completely awesome.
Please visit us at CertifixLiveScan.com to find your nearest location, or give us a call at 1-800-710-1934, or email us at support@certifixlivescan.com.
Read more about: What are the Safest Ways to Complete Your Live Scan during the Covid-19 Pandemic?
Image by Gordon Johnson from Pixabay
Get your Live Scan Fingerprinting Near You
Live Scan & ink Card Fingerprinting
Schedule an Appointment Now!
We Offer a Nationwide Network of 1200+ Fingerprint Enrollment Centers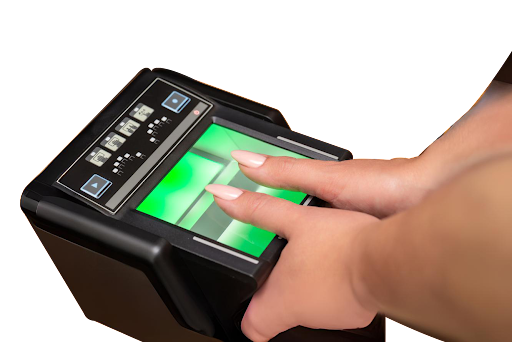 Frequently Asked Questions
How does Live Scan work?

The requesting agency provides the applicant with a Request For Live Scan Service Form.  

The applicant then takes the form along with proper identification to the nearest live scan location to get fingerprinted via live scan.  

This is then sent to the DOJ, FBI or both to be processed. 

The DOJ then sends the results to the requesting agency only.

Is live scan the same as fingerprinting?

Live scan is fingerprinting done electronically performed for an agency or an individual to receive a background check from the DOJ and FBI.

How much does live scan cost?

The fingerprint rolling fee typically ranges between $25-35, these are in addition to the applicable government fees depending on the level of service required by your agency. 

The typical fees are Department of Justice (DOJ) $32 and FBI $17. 

These fees may range depending on the type of agency requesting your live scan.

Where do I get the Live Scan request form?

The agency that is requesting the Live Scan must provide you with the Request For Live Scan Service form. Your requesting agency should have their information entered for you on the "contributing agency information" section of the form. Live scan locations will not have the live scan request form for you on site.

 

What do I need to get a live scan?

The requesting agency should provide you with a "request for live scan service form". You will need to fill that out, you will also need to bring a primary form of I.D. such as a Driver's license or a CA ID

 
View All Questions
Enjoy this article? Don't forget to share.