What is the Best Background Check Available?
Share This Article
Are you starting a business anytime soon, or expanding your already thriving business? Well, you cannot do that without an important asset, more important than finances, equipment, and company premises.
Human beings are your number one asset for success and without them, your business is nothing. Of course, they have to be talented, and smart, but are they trustworthy? Do you trust them with your money and company premises? And most importantly, do you trust them with your clients and customers. If not, then there are measures to take as soon as you can to make sure you are choosing the right employees: live scan background checks.
Untrustworthy employees can harm your business, so a good start for you is to request background checks before hiring new employees.
#1 No Identity Theft or Mistakes
Background screening platforms that use names to conduct background checks are not trustworthy. They only check with names or other information like social security numbers With names, people can have similar names, change their names, adopt a new identity or steal someone else's.
You want the background check to be reliable and you cannot do that by just checking the names or personal information of your candidates. You need a live scan. Livescan is a background check that uses biometric identifiers (fingerprints). It is a system that digitally captures fingerprints. Fingerprints leave no room for mistakes or errors.
People can fake their names to adopt new identities, but they cannot escape the uniqueness of their fingerprints.
Read more about: How to ِApply for and Receive Live Scan Background Checks in California
#2 Official Fingerprint Criminal Databases
The best thing about the live scan is that fingerprint images captured are crossed against official fingerprint criminal databases (DOJ, FBI, or both). This ensures that results are accurate. California's Department of Justice, also known as the DOJ, has records from police stations, court records, etc. They have a large database of criminal activity in California.
Also, the Federal Bureau of Investigation has records of all convictions, arrests of all the states of America. So, when conducting background checks, images captured through live scan is crossed against official databases to check whether there is something on your applicant's record or not.
#3 Live Scan is Fast
Last but not least the livescan process is fast. You'd think that live scan takes time considering that fingerprint images are crossed against fingerprint criminal databases, but fortunately it doesn't. Other quick-turnaround background check companies that use names and other personal information and not biometric identifiers like (fingerprints) give fast results, but they don't cross fingerprint images to fingerprint criminal databases, so the results are not trustworthy.
With a live scan, your candidates will be scanned in a matter of minutes and the results of background checks will be transmitted from the DOJ to you in just 2 days. That means you can start hiring people without any delay.
Livescan is an easy, fast and trustworthy way of conducting background checks for employment. With other background checks, they may fool you with fake identities, but when it comes to live scan, fingerprints are a unique biometric identifier, something that cannot be changed.
Livescan is not a luxury of the few. It's a system that ensures a safe work environment that many companies have already included in the hiring process and you can join them.
Please visit us at CertifixLiveScan.com to find your nearest location, or give us a call at (800) 710-1934, or email us at support@certifixlivescan.com.

Read more about: What are the Safest Ways to Complete Your Live Scan during the Covid-19 Pandemic?
Image by TheDigitalWay from Pixabay
Get your Live Scan Fingerprinting Near You
Live Scan & ink Card Fingerprinting
Schedule an Appointment Now!
We Offer a Nationwide Network of 1200+ Fingerprint Enrollment Centers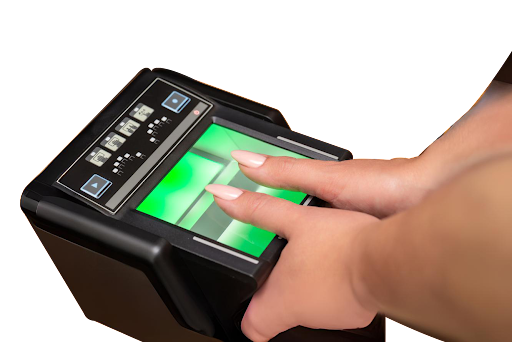 Frequently Asked Questions
How far back does a live scan background check go?

The live scan results will contain your entire criminal history. 

This will not include expungements.

Who can I contact to check the status of my live scan?

You can check the status of your live scan on the Department of Justice Applicant Status Check website: https://applicantstatus.doj.ca.gov/checkstatus which will let you know if it is still processing or if it has been completed. You will need your date of birth and ATI number. The ATI number should be located at the bottom of the live scan form you received after you did live scan.

How do I contact the FBI for my results?

The FBI can be contacted at 304-625-5590 if you have questions regarding your Identity History Summary Check. Current processing time is 12-14 weeks. Allow additional time for mail delivery. https://www.fbi.gov/about-us/cjis/identity-history-summary-checks

 

What if the agency didn't get the FBI results or background check?

1. Ask if they submit a California live scan. 

2. If yes, they have to contact the Department of Justice. 

3. They can check on the status on the DOJ Hotline (916) 227-4557 and their applicant agency can send an email to "appagencyquestions@doj.ca.gov" for more information. They should not include any personal information such as date of birth or social security number.  They need to include the ORI #, ATI # and the first and last name. 

4. There isn't a separate email contact for the FBI for these transactions.

How can I find my criminal background for personal use?

You can print out a Record Review Live Scan Form, take it to the nearest live scan location and the results would be sent to your address. 

DOJ fee is $25, plus rolling fee at location. 

This can be used if you need to visit someone in prison. Read More
View All Questions
Enjoy this article? Don't forget to share.