6 Far-Fetched Future Live Scan Hacks for a Safer Society
Share This Article
"You can't change your fingerprints. You have only ten of them. And you leave them on everything you touch; they are definitely not a secret." – Al Franken
Live scan is an essential requirement in today's society and a lot of agencies request it to ensure they make sound and safe choices when it comes to hiring and accepting new personnel. But what is the future of live scan? Will it be the same or would its role expand to cover different areas of society? In this blog, we've compiled far-fetched ideas about the future of live scan.
#1 The Doorbell
Imagine the number of times you've answered the door, wondering whether the person standing in front of you is trustworthy or not. In the future, there are advanced doorbells. Whenever a person touches the doorbell, their fingerprints are scanned, verified and matched across fingerprint criminal databases giving you, the house owner, instant feedback about the criminal activity of the person at the door.
It won't be a full record; it would just be indicating colors: red for extremely dangerous, yellow for someone with some offenses, and green for someone with clear record. It's not a sure way for safety but it's good for a start. If the person is someone the police is looking for, the doorbell will immediately alert 911.
Related Post: Why should i use live scan ?
#2 Tie the Knot
Nowadays, background checks are just for employment, issuing a license or for joining certain agencies (whether law enforcement agencies or nonprofit organizations.) In the future, background checks will include those planning to tie the knot. A person will have the right to check the full criminal record of a future husband or wife.
They can go perform live scan and they will instantly receive the results. "Should anyone here present know of any reason that this couple should not be joined in holy matrimony, call the police or forever hold your peace."
#3 ATM Machines
The ATM machines' touch screens will also act as a fingerprint-capturing devices that are connected to fingerprint criminal databases and also to the police. So whenever anyone steals your cards, they will get caught even if they have your password. The ATM will alert the police and instead of saying: "please wait while your transaction is processing"; the ATM machine will say: "you have the right to remain silent." The good news is they will never know how they got caught. The fantastic thing about these machines is that they will be fed with data about everyone authorized to use the card, so it will alert authorities only when someone not authorized to use the card uses it.
#4 Cars/Vehicles
For cars and other vehicles, the steering wheel has data of the owner's fingerprints and fingerprints of anyone who is authorized to drive the car. If someone else tries to drive that car, his/her fingerprints are sent to be compared against fingerprint criminal databases for more information about the criminal record of the person in question. The police gets instant alerts, the car locks that person inside and the engine will not start.
#5 Instant Background Checks
For agencies authorized to conduct background checks, they will have their own fingerprint-capturing devices for instant background checks. Whenever anyone applies, he/she will be scanned on-sight and the results can be instantly printed.
Read more about: How can you request a background check?
#6 Mobile Phones
The iPhone already has fingerprint recognition. In the future, all phones will have more advanced fingerprint sensors than today's iPhone. If you try to use a mobile phone that is not yours, hell breaks loose.
Other than "phone not mine" option or any attempt to use a phone that has been reported lost or stolen, the phone will send your fingerprints to the fingerprint criminal databases and to the police so that you are identified and caught on the spot. And you get "you have the right to remain silent" ringtone.
In the future, anything you touch can be used against you. All individuals will be constantly fingerprinted and records will be updated daily and on-sight. Objects will have memories of fingerprints. Most objects will be connected to fingerprint criminal databases and to the police to easily capture criminals.
Do you think that this would happen or that it is totally unlikely? We'd love to hear what you think. You're welcomed to share your own ideas about the future of live scan. We'd love to hear from you 🙂
Please visit us at CertifixLiveScan.com to find your nearest location, or give us a call at (800) 710-1934, or email us at support@certifixlivescan.com.


Read more about: What are the Safest Ways to Complete Your Live Scan during the Covid-19 Pandemic?
Background vector created by rawpixel.com – www.freepik.com
Get your Live Scan Fingerprinting Near You
Live Scan & ink Card Fingerprinting
Schedule an Appointment Now!
We Offer a Nationwide Network of 1200+ Fingerprint Enrollment Centers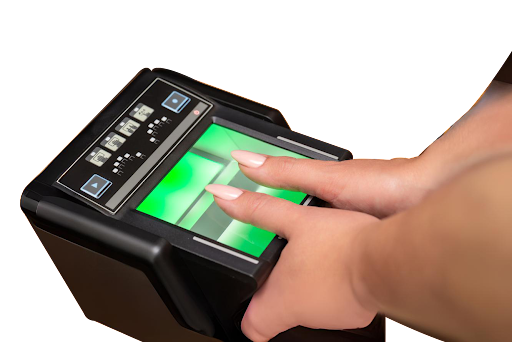 Frequently Asked Questions
How does Live Scan work?

The requesting agency provides the applicant with a Request For Live Scan Service Form.  

The applicant then takes the form along with proper identification to the nearest live scan location to get fingerprinted via live scan.  

This is then sent to the DOJ, FBI or both to be processed. 

The DOJ then sends the results to the requesting agency only.

Is live scan the same as fingerprinting?

Live scan is fingerprinting done electronically performed for an agency or an individual to receive a background check from the DOJ and FBI.

 

What do I need to get a live scan?

The requesting agency should provide you with a "request for live scan service form". You will need to fill that out, you will also need to bring a primary form of I.D. such as a Driver's license or a CA ID

 

Where do I get the Live Scan request form?

The agency that is requesting the Live Scan must provide you with the Request For Live Scan Service form. Your requesting agency should have their information entered for you on the "contributing agency information" section of the form. Live scan locations will not have the live scan request form for you on site.
View All Questions
Enjoy this article? Don't forget to share.