The Complete Guide to Background Checks for Florida Real Estate License Applicants
Share This Article
Deciding to Build or purchase a property is a significant life project that is often a by-product of years of saving and sacrificing. Imagine losing such a prized possession to a scammer masquerading as a certified real estate agent during the home sale process. This can be a very devastating experience for anyone involved.

Thus, Florida and other states require individuals applying for real estate licenses to undergo stringent background checks and submit their fingerprints as part of the pre-licensing screening process to ensure heightened security. Any applicant with a history of sexual offenses, financial crimes, or fraud might be considered ineligible to work in the real estate industry.

In the face of this non-negotiable prerequisite, you may be wondering, "How long does a background check take in Florida?"

We will explore the answer to this question, and you will learn how to obtain a Florida Real Estate license.
What is a Background Check, and How Does it Affect Your Real Estate License?
A background check is a screening exercise that involves verifying and disclosing information about an individual's identity, education, criminal history, legal records, employment history, credit history, and other past activities.

As part of their pre-employment screening exercise, most companies subject their prospective employees to stringent background checks to know about their past activity and verify who they claim to be or what they claim to have.

A Background Check can include information from your employment history to your credit report. This information is important in determining if the individual will be granted a license, opportunity or eligible for specific programs.

Some agencies have started background checks on real estate agents to protect consumers from harmful agents.

Government agencies or corporate bodies also request background checks and fingerprints from professionals applying for licenses or certifications. This process helps ensure that licenses are not issued to the wrong persons.

There are many different kinds of backgrounds which include:
Credit background checks
Criminal background checks
International background checks
Personal background checks
Employment verification
Universal background checks
OIG background checks
Professional licenses background check
Please, keep in mind that the type of information disclosed via a background check depends on the type of search conducted.

How Can Background Check Be Useful in the Real Estate Industry?
The real estate industry has a unique quality that has to do with having significant access to people's property.

Given the nature of their jobs, real estate agents enjoy the privilege of having keys or access codes to their client's properties. This access lets potential buyers inspect the property for sale, especially if the house owners are not around.

By requesting the background check of your chosen real estate agent, you will verify if he is trained, qualified, certified, and fully licensed to handle your home sale or purchase process.

Since your real estate agent is likely to have massive access to your property, you've got to know the kind of real estate agent handling your parcel.

Is the real estate agent trustworthy? How safe are your family, pet, and other valuables around the agent? Does the agent have any questionable criminal history that poses a threat? Believe me. You will need to consider these questions if your property means a lot to you.

A real estate background check will provide you with all necessary background information about a real estate agent you want to work with. As a result, you will get to learn about any sexual offense, financial crime, or any record of disciplinary actions taken by the government or industry authorities that may pose serious concerns.

How Do I Do Criminal Background Check for My Chosen Real Estate Agent?
You will need to work with a reputable screening firm for a real estate agent background check. Certifix Livescan Company offers a wide range of background checks services for real estate agents, brokers, and realtors.

Our background check will disclose your chosen agent's background information specific to your state, including license/certification verification or any record of convictions, arrests, and violent offenses.

Our criminal background checks include county, state, federal, or multi-jurisdictional searches. In certain situations, real estate agents can get their licenses despite their past criminal history, and the agent may not be mandated by the law to share the information with you.
The Types of Background Checks You Will Need for Your Florida Real Estate License
To get a Florida real estate license, you must have a background check approved by the Department of Business and Professional Regulation.

There are two types of background checks: a national search and a local search.
The nationwide search will show information from all over the country while
The local search will only show data from the state where they apply for their license.

The background checks can be done in person or online.

What Are the Requirements for a Florida Real Estate License?
Suppose you want to buy and sell a property as a real estate agent. In that case, you will need a valid Florida real estate license issued by the Florida Department of Business and Professional Regulation (DBPR). The general requirements for procuring a Florida real estate license include:

High school diploma or equivalent.
The United States Social Security.
Not less than 18 years of age.
Successfully complete 63 hours of pre-licensing course from an approved real estate school within 24 months of application.
Pass the pre-license course final exam.
Pay the compulsory license fee ($89) and submit your background check and fingerprints to the Florida Department of Business and Professional Regulation (DBPR).
Visit the Florida Department of Business and Professional Regulation (DBPR) official website and apply for Florida real estate salesperson license. 
Pass the Florida real estate salesperson license exam. 
You must submit to an FBI background check conducted by FDLE.
You must submit to a DBPR fingerprint check through Live Scan unless you are exempt because of age, military service, etc.
How Long Does Background Check Take in Florida?
The duration depends on the type or scope of background check you want. The type of background check service provider you choose has a role to play. How advanced is their livescan technology? What's the qualification and experience of their technicians?

At Certifix Livescan Company, it's our goal to save our clients' precious time and money. With our advanced live scan technology handled by certified technicians, you can get in and out of our fingerprinting facility with perfect live scan results in no time. So, you don't have to spend the whole day in our office with your real estate agent. Once your real estate agent fills out our live scan form, the process starts immediately.

We have over 500 live scan locations in Florida and California. With this, your search for "fingerprinting near me" might be over.

What Goes Into a Background Check Report?
Background checks are an essential part of the hiring process. It's important to know the person you're about to hire is trustworthy and has no criminal background.
A background check can help an employer gather all the information they need – full name, address, date of birth, and Social Security Number.
The report will include a person's criminal history, education and employment history, and credit history. The report may also include any lawsuits that have been filed against them and any personal bankruptcies or foreclosures on their home or property.
A Quick Certifix Livesacn Support Search should answer the question about how long it will take to get your criminal history checked out in Florida.

How to Get Your Background Check Done in Less Than 5 Minutes!
These days, most employers require you to submit background checks before hiring. Some of them even ask for criminal records search too.
But don't worry! There are ways to get your background check done in less than 5 minutes with the help of online services like certifixlivescan.com.
Background Checks provide a quick and easy way to access criminal records information on any individual.
The company offers nationwide criminal records search, which is affordable and safe.

Getting a Florida Real Estate License Now Means You Need a Complete Background Check.
To become a licensed real estate professional, you need to get a Florida Real Estate License. There are various steps you need to take to get one.
One of these steps is getting a background check. In the past, background checks were done by hand, but now, they are done electronically with the assistance of technology.
This is not the first time that technology has assisted in acquiring a license for professions like this one.
The use of technology allows for faster processing and verification, saving time and money for all parties involved throughout the process.

Final Thoughts
Background checks for real estate licenses ensure that the real estate agents and other experts working in the industry are reliable, trustworthy, and licensed by appropriate state agencies to undertake house sales or purchase a business. With background checks, you will detect red flags and steer clear of potential risks.
You Might Also Like:
Get your Live Scan Fingerprinting Near You
Live Scan & ink Card Fingerprinting
Schedule an Appointment Now!
We Offer a Nationwide Network of 1200+ Fingerprint Enrollment Centers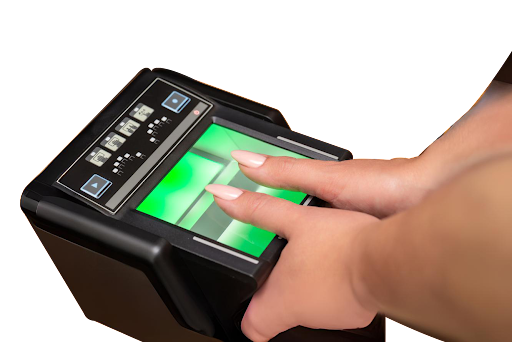 Frequently Asked Questions
Can I get a real estate license in Florida without a criminal background check?

Florida does not require a criminal background check for those who want to obtain a real estate license. As long as you have the necessary pre-licensing education hours and an approved application, you can submit it to the Department of Business and Professional Regulation.

The process for obtaining a real estate license in Florida is different from other states. For example, you will need to submit fingerprints in some states and pay a fingerprinting fee.

What are the benefits of getting a criminal background check?

A criminal background check is a way to ensure someone's safety and ensure they are not in any danger. It also protects people from hiring those who might hurt them.

A criminal background check will not only tell you if someone has committed a crime, but it can also show whether or not they have been accused of one. It will find out if someone has connections to gangs, drug dealers, terrorists, and much more.

What does the FL Real Estate Background Check process look like?

The Florida Department of Law Enforcement (FDLE) requires that anyone with questionable background is not permitted to work in the state. The FL Real Estate Background Check process is a measure that helps identify these individuals.

If you are applying for employment, you will be required to submit your comprehensive package, including your fingerprints, original birth certificate, high school diploma, high school transcript or GED, and social security card or INS identification number.

All new hires must undergo an initial background screening which requires fingerprinting by FDLE and submission of their comprehensive package.

How much does the background check cost?

A background check costs an employer money, but it can be worth it to make sure that they hire someone who is not a criminal.

Background checks are not always cheap for an employer. They should be paid attention to because if the person's criminal record does not match their resume, this could lead to problems for the company in the future.
View All Questions
Enjoy this article? Don't forget to share.