How to Check on your Live Scan Results
Share This Article
For Applicants:
To check your Live Scan results you need to contact your "Requesting Agency",
you can find the information for your requesting agency on the Request for Live Scan form that you used when submitting your live scan transaction.
If your requesting agency has not received your Live Scan results yet, you can call the DOJ hotline at (916) 227-4557.
When you call the DOJ hotline, you will hear an automated recording; the system will ask for your ATI number (found on the bottom of your Request for Live Scan form) and Date of Birth.
Keep in mind that your ATI number consists of both letters and numbers, use the corresponding digits on your key pad for the letters.
The date of birth (DOB) should be typed in as a two digit month, two digit day, and a four digit year (01/01/1980).
If you need immediate assistance with this process, please call the Certifix Live Scan support center at 1(714)790-1917 and a Certifix support representaive will be glad to be of service.
You can also email us at Support@certifixlivescan.com, please make sure to provide your ATI number and Date of Birth.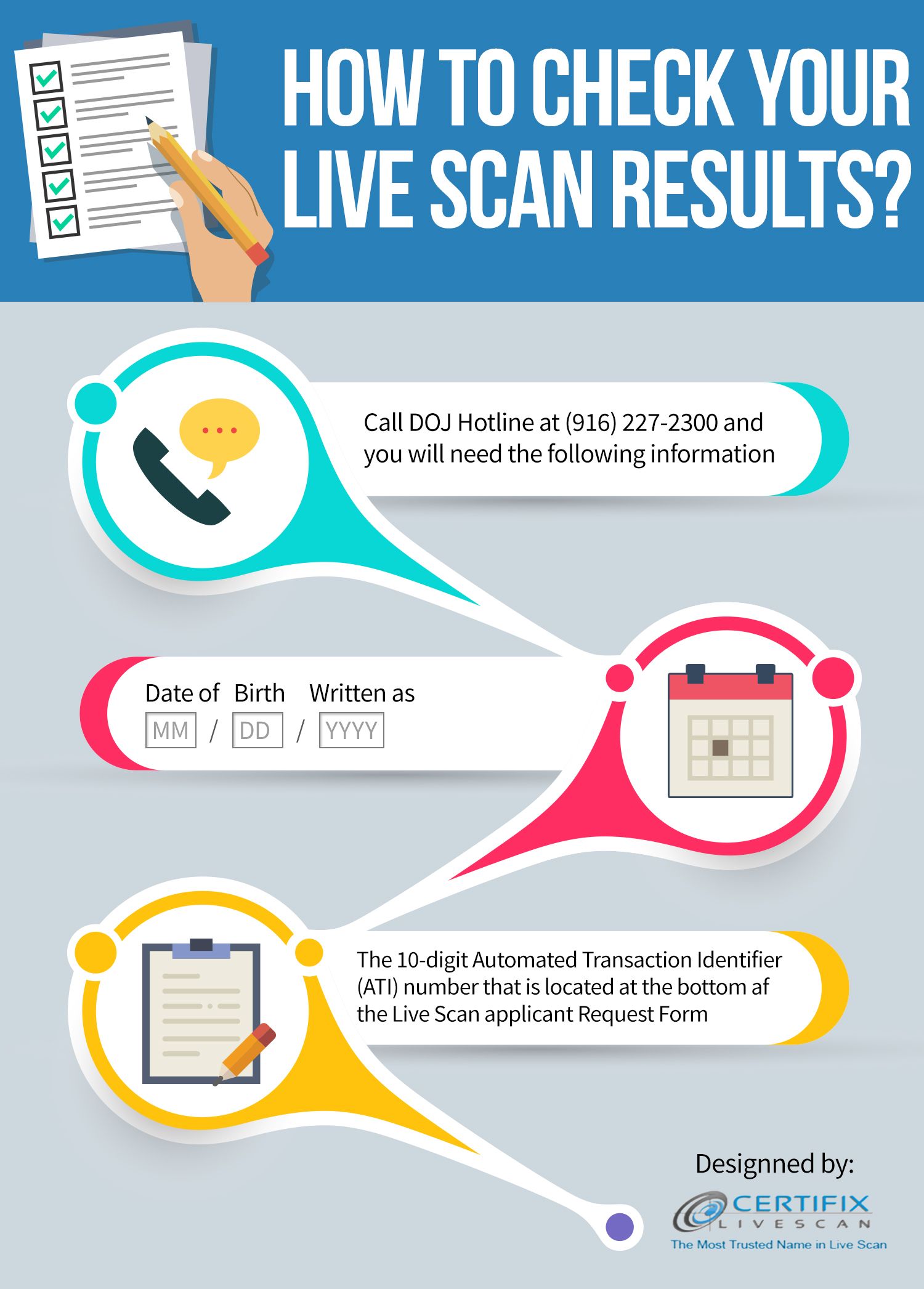 For Requesting Agencies: Reference information for applicant agencies is available online at:http://oag.ca.gov/fingerprints/agencies.
Please visit us at CertifixLiveScan.com to find your nearest location, or give us a call at 1-800-710-1934, or email us at support@certifixlivescan.com.

Read more about:What are the Safest Ways to Complete Your Live Scan during the Covid-19 Pandemic?
Frequently Asked Questions
How do I contact the FBI for my results?

The FBI can be contacted at 304-625-5590 if you have questions regarding your Identity History Summary Check. The current processing time is 12-14 weeks.

How much does live scan cost?

The fingerprint rolling fee typically ranges between $25-35, these are in addition to the applicable government fees depending on the level of service required by your agency.

What do I need to get a live scan?

The requesting agency should provide you with a "request for live scan service form". You will need to fill that out, you will also need to bring a primary form of I.D. such as a Driver's license or a CA ID.

Where do I get the Live Scan request form?

The agency that is requesting the Live Scan must provide you with the Request For Live Scan Service form.
View All Questions
Enjoy this article? Don't forget to share.