Live Scan Certification Classes
Share This Article
The question that is most often asked regarding live scan classes, revolves around how to become a live scan provider. A live scan class is where a potential live scan provider can take a course that teaches the ins-and-outs of the fingerprint-taking process. The end goal of taking a live scan course is that the participant will have acquired the necessary training to become a certified fingerprint roller/operator.
Once the class is completed, and the attendee is certified, there are many options available for the newly certified live scan fingerprint operator. Such options include being able to work for an agency that regularly fingerprints its clients or the public. Also, there is the option to become part of a mobile fingerprinting operating network, which is very appealing to those with flexible schedules, looking to earn some extra income. But perhaps the biggest benefit of taking a live scan class is being able to add fingerprinting services as part of an existing business or to start a new business altogether.
Live Scan Business Opportunity
Attending a live scan class affords any entrepreneurial-minded business owner (or potential business owner,) the opportunity to add a live scan fingerprinting business to their business portfolio. Keeping in mind that the reward for attending a live scan class is to get certified to roll fingerprints, it is an avenue that can lead to an add-on to any business. As a matter of fact, it has been shown that offering to fingerprint is one of the fastest-growing businesses in California, and this is expected to expand popularity across the country. The demands for fingerprinting certifications and certified fingerprint rollers will not be abating or slowing down any time soon. Expect the proliferation of background check requests and fingerprint requests to increase in an ever-changing security-conscious world.
As more businesses and organizations seek to vet employees before affording them sensitive jobs and positions, it is only a natural next step to require background checks for potential future employees.
Fingerprinting Certification
Due to the increased demand for fingerprint certification, the availability of live scan training classes is also on the rise. Since live scan courses teach you how to scan ink-less fingerprints and submit them to the Department of Justice (for California residents – other states governing agencies may vary) as well as the FBI, proper training by a certified instructor is required. Once you have completed the class, it is up to the instructor to certify the participants.
If you have paid attention and demonstrated knowledge of the fingerprinting techniques required for processing fingerprints, you will be certified at the end of the class. This is confirmation that you have been trained to do fingerprinting. There is, however, an additional step to be able to scan fingerprints as a business.
Your fingerprints are taken and the end of the class and are sent to the state agency responsible. In the case of California, that is the California Department of Justice (DOJ). They do a moral and financial background check on each applicant and send back the certification to you after about 3-6 weeks. At this time, you are now certified to roll or scan fingerprints in the state.
Certifix Live Scan offers Live Scan Fingerprint Certification at one of our several locations. You may register for any of our classes on our Live Scan Classes page.
Please visit us at CertifixLiveScan.com to find your nearest location, or give us a call at 1-800-710-1934, or email us at support@certifixlivescan.com.

Read more about: What are the Safest Ways to Complete Your Live Scan during the Covid-19 Pandemic?
Frequently Asked Questions
How do I become a Live Scan provider?
You can get started by applying to become a Private Service Provider or Live Scan operator with the Department of Justice. f you are interested in becoming a Private Service Provider or Live Scan Operator, please e-mail your request to livescansupport@doj.ca.gov, Learn More
What are the fees for certification to be a fingerprint roller?
The total fee required by the Department of Justice for certification is $74.
This fee does not include the rolling fee.
Can I roll my own fingerprints for the certification?
No, another certified fingerprint roller must process a Live Scan transaction on you.
How do I get a Fingerprint Roller Certificate?
1-Review the Handbook -this handbook provides you with basic steps and responsibilities for obtaining a Certification, including background check information and disqualifying offenses.
2-Complete the Application for Certification (Form BCIA 8372), Learn More
Image Credit:
Background vector created by freepik – www.freepik.com
Get your Live Scan Fingerprinting Near You
Live Scan & ink Card Fingerprinting
Schedule an Appointment Now!
We Offer a Nationwide Network of 1200+ Fingerprint Enrollment Centers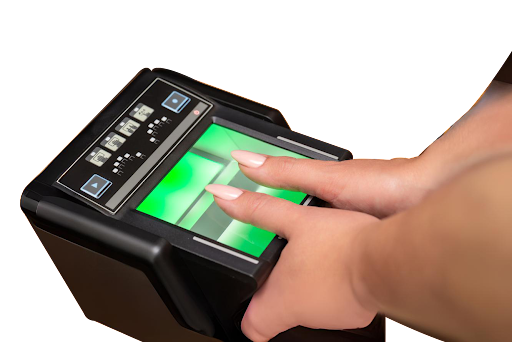 Enjoy this article? Don't forget to share.