All You Need to Know About The Livescan Certification Process
Share This Article
With the growing popularity of Live Scan technology, there has been a proliferation of companies claiming to provide quality Live Scan services. Consumers should be aware, however, that not all Live Scan service providers are equal. Many "mailbox" facilities offer fingerprinting services, for example, and they may even offer Live Scan, but consumers should only use facilities with fingerprinting technicians who have been certified by the Department of Justice.
All fingerprinting in California, whether performed manually or electronically, must be performed by certified rollers or by certain individuals who are exempt from the mandatory certificaton requirement. These individuals include law enforcement personnel, state employees, and employees of tribal gaming agencies.
Read more about: Live Scan Certification Classes
The process for becoming certified involves several steps.
First, an interested individual must obtain the Fingerprint Rolling Certification Program Reference Handbook and learn about what is required for background checks and what circumstances may result in disqualification from the certification process.
He or she must then complete an Application for Certification, which requires the submittal of a Social Security number.
Next, applicants must undergo fingerprinting themselves at a certified Live Scan facility, since the Department of Justice will not accept manual hard card fingerprint impressions for Fingerprint Roller Certification submissions.
A valid photo ID and other up-to-date identification materials must be presented at the time of the fingerprinting. Payment of Live Scan fees must be submitted, along with a processing fee for a criminal history check, which is collected by the DOJ and the FBI, and a Certification fee. Individuals may then submit their application packets to the DOJ for review and acceptance.
Previous to January 1, 2010, non-exempt individuals were required to have their applications notarized, but a change in the legal code eliminated this requirement as of that date.
Certification by the Department of Justice requires interested individuals to submit to both state and federal background checks. The DOJ can suspend or even revoke the certifications if the need arises.
Using Certifix Live Scan for background and identity checks ensures that consumers are using a qualified and trusted DOJ-certified provider.
Please visit us at CertifixLiveScan.com to find your nearest location, or give us a call at (800) 710-1934, or email us at support@certifixlivescan.com.

Read more about: What are the Safest Ways to Complete Your Live Scan during the Covid-19 Pandemic?
Image by OpenClipart-Vectors from Pixabay
Get your Live Scan Fingerprinting Near You
Live Scan & ink Card Fingerprinting
Schedule an Appointment Now!
We Offer a Nationwide Network of 1200+ Fingerprint Enrollment Centers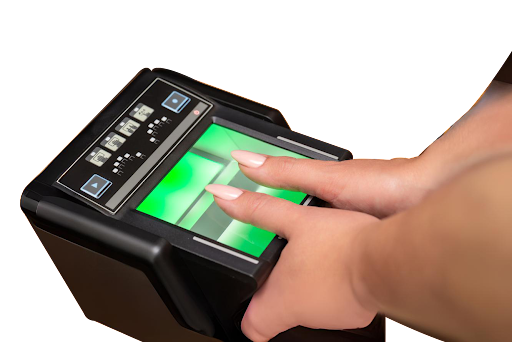 Frequently Asked Questions
Can I roll my own fingerprints for the certification?

No, another certified fingerprint roller must process a Live Scan transaction on you. 

What are the fees for certification to be a fingerprint roller?

The total fee required by the Department of Justice for certification is $74. 

This fee does not include the rolling fee.

How do I become a Live Scan provider?

You can get started by applying to become a Private Service Provider or Live Scan operator with the Department of Justice. f you are interested in becoming a Private Service Provider or Live Scan Operator, please e-mail your request to livescansupport@doj.ca.gov

It is important to note the owner/contact person and all fingerprint rollers must be certified to roll fingerprints prior to approval of your application. You can visit the Department of Justice Fingerprint Roller Certification page to find basic information as well as the application to get certified.

How do I get a Fingerprint Roller Certificate?

Review the Handbook -this handbook provides you with basic steps and responsibilities for obtaining a Certification, including background check information and disqualifying offenses.
Complete the Application for Certification (Form BCIA 8372). Learn More
View All Questions
Enjoy this article? Don't forget to share.