Personal Background Checks – What Information Can You Obtain From It?
Share This Article
Background checks are well-known for employment purposes, in some states, and for some job positions, they're mandatory. Before an employer hires a potential candidate for a job opening, running a background check is a necessity for a safe work environment.
Neglecting this step could lead to dire consequences in the future, like lawsuits from customers or employees, expensive legal costs, and a bad reputation for your business.
There are different types of background checks like a criminal background check, employment verification, education verification, social media check, drug screening, credit history check, driving record check, and more.
Why run a background check on yourself?
One of the most common reasons you'll need to get a background check is for employment. An employer needs to verify your qualifications, past employment, education, and learn that you can be trusted and wouldn't harm their business.
As a precaution, an applicant can run a background check on oneself before applying for an important role or their dream job. When you know what the employer would see before they do, you eliminate any surprises and know exactly what would appear on your background check.
Another great benefit of running a personal background check is that you'll be able to find out about any potential issues or missing information, like an error in the credit report or an expunged record still showing up.
And so, you can get it fixed before the big step you're taking. You don't want to miss out on a job opportunity or getting a loan because of incorrect info on your record.
A background check is needed for many jobs like a teacher, doctor, nurse, accountant, and more. Since there are multiple types of background checks, each organization has a different background check policy, depending on the position you're applying for.
For example, if you're applying for a financial position, you'll be required to get a criminal background check and a credit history check to confirm you're good with handling money. Other reasons that a background check will be needed may include:
Applying for a loan at a bank
Renting property
Foreign adoption
Applying for a license or permit (medical, real estate, driver's license, etc.)
Volunteering
Visa/ Immigration purposes
Firearm & weapon permit
What information can you get from a personal background check?
You can gather a lot of information by making some phone calls, running your name on public databases, or more. You don't need to verify your previous employment or education but you can contact your educational institution for a transcript or get a recommendation letter from your previous employer.
You can also obtain your credit report to learn about anything negative on it like loans, overdue payments, bankruptcies, payment history, etc. You can also easily get a driving record and get information like any accidents, tickets, or license suspensions on your record.
For a criminal background check, this depends on the type of background check you get done, it can be a name-based background check or a fingerprint background check.
The most thorough criminal background check should include everything on your criminal record within the last 7 to 10 years, including:
Arrests, misdemeanors, and felonies on a state, national, or federal level
Domestic and global watch lists
Sex offender registries
How to run a personal background check?
If you want to learn everything about your credit history, you can easily get a free credit report from one of the three national credit bureaus, TransUnion, Equifax, or Experian; just go to annualcreditreport.com.
Employers do this check to get a better understanding of your personality and morals, and to ensure that you would be a good fit with their teams. Go through your social media accounts like Twitter and Facebook; make sure your accounts reflect who you are and that none of your past posts are alarming or negative.
Criminal Background Check
There are multiple ways to get a personal criminal background check, the most common and elaborate one, is the identity history summary check. The other two ways are a record review or a name-based background check.
Identity history summary check: This criminal background check is conducted by the FBI; the request can be submitted online for a quick turnaround time of 3 to 5 business days or via mail, which takes 2 to 4 weeks. You're required to send a fingerprint card with your fingerprints that the FBI puts through their databases to find information related to arrests, military service, naturalization, or any crimes. You can use this rap sheet to review, correct, or update, your own record but it is against the law to use for employment or licensing. Go toedo.cjis.gov to submit your request online.
Record Review: The record review process was created by the DOJ for individuals to check their own criminal record. You'll need to download the Record Review Live Scan Form, fill it out, and head to the nearestlive scan locationto get your fingerprints taken and submitted. You can only get a DOJ check with a record review, which includes a state and county level check but not an FBI check. The cost of a record review ranges from $40 to $50.
Name-based background check: A name-based check is done by using your first and last name in multiple public state and local criminal databases, like court files, law enforcement agencies, etc. to find crimes relevant to the name. Unfortunately, this option isn't the most reliable because sometimes public databases aren't updated and contain old information.
Your driving record includes everything like vehicle registration, tickets, accidents, DUI arrests, and anything else on your record. This is mostly required if the job includes driving. You can get this report from your local DMV, some DMV's provide online services where you can request it online so contact your local DMV to find out if that's possible.
You can get a drug screening at any medical center or clinic, for as low as $10. But you'll have to contact the closest clinic to you beforehand to ensure they have a drug screening program. This would be required for most medical jobs like a doctor or nurse, if you're driving, or dealing with children or the elderly.
Your social security number is used to verify your identity; employers use this to ensure you are who you claim to be. An SSN trace would verify your name, aliases, and past addresses. You can use the online Social Security Number Verification Service to run an SSN trace. Running a background check on yourself is a great way to ensure there are no surprises or mistakes on your record. This will give you the confidence to apply to your dream job, get the loan you needed, and do much more, knowing that you have nothing to worry about.
Read more about: Background Checks: How Can It Affect Your Chances of Being Hired?
Get your Live Scan Fingerprinting Near You
Live Scan & ink Card Fingerprinting
Schedule an Appointment Now!
We Offer a Nationwide Network of 1200+ Fingerprint Enrollment Centers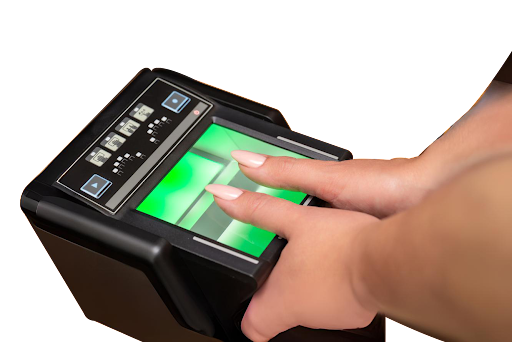 Frequently Asked Questions
How does Live Scan work?

The requesting agency provides the applicant with a Request For Live Scan Service Form.  

The applicant then takes the form along with proper identification to the nearest live scan location to get fingerprinted via live scan.  

This is then sent to the DOJ, FBI, or both to be processed. 

The DOJ then sends the results to the requesting agency only.

What do I need to get a live scan?

The requesting agency should provide you with a "request for live scan service form". You will need to fill that out, you will also need to bring a primary form of I.D. such as a Driver's license or a CA ID

Where do I get the Live Scan request form?

The agency that is requesting the Live Scan must provide you with the Request For Live Scan Service form. Your requesting agency should have their information entered for you on the "contributing agency information" section of the form. Livescan locations will not have the live scan request form for you on site.

How can I find my criminal background for personal use?

You can print out a Record Review Live Scan Form, take it to the nearest live scan location, and the results would be sent to your address, Read More.
View All Questions
Enjoy this article? Don't forget to share.