How To Start Your Own Live Scan Fingerprinting Business In Florida [Complete Guide]
Share This Article
Livescan fingerprinting business is becoming more lucrative in the United States. Most industries require you to undergo background checks and fingerprint identifications as part of the hiring process. Have you wondered how to start a live scan fingerprinting business in Florida?
Then this guide is for you, as we'll discuss in detail all you need to know about how to set up a fingerprinting business and how to make it successful.
Grab a hot coffee as you go through the guide ☕.
What is Live Scan Fingerprinting, and How can it Help?
Livescan fingerprinting, also known as a criminal background check, is an inkless, electronic means of capturing the fingerprints in a digitized setup and then transmitting them to a state repository such as the FBI or the State police.

Before the advent of Livescan fingerprinting, prints were taken by applying ink on the finger and pressing each finger on each fingerprint card. Unfortunately, this method isn't reliable as it's likely to accept poor image quality. However, a live scan has simplified the process of taking fingerprints.
By electronically processing fingerprints, criminal information is quickly provided within a few hours if received electronically or in a few days if received by mail.
Because of this, Livescan has become the standard means of taking fingerprints though rolled inks are still used.
The primary benefit of live scan fingerprints is your fingerprints are instantly transmitted to the Department of Justice. They'll conduct a criminal background check based on your fingerprints and send the results within 1 or 2 days to your licensing agent or employer.
With live scan fingerprinting, the problems associated with ink prints such as over inking, under inking, smearing and smudging are avoided.
What is the Difference Between Live Scan and Ink Fingerprint?
For years, fingerprints have been used as a means of identification. And all this long, fingerprints are taken using the traditional ink and roll method. These days, the modern live scan fingerprinting technology quickly replaces the old way. But then, what are the differences between the two?
Ink Fingerprint
Live Scan Fingerprint
A thin layer of fingerprinting ink is dissipated using a rubber roller on a metal or glass surface. The fingers are then placed gently but firmly on the inked surface and then on a clean paper

---

An individual's fingerprints are scanned on the glass plate of a live-scan device, and the information is instantly transmitted to the enforcement agencies with a click.

---

If the ink layer or pressure is not uniform, fingerprints may show smudging or smearing.

---

No mess, ink smear, and it's an error-free process.

---

For electronic transmission, fingerprints need to be digitized and encrypted before being sent to the designated facility

---

Fingerprints are digitized and encrypted. They're directly forwarded to the justice a.gency

---

If the fingerprints aren't clear, the whole process has to be repeated on another sheet

---

Fingerprints can easily be retaken to choose the best ones.

---

The hands get stained with ink after taking an ink fingerprinting.

---

Hands are wholly cleaned after a live scan fingerprint.

---
Looking at the differences, we can conclude that live scan fingerprinting is more convenient and accurate than ink a nominal printing. However, it is more expensive.
What are the types of fingerprinting services to offer?
Ink Fingerprinting
Live Scan Fingerprinting
Florida Department of Law Enforcement Submissions
FBI Background Checks
FINRA Submissions
FBI Apostille Reports
There are many industries that utilize fingerprints, so it's no wonder that a fingerprinting business can offer services variety.
Fingerprinting companies offer lots of identification and background check services, often as a bundle.
These services include fingerprinting and DNA samples, facial recognition, social security number check (lift), criminal history inquiries, and more.
The FBI provides fingerprint cards, which can be submitted for background checks.
Popular services offered at our fingerprinting center include background checkers fingerprinting for FINRA, notary services, and fingerprint archiving.
Starting Your Own Live Scan Fingerprinting Business and Reaping the Profits
Like all businesses, starting a live scan fingerprinting can be a bit stressful. Still, if you follow the required steps, you'll quickly set up your business and reap its profits.
With increased technological advances and security concerns, the demand for live scan fingerprints increases daily. As a result, the fingerprint market has experienced explosive growth in recent years, and it's likely going to continue being profitable for a long time.
If you have been looking for a mobile business or you're looking for an easy income stream way, then this business is for you.
Like any business, it has its pros and cons, which you're expected to consider before making up your mind.
Check Live Scan Business Opportunity to get more info about starting.
Getting the Necessary Licenses and Certificates to Operate a Live Scan Fingerprinting Business
It's imperative to know what you must have before becoming a certified Fingerprint technician.
Some government bodies of the United States, like the National Air Transportation Association (NATA), need you to be a citizen of the US before you can be a fingerprint technician. Different organizations have different requirements; check to know if you're eligible.
The Department of Justice requires that you should not have any criminal record before you can become a certified fingerprint technician. You have to undergo a background and criminal history check before being certified.
To ensure all fingerprint technicians perform their work accurately, the justice department requires them to take a mandatory Fingerprint Rolling Certification. Here are the steps to take:
Thoroughly study the Fingerprint Rolling Certification Program Reference Handbook to get this self-study certification
Fill in an application in the state you want to operate: in this case, fill in an application form for working in Florida.
Gets your fingerprints enrolled at a live scan center.
Submit the filled form to the Department of Justice with a nominal fee that's less than $100 (at the time of writing this).
Apart from the Rolling fingerprinting Certification, there are other licenses that you've to get. However, these vary from state to state. Make sure you check the licensing requirements in Florida.
Other federal regulations and licenses associated with starting your business include the health license and permit from the Occupational Safety and Health Administration, copyrights, patents and industry specified licenses and permits.
When starting a business, ensure you check for all the required state-level licenses, as failure to obtain them can result in a hefty fine or lawsuit. Again, it's advisable to hire a professional to help you at this stage if you feel too overwhelmed.
Setup your Livescan Machine in a Professional Manner
You first have to buy a Livescan Machine from a state-approved vendor. The machine usually costs nothing less than $ 1000.
After acquiring a high-quality machine, finding the right spot to place it in your shop is next.
Consider putting your livescan machine in a location where your customers can easily and comfortably place their fingers to record their fingerprints.
The Best Tips and Tricks from Industry Professionals on Starting a Successful LiveScan
Here are some tips to help you reap more profit from your live scan fingerprinting business:
Single or Double Services?
Most livescan fingerprint technicians choose to offer fingerprinting and other services they offer. At the same time, others have decided to provide mobile livescan fingerprints to save the cost of opening a brick-and-mortar location.
The decision of opening a brick-and-mortar location to offer fingerprinting services is discouraged mainly as you might not be able to cover the rent expenses and still make a good profit.
However, if you plan to offer additional services like FDLE Fingerprinting, and FBI Apostille Services, it is vital to consider opening a storefront as you'll be receiving numerous appointments.
Choose a Good Location
The importance of a good location in a business can never be overemphasized! The right place will boost your business and make it thrive, while the wrong area can ruin your startup.
Consider starting your livescan fingerprint business in an open and commercial location where many are passing by and will notice your shop. Choose an area with average competition but not one with zero competition, as no competition indicates the service is unnecessary.
Know Regulations and Follow Them
The fingerprinting industry is known to have complicated and heavily enforced rules.
In addition to the regulations set by the Department of Justice (DOJ) and the FBI, each state has its unique requirements and regulations.
As you're starting your livescan fingerprinting in Florida, it's essential to know that FL is the only state that follows FDLE regulations.
Knowing details like this will save you from making mistakes and landing in trouble.
Build a Strong Team
If you're starting as a mobile or home-owned business, you might not need employees. But as your business grows, you'll likely need a manager, fingerprint technicians, and a marketing lead.
When hiring these individuals, make sure you hire the right people ready to sacrifice for your business's well-being.
A strong and united team will help your business go a long way!

Conclusion
You need to get professional training before starting your livescan fingerprinting business. Apart from the DOJ Fingerprint Rolling Certification, you can attend advanced fingerprinting training to save yourself from breaking the rules and landing on hurdles.
Also, use unique selling propositions for advertising your business and making it stand out among the crowd.
Please contact us for all the information about our company and how we can help your needs 🤝
You Might Also Like:

Get your Live Scan Fingerprinting Near You
Live Scan & ink Card Fingerprinting
Schedule an Appointment Now!
We Offer a Nationwide Network of 1200+ Fingerprint Enrollment Centers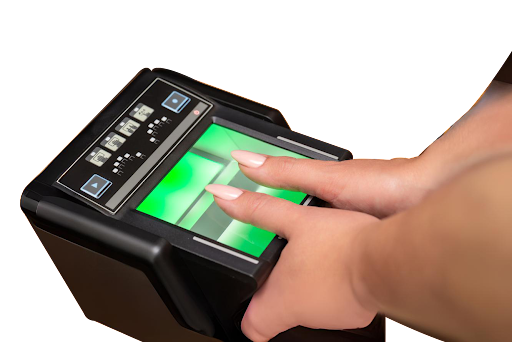 Frequently Asked Questions
How much does the Live Scan Fingerprint Machine Cost?

The price of a Livescan fingerprint equipment ranges from $400 – $10,000, including the custom software attached to it. These prices largely depend on the brand.

How Do I Become Certified For LiveScan Fingerprinting?

By taking the Fingerprint Rolling certification and acquiring the necessary licenses, you'll become a certified Livescan Fingerprint Technician.

What License Do I Need For A LiveScan Fingerprinting Business?

You'll need to purchase a Fingerprint Certification, a health license, and a permit from the Occupational Safety and Health Administration (OSHA) and other state-required licenses.
View All Questions
Enjoy this article? Don't forget to share.