Everything You Need to Know Before Getting a Criminal Background Check
Share This Article
Most employers require a criminal background check from a prospective employee before finalizing any hire. The results of a criminal background check can make all the difference in a job opportunity.
Employer-run criminal background checks are a process of reviewing a prospective employee's criminal records and looking for anything incriminating like arrests, felonies, misdemeanors, etc.
In some states, it is mandatory for an employer to run a background check before hiring, including jobs in the financial field, positions that deal with children or the elderly, and medical positions.
There are different levels of criminal background checks; it can be on a county, state, or federal level. Each employer sets a background check policy that suits their business and according to the position.
The results of a background check would usually include crimes within the past 7 to 10 years, not beyond that. Now that we understand what a criminal background check is, let's get into detail with everything you need to know.
Why is a criminal background check required for employment?
Employers need to run criminal background checks on new hires to avoid foreseeable problems, not running a thorough background check can lead to potential lawsuits in the future that can be costly.
A criminal background check reassures employers that they're not hiring someone that is a danger or can harm their employees, business, or customers.
To avoid workplace violence, sexual harassment, and other crimes, you should thoroughly vet new hires. Employers need to create a safe work environment by improving the quality of their hires.
A lawsuit due to negligent hiring won't just cost the business money, but it'll jeopardize its reputation as well.
Can I run a criminal background check on myself?
Instead of questioning what would show up on the background check and waiting for an employer to get back to you, you can run a criminal background check on yourself.
This will eliminate your worries about applying to a potential job because you'll see what the employer will see before they do. There are a few ways to do a criminal background check; the easiest is searching with your name in local and state public criminal databases like law enforcement agencies, court files, etc.
However, if you want a thorough background check, including more than one county, you can get a record review. This review is processed by the DOJ and would check for any crimes on a county and state level.
Can there be mistakes in the report?
The Fair Credit Reporting Act has regulations set for consumer agencies when running a background check on applicants to obtain maximum efficiency and accuracy in the gathered information.
However, sometimes there may be incorrect info in the report – this could be because of incorrect info the applicant provided, outdated criminal databases, clerical errors, and more.
You will receive a pre-adverse action notice, which includes a copy of the report as well as the reason behind the employer's offer withdrawal or rejection. This gives applicants a chance to dispute the results if they're incorrect.
You can request info about the consumer agency that conducted the background check and reach out to them to correct the error. If you have proof of the mistake, it should be fairly easy to fix. Once corrected, the consumer agency will send an updated report to the employer.
Will my expunged record show on the report?
Unfortunately, there is no way of knowing for sure if an expunged record will show on a report as it varies from one state to another. For example, in California, it is accessible to the public while in Nevada, it isn't. In most cases, an expunged record is not supposed to show on your report.
You'll need to get a better understanding of your state laws to know this for sure. You can also run a personal background check on yourself to see what's on your record.
If the expunged record is showing when it shouldn't, you will need to follow up with the court where you submitted the expungement request.
Will the employer let me know if there is something on my record?
Yes, if something appears on your record that affected the employer's decision to hire you, you'll be informed. You'll get a pre-adverse action notice with the report, explaining why you weren't hired. If this was a mistake, you have the right to dispute it and can pursue correcting the error.
If there is something in your record that you know will show up through a background check, it is advised to let the employer know before they run the background check. You don't need to uncover this information during the interview but maybe after you've received a conditional offer or passed a good interview; in fact, it is illegal in some states to ask about your criminal history at an early stage.
But telling the employer before they know for themselves would give you a chance to discuss this with them and prepare them for what the report would show.
How long does it take to get the results of a criminal background check?
Since there are multiple levels of a criminal background check, such as a county, state, multi-state, national, and federal check, there isn't a definite time range for how long it'll take to get results. If you've gotten a background check done electronically, through fingerprinting, the results are delivered faster and should take from 3 to 5 business days.
However, if the fingerprints were taken manually or by ink, the results can take up to 12 business days to arrive.   If the employer forwarded this service to a consumer agency, the time range may differ from one agency to another. Some states do not have digital criminal databases, and because of this requires manual searches and checking various court files.
However, a name-based check that uses your name and SSN to search through public criminal databases can be done in a day or two. The employer would also be able to get an estimate on how long a background check would take from the consumer agency.
Read more about: Background Checks: How Can It Affect Your Chances of Being Hired?
Get your Live Scan Fingerprinting Near You
Live Scan & ink Card Fingerprinting
Schedule an Appointment Now!
We Offer a Nationwide Network of 1200+ Fingerprint Enrollment Centers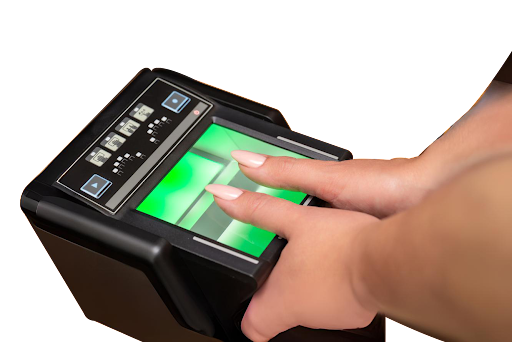 Frequently Asked Questions
How does Live Scan work?

The requesting agency provides the applicant with a Request For Live Scan Service Form.  

The applicant then takes the form along with proper identification to the nearest live scan location to get fingerprinted via live scan.  

This is then sent to the DOJ, FBI, or both to be processed. 

The DOJ then sends the results to the requesting agency only.

What do I need to get a live scan?

The requesting agency should provide you with a "request for live scan service form". You will need to fill that out, you will also need to bring a primary form of I.D. such as a Driver's license or a CA ID

Where do I get the Live Scan request form?

The agency that is requesting the Live Scan must provide you with the Request For Live Scan Service form. Your requesting agency should have their information entered for you on the "contributing agency information" section of the form. Livescan locations will not have the live scan request form for you on site.

How can I find my criminal background for personal use?

You can print out a Record Review Live Scan Form, take it to the nearest live scan location, and the results would be sent to your address, Read More.
View All Questions
Enjoy this article? Don't forget to share.