Live Scan Identification Requirements
Share This Article
The DOJ requires certified fingerprint rollers accept only current, valid, and unexpired picture identification documents as primary valid identification.
Acceptable Primary forms of photo identification include any of the following:
Acceptable​ ​Primary​ ​Forms​ ​of​ ​ID
● State-issued driver's license or State-issued ID
● U.S. Passport or U.S. Passport Card
● Federal Government Personal Identity Verification Card (PIV)
● Uniformed Services Identification Card
● Department of Defense Common Access Card
● Foreign Passport with Appropriate Immigration Document(s)
● USCIS-Permanent Resident Card (I-55I)
● USCIS-Employment Authorization Card (I-766)
● Federal, state, or local government agency ID card with photograph
● U.S. Coast Guard Merchant Mariner Card
● Canadian driver's license
● Consular Identification Card – only valid for adoption purposes and nothing else.

In​ ​the​ ​absence​ ​of​ ​a​ ​primary​ ​form​ ​of​ ​ID,​ ​applicants​ ​may​ ​provide​ ​at​ ​least​ ​2​ ​secondary identification​ ​documents​ ​including:

● State Government Issued Certificate of Birth
● U.S. Tribal or Bureau of Indian Affairs Identification Card
● Native American tribal document
● Social Security Card
● Court Order for Name Change/Gender Change/Adoption/Divorce
● Marriage Certificate (Government Certificate Issued)
● Draft Record
● School ID with a photograph
● Certificate of Citizenship (N-560)
● Replacement Certificate of Citizenship (N-561)
● Certificate of Naturalization (N550)
● Replacement Certificate of Naturalization (N-570)

Secondary​ ​Identification​ ​Data​ ​Support​ ​Documents
When​ ​validating​ ​the​ ​authenticity​ ​of​ ​secondary​ ​identification​ ​documents​ ​and​ ​forms,​ ​the data​ ​and​ ​information​ ​may​ ​be​ ​supported​ ​by​ ​at​ ​least​ ​two​ ​of​ ​the​ ​following​ ​current​ ​documents:

● Utility Bill (Address)
● Jurisdictional Voter Registration Card
● Vehicle Registration Card/Title
● Paycheck Stub with Name/Address
● Jurisdictional Public Assistance Card
● Spouse/Parent Affidavit

When supplemental documentation does not support the validation of the original identification documents, the certified fingerprint roller should not accept the form of identification as valid and not fingerprint the applicant.
Please visit us at CertifixLiveScan.com to find your nearest location, or give us a call at 1-800-710-1934, or email us at support@certifixlivescan.com.


Read more about: What are the Safest Ways to Complete Your Live Scan during the Covid-19 Pandemic?
Image Credit: Kevin Phillips from Pixabay
Get your Live Scan Fingerprinting Near You
Live Scan & ink Card Fingerprinting
Schedule an Appointment Now!
We Offer a Nationwide Network of 1200+ Fingerprint Enrollment Centers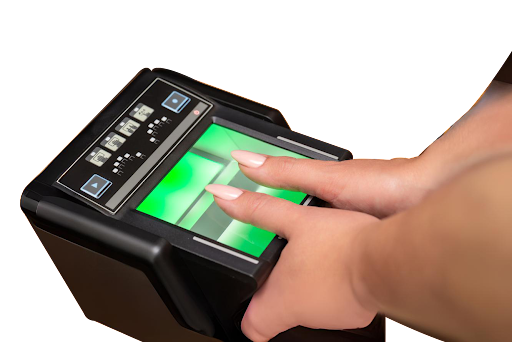 Frequently Asked Questions
What is an "OCA" number?

The OCA number is a field for the requesting agency to use for internal needs.
OCA stands for "Originating Case Agency". 
Sometimes the Request For Live Scan Service Form may have this field listed as "Your Number" or "Facility Number". 
This field in the live scan system is only required by specific agencies. (i.e. Department of Social Services – A0448). 
Certifix uses this field to identify Certifix Billing Accounts.

Can I swipe an Out-Of-State I.D.?

If the I.D. has a magnetic strip, it can be swiped. Otherwise, fill out the applicant data into Cscan manually and enter the ID number into the Misc Identification number field under "Operator's License".

Can I accept a passport I.D. as valid identification?

US and foreign passports can now be accepted as a primary form of identification.  Foreign passports must include appropriate immigration documents, i.e. Homeland Security entry stamp.

Can the applicant use an AB60 / AB 60 driver's license?

AB 60 Driver's License (info from California DOJ) https://www.aclunc.org/our-work/know-your-rights/california-ab-60-drivers-licenses If you present your AB 60 license in a state other than California, you may be at risk depending on the laws and policies of that state.  Do not attempt to use your AB 60 license to enter restricted areas of federal facilities, pass through TSA screening, or verify your identity to federal law enforcement officers, including Immigration and Customs Enforcement (ICE) and Customs and Border Patrol (CBP). Learn More
View All Questions
Enjoy this article? Don't forget to share.