The Complete Guide to Florida Fingerprinting Requirements
Share This Article
Imagine you get contacted by the Florida Department of Health in cooperation with law enforcement. They have a legal document saying that you may be tested for DNA to help solve a crime. After providing your fingerprints, they have done everything legally required and can offer you an exception to the rule if you would like.
All that's left is your fingerprints to comply with new Florida laws. Luckily, you've come to the right place, and we know how to get it done for you!
Here in Florida, jobs that require a level 2 background check (livescan fingerprints) should expect to go through the state's Department of Law Enforcement to record your prints.
The FDLE requires an "Originating Agency Identifier Number" (ORI) for most fingerprint scans. The originating agency is the state, county, or local government that historically collected the fingerprints.

What is an ORI number?
ORI stands for On-Record Identification Number and is the ID number given to your fingerprint by the FDLE. It's used to provide information about your identity, background, and criminal record.
Florida law requires you to include your ORI number when getting fingerprints scanned. This is an essential part of the process which helps your fingerprints get registered and apply to background checks to fulfill any requirements needed for licenses.
Our appointments use the same system, VECHS, run by the Florida Department of Law Enforcement. VECHS numbers work just like ORI numbers. If you have this number, please keep that in mind.

Why Do You Need an ORI number?
When the Florida Department of Law Enforcement runs a background check, they need to know why you need it and which agency should receive the results. This is known as an ORI code.
An ORI number indicates which state department will process your fingerprints. Typically, they start with 2-5 letters followed by numbers to make a 9-digit code.
Usually, the abbreviation of the agency that a check was performed for is embedded in the code. For example, you'll see AHCA in an ORI number if it was a level 2 background check for the Agency of Health Care. Administration (AHCA Background checks) is EAHCA020Z. The ORI number for the Department of Children and Families General (DCF General) is EDCFGN10Z. Notice the letter-number format of both ORI numbers.
Other ORI numbers may start with "FL" followed by seven digits, the last of which may be the letter "z."
To register with a livescan provider, you will also need to provide them with your OCA number and ORI number.

What is an OCA number?
An OCA stands for Originating Agency Case Number. This number is often combined with the ORI (Original Requested Information) number to ensure that FDLE knows why the background check is needed and which state or other overseen agency should be contacted first. But which specific company or agency should receive access to the final results.
Not all companies or agencies are registered with the UCR, and anyone applying for Level 2 Background Checks will be given a PAN number. OCA IDs start from "111" & are always numbers only.

What is a VECHS number?
VECHS numbers are specifically for the VECHS program. Typically used by schools and daycares, VECHS numbers send the results directly to the company from FDLE.
These numbers always start with an "E" or a "V." VECHS numbers beginning with a "V" are for applicants who will be a volunteer at the company, whole numbers starting with an "E" are used for employees.
What are the differences between VECHS numbers and social security numbers? The VECHS number is similar to a social security number, except it is exclusive to Florida's VECHS program.

What You Need to Know
An ORI, OCA, or VECHS number is required before they can scan your fingerprints.
If you don't have one, your originating agency can help you.
Here's a list of the agencies in Florida and how you can contact them.
How to Get an ORI, OCA, or VECHS Numbers in Florida?
In Florida, the Department of Health (DOH) is responsible for issuing ORI and VECHS numbers. Obtaining these numbers can be complicated, so we've created a step-by-step guide to help you.
If you don't have an ORI number in Florida for your live scan fingerprints, please contact your originating agency (listed below), employer, or volunteer organization. To obtain and apply to an ORI number. Florida Department of Law Enforcement (FDLE)1-800-226-8378
Are you still confused about your ORI number? You can chat with a representative, email us, or give us a call to figure it out.

Once You Have An ORI Number
It's time to make an appointment to reserve your time slot, then take a moment to read about what you can do to help ensure your fingerprints are of the best quality.
These are the steps to use ORI and VECHS numbers in Florida.
When you get fingerprinted for a live scan at your local law enforcement agency.
Apply for an ORI number online through the FDLE website.
Once you have the ORI number, you can apply for a VECHS number online through the FDLE website.
How to Get Fingerprints Taken in Florida?
Certifix now offers a Statewide fingerprinting live scan in Florida, certified and approved by the Florida Department of Law Enforcement (FDLE), and is available for AHCA background screening. Simply visit any of our locations in Florida for a fast and easy fingerprinting experience.
Certifix Live Scan is the most convenient and accurate way to get your fingerprints scanned for various purposes. Our Live Scan operators are experts in securing your prints and can accommodate walk-ins or Scheduled Appointments at any of our locations in Florida.

Final Thoughts
The Florida Department of Law Enforcement (FDLE) is responsible for issuing Florida ORI and OCA numbers. The FDLE also issues VECHS numbers to those fingerprinted by the FDLE.
As the population in Florida continues to grow, it is vital to keep up with the demand for services. The state has a growing need for more public health professionals and administrative staff. This is where ORI and VECHS numbers come into play. These are two different numbers required by the state of Florida to practice as a public health professional or administrative staff member.
The first number, ORI, stands for Occupational Registration Identification Number. This number is issued by the Department of Professional Regulation (DPR). It is used to track all public health professionals and administrative staff who work in Florida. The second number, VECHS, stands for Vital Event Certificates Healthcare System Number. The Vital Statistics Unit issues this number (VSU).

You Might Also Like:
Get your Live Scan Fingerprinting Near You
Live Scan & ink Card Fingerprinting
Schedule an Appointment Now!
We Offer a Nationwide Network of 1200+ Fingerprint Enrollment Centers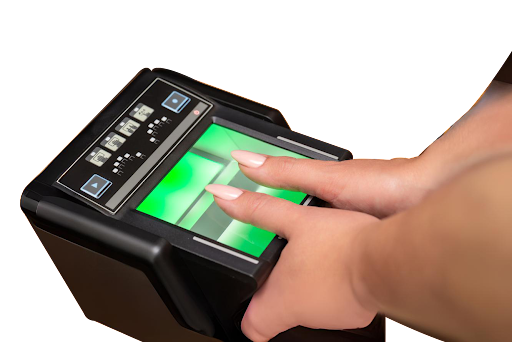 Frequently Asked Questions
How do I get my Live Scan results in Florida?

The Live Scan results are sent electronically to your requesting or licensing agency, so it's important that you contact them directly to ensure they have received the fingerprint-based background check report provided to them by the Florida Department of Law Enforcement (FDLE).

How do I get my TCN for a Florida Live Scan?

The Live Scan service provider can provide you with a TCN that you can use to search for the status of your fingerprint-based background check. It's important to ensure you get the TCN before you leave the Live Scan site, as this is how we can follow up on the status of your Live Scan transaction.

How do I submit a Live Scan in Florida?

Submitting Live Scan in Florida is a very simple process, you will just need to figure out what ORI number is required for your application type and provide that to the Live Scan service provider or online using our step-by-step online enrollment process.

 

How much does Live Scan cost in Florida?

Live Scan fingerprinting in Florida has two fees associated with the service. The rolling or service fee provided to the location can range between $30 to $40 plus the government fee associated with your application type which will either be $37.25 or $61.25.

 

How long does it take for a background check in Florida?

The Florida Department of Law Enforcement has an automated system that will receive your Live Scan transaction and run a background check, a report is then automatically sent to your requesting or licensing agency. Background check reports may be delayed due to poor quality fingerprint capture or other issues that may come up during the fingerprint search.

 

Do I need an appointment?

Some of our Florida locations accept online registration and enrollment of your Live Scan transaction, this allows you to provide all of the required information along with the ability to pay for the service online. If you do not have easy access to a PC or credit card, you can simply walk into the location or schedule an appointment either over the phone or online.
View All Questions
Enjoy this article? Don't forget to share.