What is Live Scan and What is the Live Scan Process?
Share This Article
What is Live Scan? Before we go into the Live Scan Process and it's uses let's have a brief overview of what a Live Scan is.
Live Scan fingerprinting is an ink-less electronic fingerprinting that scans your fingerprints directly into the computer to do to determine who a person is so that a background check can be done.
No two peoples fingerprints match so they are used to for criminal actions and history reports and more. More and more employers are requiring some form of pre employment background check, but in some instances a Live Scan fingerprinting is required before you can work there.
Some of these include: anyone who works in schools, foster care, lawyers, notaries, doctors, contractors and much, much more.
So, now that we have figured out Live Scan fingerprinting is what and a few of its uses are let's discuss how it works. It's really much easier than you might think. Live Scan is fast because once you receive the paperwork requesting the Live Scan all you have to do is fill it out, find a location, and make an appointment.
The first step is that the Requesting Agency that is requesting the Live Scan such as an employer will provide you a Live Scan Request or something similar, different states may have slightly different titles. You must bring all 3 copies of that form and you must fill it out, it asks for basic details such as your name, birth date, address, gender etc. and bring the form along with a valid photo ID.
The second step is to determine your Live Scan location and contact them. You should inquire about the hours of operation and if an appointment is needed different locations may have different requirements in that regard. Also ask which payment methods are accepted at that location.
The third step is the certified Live Scan operator will collect the necessary fees. Different locations may accept different payment locations so calling ahead to find out will save time.
The fourth and final step is is to get fingerprinted by a professional, certified Live Scan operator, which is easy and clean with no messy ink that stains your fingers. Your fingerprints will be scanned directly into the computer system that will begin to verify who you are.
If you have one or more people in need of Live Scan fingerprinting you can call your nearest Live Scan location and request a mobile live scan unit to come to your business and the friendly, trained, and certified technicians will come out and do the fingerprinting on site.
Easy right? Live Scan really has taken work out of background checks.
Please visit us at CertifixLiveScan.com to find your nearest location, or give us a call at 1-800-710-1934, or email us at support@certifixlivescan.com.

Read more about: What are the Safest Ways to Complete Your Live Scan during the Covid-19 Pandemic?
Get your Live Scan Fingerprinting Near You
Live Scan & ink Card Fingerprinting
Schedule an Appointment Now!
We Offer a Nationwide Network of 1200+ Fingerprint Enrollment Centers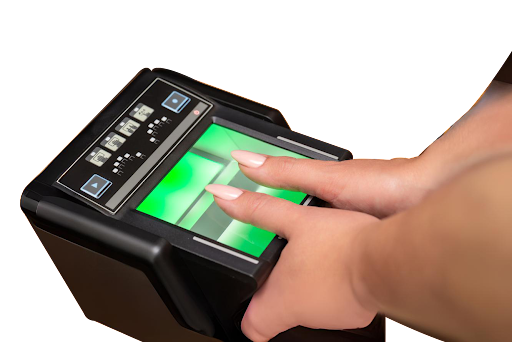 Frequently Asked Questions
How does Live Scan work?

The requesting agency provides the applicant with a Request For Live Scan Service Form. 
The applicant then takes the form along with proper identification to the nearest live scan location to get fingerprinted via live scan.  
This is then sent to the DOJ, FBI or both to be processed. 
The DOJ then sends the results to the requesting agency only.

Is live scan the same as fingerprinting?

Live scan is fingerprinting done electronically performed for an agency or an individual to receive a background check from the DOJ and FBI.

What do I need to get a live scan?

The requesting agency should provide you with a "request for live scan service form". You will need to fill that out, you will also need to bring a primary form of I.D. such as a Driver's license or a CA ID

Who can we provide live scan submissions for?

We can process transmissions to most request agencies in California with a few exceptions: TSA Pre-Check, HAZMAT, TWIC, FINRA, and Military Purposes. If applicants to any of these agencies require ink fingerprints on FD-258s, any of our locations that offer ink can provide that service.
View All Questions
Enjoy this article? Don't forget to share.