Should You Ask Your Marriage Partner to Submit an FBI-Background Check?
Share This Article
In the simplest terms, yes, you can ask your marriage partner for an FBI background check. After all, it is better to be safe than sorry. Marriage is a lifelong commitment and a bond of trust.
Before getting totally committed, both partners should be completely sure about each other's credentials, personal details, and characters.
A marriage background check is one of the best ways to make sure your marriage doesn't turn into a nightmare.
Why Get a Background Check Before Marriage?
Both Partners Getting Checked. First and foremost, the subject of background checks has little to do with honesty and transparency. It's only fair that you and your partners should get an FBI background check before getting married. This can even be treated as a fun event. After all, your partner might not even know about the potentially grievous information they have in their past. Background checks give you and your partner the chance to correct your record, so you may be doing yourself a favor.
Discover Possible Skeletons in the Closet. Having background checks allows you to check your partner's past and see if there are any possible skeletons in the closet. This can reveal felony background, employment history, a scandal, history of substance abuse, financial problems, and more. These cases can be considered deal-breakers, and you need to discuss them with your partner and address them before getting married.
Information Included in An FBI Background Check
Generally, the primary reason people run background checks is to check for criminal history. An FBI background check comprises all the federal felony convictions and misdemeanors.
The background check may also include certain information about the conviction, charge, and any confinement.
Some of the other information included in an FBI background check includes criminal non-convictions for the last seven years, official personal information, and housing history.
FBI Fingerprint Check
The FBI uses fingerprints to identify people. And with the live scan – fingerprinting, you and your marriage partner can send your fingerprints to the FBI for background checks.
Live scan – fingerprinting is the process whereby fingerprints are captured electronically and transmitted to a state repository such as the FBI.
By processing the fingerprints electronically, you can get your marriage partner's background check response within a matter of hours.

The fingerprints are searched against the FBI criminal database and/or a state criminal history database.
A certified live scan fingerprint technician can help capture you and your partner's fingerprints and transmit them for an FBI background check.

Conclusion
Not everything uncovered from FBI-background checks shows negative information. In some cases, the information gathered from these checks can produce valuable data that can bring you and your marriage partner even closer.
Asking your marriage partner to submit his or her FBI background check may seem heartless initially but can eventually save your relationship.

When you are ready to move forward, you may want to search for live scan fingerprinting near me.
A reputable live-scan fingerprinting technician can help you or your partner capture your fingerprint electronically and submits it directly to the FBI through an authorized FBI Channeler.

Please visit us at CertifixLiveScan.com to find your nearest location, or give us a call at (800) 710-1934, or email us at support@certifixlivescan.com.
Read more about: What are the Safest Ways to Complete Your Live Scan during the Covid-19 Pandemic?
Get your Live Scan Fingerprinting Near You
Live Scan & ink Card Fingerprinting
Schedule an Appointment Now!
We Offer a Nationwide Network of 1200+ Fingerprint Enrollment Centers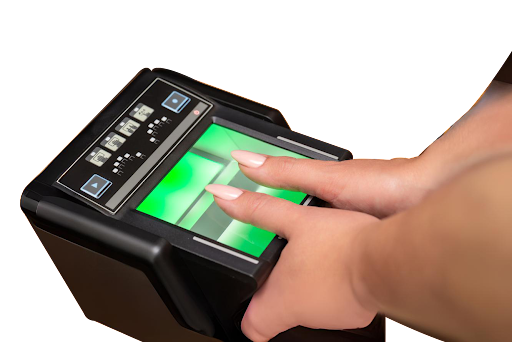 Frequently Asked Questions
How does Live Scan work?

The requesting agency provides the applicant with a Request For Live Scan Service Form.  

The applicant then takes the form along with proper identification to the nearest live scan location to get fingerprinted via live scan.  

This is then sent to the DOJ, FBI, or both to be processed. 

The DOJ then sends the results to the requesting agency only.

What do I need to get a live scan?

The requesting agency should provide you with a "request for live scan service form". You will need to fill that out, you will also need to bring a primary form of I.D. such as a Driver's license or a CA ID

Where do I get the Live Scan request form?

The agency that is requesting the Live Scan must provide you with the Request For Live Scan Service form. Your requesting agency should have their information entered for you on the "contributing agency information" section of the form. Livescan locations will not have the live scan request form for you on site.

Can my request be expedited for an additional charge?

No. Unfortunately at this time, the Department of Justice does not offer an expedited process.
View All Questions
Enjoy this article? Don't forget to share.