How Background Check Errors Can Kill a Job Opportunity?
Share This Article
You've been through multiple interviews and assessments to get your dream job, only to find out you were rejected because of something that showed up in the background check, and worst of all, it's not even true. In today's competitive job market, finding a good job and losing it because of an error is frustrating but unfortunately, it happens. But this doesn't mean that you have to accept it and give up.
In this article, we're going to find out why these errors happen and what you can do to avoid them, fix them, and save that job opportunity before it's too late.
What are common errors that show up in employee background checks?
Identity error, the report is for someone else with a similar name to yours
Wrong or missing info in the original documents
Expunged or sealed records appearing on the report
Duplicate charges are showing up
Arrests with no charges are still on file
Typos or computer/ clerical errors
Misdemeanors are mistakenly listed as felonies
In many cases, an error could occur because public or private criminal databases weren't updated with the latest status of a case. For example, when there were no charges for an arrest or a record was expunged or sealed but only the court files were updated.
Screening companies don't always have the most reliable sources and their criminal databases can be outdated. Another reason for errors would be incorrect or missing info and misspellings in the original documents, this can be done by an employee or a computer error.
What can you do to avoid this?
Run a background check on yourself: If you want to see what the employer sees before they do, you can run a background check on yourself. With under $70, you can run a criminal background check on a DOJ level to see if anything shows on your record. The FCRA (Fair Credit Reporting Act) states that anything over 7 years ago shouldn't show up on your record. So if an older arrest is showing up, you can contest it at the court where the charge was filed.
The employer may also do other background checks like a credit report, driver record, drug & alcohol test, or education verification – depending on the job requirements. Most of these checks, you can do on your own. You can pull your driver record from the DMV website, get a credit report from one of the three credit unions, request your school transcripts from your educational institute, and so on. Find out everything the employer will see and avoid being surprised by errors.
Use an FCRA-approved & reliable screening agency: As an employer, you need to ensure that the agency you're using to run background checks complies with the Fair Credit Reporting Act and has reliable sources. Many agencies use public criminal databases, which can be outdated or have limited sources. Use an agency with a good reputation, even if it's not the cheapest, it'll save your business losses in the future.
How can you fix an error in a background check?
There are specific procedures set by the FCRA that an employer needs to follow in a background check process. You'll receive a written notice from the employers informing you that they want to run a background check.
Then they'll need your written permission/ approval for the background check before they can do anything.
FCRA laws state that an employer is not allowed to reject your job application based on a finding in the background check without giving you a chance to dispute the results.
The employer will send you a pre-adverse action letter, which is a letter rejecting your application because of negative information that showed up on your background check. It will also be associated with a copy of your background check, a summary of your rights under the Fair Credit Reporting Act, and the contact info of the screening agency that conducted the background check.
The FTC (Federal Trade Commission) set a specific amount of time that the employer needs to give the candidate to dispute the pre-adverse action before settling on a hiring decision.
Carefully go through the report until you locate the error, you may need to contact the screening agency and inquire about it. It may be because of missing info, misreading handwriting, clerical errors, or anything else.
If the error is from the employer or the screening agency's side, you'll have to contact them to correct it. If not, you'll have to get proof of the correct info and provide it to the employer and screening agency. For example, if there is a problem with your criminal record, you'll have to go to the court or law enforcement agency and correct the record.
All employers must comply with the FCRA regulations; there can be serious repercussions for violations. For example, in 2018, PepsiCo Subsidiary settled for $1.2 million for FCRA violations.
If an employer doesn't comply with the above procedures, you can file a claim against them and may even be entitled to civil penalties, according to Lemberg Law.
Don't let an error in a background check stand in your way of getting your dream job.

The Certifix Live Scan support team is available 24/7/365 and we'll be able to answer any questions or concerns that you may have. Our direct call-in number is (800) 710-1934 or you can send us an email at support@certifixlivescan.com

Read more about: What are the Safest Ways to Complete Your Live Scan during the Covid-19 Pandemic?
Image Credit
Business photo created by yanalya – www.freepik.com
Get your Live Scan Fingerprinting Near You
Live Scan & ink Card Fingerprinting
Schedule an Appointment Now!
We Offer a Nationwide Network of 1200+ Fingerprint Enrollment Centers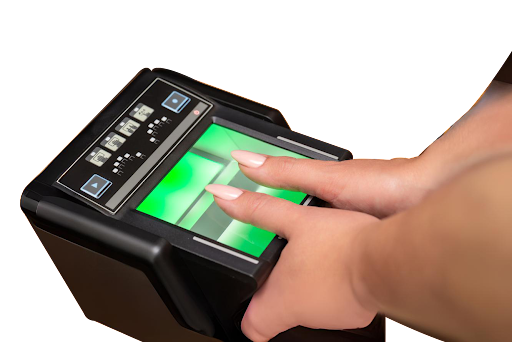 Frequently Asked Questions
Why was my live scan rejected?

A live scan can be rejected either for poor fingerprint quality or data entry errors. 

Your employer or agency can find out what the reason was by emailing appagencyquestions@doj.ca.gov. 

You or your agency may also receive a rejection letter from DOJ that states the reason for rejection.

Do expungements show in the Live Scan?

Expungement Law – US. Criminal "Expungement" is the process of going to court to ask a judge to seal a criminal record. When a record is sealed, it does not show up in a criminal background check. It is important to remember that a sealed record is not destroyed.

Where do I get the Live Scan request form?

The agency that is requesting the Live Scan must provide you with the Request For Live Scan Service form. Your requesting agency should have their information entered for you on the "contributing agency information" section of the form. Live scan locations will not have the live scan request form for you on site.

Where can I get a copy of my live scan request form if I cannot find it?

You would have to contact the location where you got your live scan done. 

They will need to see identification before they can give you the form. 

If it has been over a year since the live scan was performed they will not have it, because they are instructed to shred the forms per the Department of Justice rules and regulations.
View All Questions
Enjoy this article? Don't forget to share.