Hiring Employees: How to Run a Criminal Background Check?
Share This Article
Whether you're hiring a teacher, accountant, or janitor, a criminal background check is a cornerstone in the hiring process.
There are multiple types of background checks like employment verification, education verification, motor vehicle, and driver record, drug, and alcohol test, and more. But today we're going to discuss a criminal background check and how it's done.
A criminal background check is searching the candidate's criminal history to find out if they have any misdemeanors, felonies, arrests, or violations on their criminal record.
Running a criminal background check is vital for many reasons; it ensures the safety of your employees and customers, creating a safer workspace.
It also improves the quality of your hires and reduces liability and possible legal costs in the future from a bad hire that can cause trouble like theft, fraud, or any criminal activity. In many cases, it is mandatory to run a criminal background check on employees before hiring, especially for positions dealing with children or the elderly like teachers or caregivers.
However, there are multiple types of criminal background checks so we're going to clarify each one so you could easily decide which one you need to run and how to do it.
What are the different types of criminal background checks?
There are four different types of criminal background checks; some of them may offer results that overlap each other but each of them is important and can easily be done by the employer or a screening agency.
County Background Check: This background check is run through the local jurisdiction, the county, where the candidate lives. The records are extracted from one of the 3400+ county court databases in the US in correlation with the state repositories. These searches should include felonies, misdemeanors, and arrests within the county and the results should date back from 7 to 10 years. However, some counties don't have digital records, and so, a clerk needs to manually go through the court records which could extend the time of this background check.
State Background Check: This search entails convictions, felonies, or pending cases, at a state level which is done through state law enforcement records or state repositories. This search includes county records within the state as well. Each state has a state repository and there are different laws from one state to another so one disposition or offense isn't necessarily the same in another state. This is one of the most commonly used criminal background checks.
National Background Check: This check is done through searching the US states digital databases like court files, police records, etc. to pull out misdemeanors, felonies, and arrests on a state and county level as well as registered sex offenders. So if some counties don't have digital databases, the crimes in those counties won't show up in this search. This is a multi-state search, covering over 60 million US records throughout the nation.
Federal Background Check: This check uncovers federal crimes, which are crimes on a bigger scale that violate federal criminal laws and do not appear through a state or county level check like embezzlement, bank robberies, tax evasion, illegal weaponry, etc. This search is done across the 94 federal district courts in the US. Contrary to the National Background Check, this search is for federal crimes and not crimes on a state/ county level. This check is usually required for managerial or financial positions like CEO or financial manager.
How to run a criminal background check?
Before an employer can run a background check on a candidate, they'll need written permission from them. It is against the Fair Credit Reporting Act (FCRA) regulations to look into an applicant's background or criminal record without their approval.
Name-based criminal background check: This check is popular between businesses because it saves them the time of doing the work themselves as it can mostly be forwarded to a consumer reporting agency (CRA). A CRA can run multiple background checks like employee verification, credit history check, and more, not just a criminal background check. They will require personal info like the applicant's name, address, Social Security Number, and possibly other details. Through a social security number trace, you'll be able to locate all of the counties that the applicant has lived in to perform a background check per county. These agencies run name checks in multiple local and state court databases and put together a report with their findings. Their sources are not always reliable so be sure to choose a trustworthy screening agency.
Fingerprint-based background check: For a more advanced background check, including a local, state, and federal search, you can get fingerprinted at a live scan store or local police department then the fingerprints are submitted electronically to the state and FBI. Find the nearest location to you here, by searching by city or zip code. Applicants will need to bring a Request for Live Scan Form, many states require you to have an ORI number; if it isn't already prefilled on your form, the employer will need to apply for an ORI with the FBI CJIS department. Applicants will also need a valid photo government ID to verify their identity when getting live scanned. After the DOJ is finished with their search, they form a RAP sheet, which is records of arrests and prosecutions for licensing or employment. Then if the FBI check is required, the fingerprints are forwarded to the FBI as well. The results should be sent back within 3 to 5 business days. However, not all states offer live scan services so you may need to submit an ink fingerprint card. This process can take up to 12 weeks to get the results back.
If you are an employee you can read more about: Applying for a Criminal History Record Check: Step-by-Step Guide
Laws and regulations on using criminal history when hiring
There are certain regulations set by the FCRA on how an employer or screening company can gather information about an applicant so you need to ensure that the screening company complies with the FCRA regulations.
And the Equal Employment Opportunity Commission (EEOC) has anti-discrimination laws set, which forbid you from using criminal information found in a way that discriminates against the applicant based on sex, age, ethnicity, etc.
You may not be permitted to arrests that did not lead to convictions, but if you are going to reject an applicant for their criminal record, you'll need to send them a pre-adverse action letter explaining your reasons and give the applicant a chance to dispute it.
Some states have applied a ban the box legislation, where you're not allowed to ask the applicant during the interview or initial stage of hiring about their criminal history and can only do so after sending them a contingent job offer, which is a conditional offer that depends on how the background check goes.
Running a background check is an important step and shouldn't be neglected but be sure you're doing it the right way.
Please visit us at CertifixLiveScan.com to find your nearest location, or give us a call at (800) 710-1934, or email us at support@certifixlivescan.com.
Read more about: What are the Safest Ways to Complete Your Live Scan during the Covid-19 Pandemic?

Image Credit:
Business photo created by ijeab – www.freepik.com
Get your Live Scan Fingerprinting Near You
Live Scan & ink Card Fingerprinting
Schedule an Appointment Now!
We Offer a Nationwide Network of 1200+ Fingerprint Enrollment Centers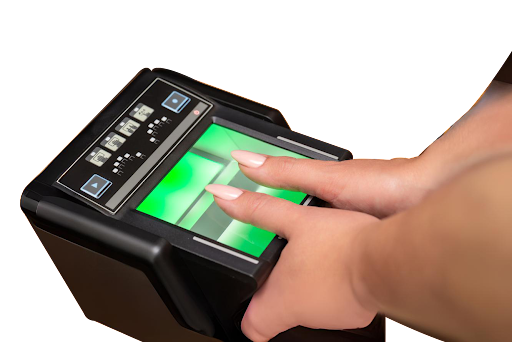 Frequently Asked Questions
How does Live Scan work?

The requesting agency provides the applicant with a Request For Live Scan Service Form.  

The applicant then takes the form along with proper identification to the nearest live scan location to get fingerprinted via live scan.  

This is then sent to the DOJ, FBI, or both to be processed. 

The DOJ then sends the results to the requesting agency only.

What do I need to get a live scan?

The requesting agency should provide you with a "request for live scan service form". You will need to fill that out, you will also need to bring a primary form of I.D. such as a Driver's license or a CA ID

Where do I get the Live Scan request form?

The agency that is requesting the Live Scan must provide you with the Request For Live Scan Service form. Your requesting agency should have their information entered for you on the "contributing agency information" section of the form. Live scan locations will not have the live scan request form for you on site.

How can I find my criminal background for personal use?

You can print out a Record Review Live Scan Form, take it to the nearest live scan location, and the results would be sent to your address, Read More.
View All Questions
Enjoy this article? Don't forget to share.