FDLE Approved Live Scan Service Provider
Share This Article
The concept of security is far more sophisticated than it was a few decades ago. A rapidly growing list of innovations is redefining security for corporate companies.

You may have heard the term FDLE Approved and not know what it really means. Understanding what this is all about will help you make an informed decision when choosing a Live scan provider.

Of what use is FDLE approval?
Only a live scan service provider authorized by the Florida Department of Law Enforcement (FDLE) can submit a client's digital fingerprint result to the department that will in turn process and forward it to the appropriate agency.

In Florida, the Florida Department of Law Enforcement (FDLE) is the state's agency charged with the responsibility of handling criminal history checks which may be required for many purposes such as licensing, employment, permits, registrations, foreign adoption, and immigration/visa clearances. The FDLE can send your results to the appropriate requesting agency within 3 days of submission.

What Information Do I Need to Provide For Electronic Submission to FDLE?
You need to provide your live scan vendor with Originating Agency Identification (ORI) number when you submit your fingerprints. If you fail to supply an ORI number or if the one you provide is incorrect, FDLE will not receive your fingerprint results.

ORI, which stands for Originating Agency Identifier Number, helps FDLE to identify the agency requesting a criminal record check and the purpose of the request. Your ORI number ensures your fingerprint captures are forwarded to the right agency or the right state department.

How to Get an ORI Number?
It's the agency requesting a background check via FDLE that will provide the ORI Number. If you are not sure, feel free to contact the agency or company involved.

Does FDLE Accept Ink Fingerprint Cards?
FDLE no longer accepts the manually generated ink and roll fingerprint card. So, you will need the help of an FDLE authorized live scan vendor to transmit your fingerprints to the said department via their live scan fingerprinting technology. However, you are fully responsible for the type of Florida live scan vendor you choose to help you with your electronic submissions to FDLE.

To fulfill all the FDLE transmission requirements, your live scan vendor may give you an applicant submission form that will require you to fill in the following details:

address information should be well written. Make sure that it is separated by commas: street, city, and state.
Other Requirements:
You are required to provide your demographic information as of the time your fingerprint was captured. Your social security number is also needed. FLDE cannot process any electronic submission without the applicant's social security number.

You may also be required to tender one of the two forms of identification that bear your clear picture and signature such as a state identification card, driver's license, or international passport.

What Should I Do If I Have Issues With My Live scan Provider?
It's important to note that in the state of Florida live scan vendors must first be licensed by FDLE before they can successfully transmit fingerprints to the department. So, you may want to check the FDLE-approved status of the live scan provider you want to choose.

In a situation where you submit your fingerprint via an FDLE-approved vendor, but you later get a deficiency letter regarding your fingerprint, don't fret yet. Just report the notification to your live scan vendor. You can request proof of fingerprint submission through FDLE. This can be easily generated with your Transaction Control Number (TCN) created at the time your prints are taken.

You can also ask them for a receipt bearing the payment date and other important details in case you need to go back for a re-roll of your print. However, you may be responsible for the fees associated with the recapture of your fingerprints.

Pls, note that you cannot use your prints to apply for another professional license. The reason is that the print can only be used for a specific agency that requests it.

Conclusion
When it comes to fast, reliable, and high-quality fingerprinting Certifix Live Scan company is a perfect option for you. We are a live scan fingerprinting provider certified by DOJ, FBI, and the FDLE. We can help you submit your digital fingerprints to FDLE without any hitch.
Certifix Live Scan is a market leader in live scan Fingerprinting service at Over 500 Locations in California and Florida. Maybe you are wondering, "is there any FDLE-approved live scan near me?". Certifix LiveScan is at your beck and call.

You Might Also Like:
Get your Live Scan Fingerprinting Near You
Live Scan & ink Card Fingerprinting
Schedule an Appointment Now!
We Offer a Nationwide Network of 1200+ Fingerprint Enrollment Centers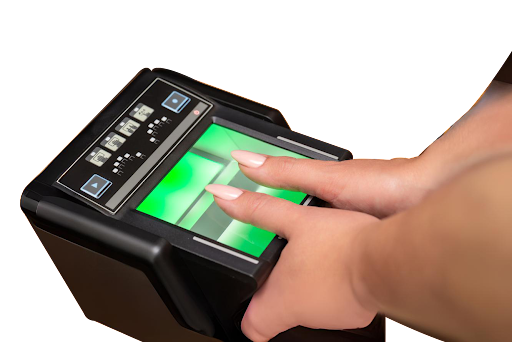 Frequently Asked Questions
What do I need to get a live scan?

The requesting agency should provide you with a "request for live scan service form". You will need to fill that out, you will also need to bring a primary form of I.D. such as a Driver's license or a CA ID

Where do I get the Live Scan request form?

The agency that is requesting the Live Scan must provide you with the Request For Live Scan Service form. Your requesting agency should have their information entered for you on the "contributing agency information" section of the form. Livescan locations will not have the live scan request form for you on-site.

Who can I contact to check the status of my live scan?

You can check the status of your live scan on the Department of Justice Applicant Status Check website: https://applicantstatus.doj.ca.gov/checkstatus which will let you know if it is still processing or if it has been completed. You will need your date of birth and ATI number. The ATI number should be located at the bottom of the live scan form you received after you did live scan.

How do I get a resubmission done?

To get a resubmission, the applicant must bring the rejection letter issued by the Department of Justice (DOJ) to a live scan location. The transaction should be marked as "resubmission" followed by the Original Applicant Transaction ID number (OATI) on the "Submission Information" page on CScan. It is recommended to go to the original location the live scan was taken as the operator should not charge for the resubmission. The management for a new location may charge their rolling fee but not the government fees. If an applicant has been rejected twice for the same live scan due to poor quality fingerprints, the DOJ will issue another rejection letter with an application for a manual name check. The applicant will not need to get live scanned a third time.
View All Questions
Enjoy this article? Don't forget to share.