Florida Background Check for Employment 2023 [Ultimate Guide]
Share This Article
As an employer in Florida, you understand how priceless it is to get good employees that will help you build your business and protect the image of your brand is invaluable.
Having the right employees will accelerate the growth of your brand and create a strong team that will work to make sure your brand succeeds.
When you're hiring, it might seem a daunting task to get the right individuals for the available options. You can't rely on resumes as most applicants cooked up good records to get employed.
Here's where Florida Background Check for Employment comes in handy. Before employing any applicant, ensure you perform a background check on them, and the result is clean.
To avoid breaking the rules and exposing your brand to liability, don't rely on the information you get from some sources when employing workers.
In this guide, we shall discuss all you need to know about conducting background checks in Florida by the state's laws.
What is Background Check?
A background check is a process by which a company or person verifies that someone is who they claim to be. It allows you to review and confirm the actuality of someone's criminal history, employment, education, and other essential information about their past.
Background Information Includes Criminal reports, sex offender checks, lawsuits, judgments, liens, bankruptcies, home value & property ownership, 30-year address history, relatives & associates, neighbors, marriage records, and more
In some cases, background checks include previous arrest records, address information, and previous interviews.
Where is the Information Gotten From?
Information about an individual's background check is obtained from various records, like FBI and law enforcement agencies.
Depending on the type of check and what an employer wants, it can be conducted on state-based records or nationwide records. In Florida, most background checks include public records of the state only.
Background checks automatically reveal whether an applicant is fit for a job or will be disqualified due to certain crimes found in their record. This is especially if an applicant is applying to work in a public agency such as hospitals and elderly care facilities.
Federal Background Check Laws
Employers must comply with federal background check laws when performing employment checks on their applicants.
Here are the two most crucial federal background check laws:
Title VII of the Civil Rights Act of 1964
This is an essential law of pre-employment background checks. Under Title VII of the Civil Rights Act of 1964, employment discrimination is prohibited based on the characteristics of the applicant or the employer.
This means that an employer must access convictions related to their job before deciding whether or not to hire an applicant based on their criminal record.
So conducting pre-employment background checks in Florida can assist in selecting the most suitable candidates for your business. It is essential to ensure that background checks are comprehensive, reliable, and conducted in accordance with legal requirements to obtain accurate information about potential employees.
Fair Credit Reporting Act (FCRA)
Far credit reporting act is a consumer privacy law enforced by the Federal Trade Commission to protect and ensure consumers' privacy in the information collected by consumer reporting agencies (CRAs) and hiring employers.
Before conducting background research, an employer must submit their application to seek their consent and obtain written approval. This rule also regulates how employers can use their applicant's information obtained from background checks.
If an employer decides not to hire an applicant due to their background check, they must complete the adverse action process before making a final decision.
Why Do Employers in Florida Run Background Checks?
Florida employers commonly perform background checks on prospective hires for the following reasons:

1. Ensuring Safety in the Workplace
Employers in Florida run background checks to maintain a secure and safe work environment for their employees, customers, and clients. By conducting background checks, employers can verify the accuracy of an applicant's resume, uncover any potential criminal history or risks, and assess whether the candidate is suitable for the role. Conducting comprehensive background checks not only helps employers make informed hiring decisions but also reduces the risk of workplace incidents, fostering a sense of trust and confidence in the team.

2. Compliance with Industry Regulations
Florida employers often perform background checks to ensure compliance with industry-specific regulations. In certain sectors, such as healthcare, childcare, and finance, employers are required to conduct thorough background screenings on job applicants. By adhering to these industry regulations, businesses can avoid potential fines, legal repercussions and maintain a high level of trust and safety within their organization.
3. Reducing Liability Risks
Employers in Florida conduct background checks to reduce liability risks associated with hiring incompetent or unqualified staff. By screening potential employees, companies can ensure a safer workplace, maintain regulatory compliance, and protect their reputations. This proactive approach minimizes the chances of legal issues, fines, or damages, helping to maintain a stable and successful business.
4. Maintaining Brand Reputation
Implementing thorough background checks for potential employees is crucial in safeguarding a company's reputation. In today's digital age, a company's imageMaintaining Brand Reputation
A company's brand reputation holds significant value in today's digital era, as it influences customer perception, purchasing decisions, and revenue. One crucial aspect of managing a brand's reputation is ensuring that employees, who are often the face of a company, align with its values and maintain a positive image. Utilizing employment background checks can help protect a company's reputation by verifying candidate information, reducing the risk of workplace violence, and revealing problematic behavior on social media. By reinforcing trust and safety within an organization, the brand reputation remains secure and supports long-term success.

5. Identifying Untrustworthy Applicants
Employers in Florida run background checks to identify untrustworthy applicants and protect their businesses. By examining an individual's credit history, criminal record, and personal characteristics, companies can make informed decisions about a candidate's suitability for a job. This process helps to ensure the safety of the workforce, preserve the company's reputation, and maintain the trust of its customers. It is essential for employers to comply with the Fair Credit Reporting Act (FCRA) and state laws to conduct these checks legally and ethically.
6. Screening for Risky Behaviors
Employers in Florida, like those in other states, prioritize employee safety and organizational reputation by conducting background checks on potential hires. Screening for risky behaviors helps identify candidates with a history of substance abuse, criminal activity, or other undesirable actions that could negatively impact the workplace. This proactive approach allows employers to make informed hiring decisions and reduce potential liabilities, while promoting a secure and productive work environment for all employees.
7. Protecting Customers and Clients
Employers in Florida run background checks to ensure the safety and well-being of their customers and clients. By verifying the background of potential employees, companies can mitigate the risk of hiring individuals with a history of criminal activity or other red flags. This proactive approach helps maintain a secure and trustworthy environment for customers and clients, thus contributing to the overall reputation and success of the business.
8. Avoiding Negligent Hiring Liability
Employers need to exercise due diligence in their hiring process to avoid negligent hiring liability. Ensuring thorough background checks, verifying qualifications, contacting references, and staying compliant with relevant laws and regulations can help prevent potential lawsuits. By investing in proper screening processes, organizations can minimize risks and create a safe and productive work environment for all employees.

9. Making Informed Hiring Decisions
Employers in Florida run background checks to make informed hiring decisions, ensuring they select the most suitable candidates for their businesses. By gathering crucial information such as criminal history, driving records, and education verification, employers can assess an applicant's trustworthiness, compliance with industry regulations, and overall fitness for a role. This process helps maintain a safe work environment, protect the company's reputation, and promote a productive and successful organization.

What Makes Florida Different: Florida State Background Check Rules
While some general federal laws and regulations guide background checks, certain states have additional rules, and Florida is one of these states. Here are the three most essential background checks rules that are unique to Florida:
Disqualification of Public Employees Based on Previous Criminal Convictions
While Florida allows employers to perform a background check on employees before hiring, §112.011, Fla. Stat. (2021) states that an employer is not permitted to deny employment to applicants that have committed low-level crimes.
However, employers can deny applicants in the public sector employees if they are found with first-degree misdemeanors, felonies, and related crimes.
Applicants for Public Employment With Record of Drug-Related Offences
Under §775.16, Fla. Stat. (2021), applicants found with drug-related crimes involving trafficking and sales are banned from working in state agencies.
However, applicants can overcome this disqualification if they complete all the terms and conditions of their sentences and pass through state-approved rehabilitation programs.
Ban the Box Laws
Ban the Box laws are those regulations that stop employers from asking their applicants about criminal history.
Florida doesn't have generalized ban-the-box laws; however, some of its cities and counties have enacted ban-the-box laws.
In Oct 2021, Orange County passed a ban on the box law for public employees that prohibit them from asking applicants about their criminal convictions during the application process.
The City of Lakeland also enacted a ban on the box law in 2021, which prohibits city employers from asking their applicants about convictions.
Ban the box laws enacted by cities and counties don't affect private employers.
Gainesville
The Fair Chance Hiring Ordinance No. 2022-617 was approved by the Gainesville City Commission on its second reading on Dec. 15, 2022, and Mayor Lauren Poe signed it into law thereafter.
The decree went into effect right after it was signed.
Before, the city of Gainesville had a law that prohibited public employees from disclosing their criminal history. However, the recently passed ordinance now includes private employers who have at least 15 employees. The goal of this new law is to promote fairness in hiring for individuals with a criminal record.
According to this regulation, during the initial stages of recruitment, private employers are prohibited from inquiring about any previous criminal record.
Prior to the enactment of this legislation, private companies had the ability to inquire about an individual's criminal history during the application process or interview.
Currently, employers are prohibited from inquiring about previous criminal convictions until they extend a tentative employment offer, after which they may administer a background check.
When an employer comes to know that an applicant has an ongoing criminal case or prior conviction, they are required to evaluate that information concerning the position the applicant is being assessed for. This assessment must take into account several factors.
Type of offense and its severity
What was the age of the person when they committed the crime?
What is the duration of time that has passed since the violation was committed and the punishment was fulfilled?
The type of job and its duties
Evidence showing that the applicant has been rehabilitated and shown good behavior since being convicted.
If the employer chooses not to hire the applicant based on their evaluation of the criminal record information, they are required to follow the adverse action procedure.
Prior to making a negative decision about employment, the employer is required to perform certain tasks:
Notify the candidate that the employer plans to retract their job offer due to the candidate's criminal record.
Provide a document containing the details of the individual's criminal background, specifically highlighting any previous criminal activities that may have caused issues.
Give the candidate a fair amount of time to provide the employer with details regarding the circumstances of the offense, as well as any proof of improvement they have made since the incident.
In case the employer chooses not to recruit the candidate, they should issue a written notice that specifies the decision was influenced by the applicant's criminal background. This serves as the final adverse action notification.
The notice of negative action must contain a declaration that it is being given in accordance with the regulations of the City of Gainesville that govern when and how a criminal background check can be carried out.
Employers must use the exact language specified in the ordinance and should consult it in order to ensure they follow the guidelines.
Only the city has the authority to uphold the decree. If a company breaches the decree for the first time, they may have to pay a civil fine of $500. Half of the monetary penalty will go to the candidate. For each future offense, the company may also be imposed a fine of $500.
Due to the recent legislation in Gainesville, we advise employers who are impacted to review their adverse action notifications, while also suggesting that CRAs make revisions to any related examples they may have.
Miya's Law
Florida introduced Miya's Law after a college student aged 19 was murdered by a maintenance worker at an apartment complex in 2021.
This regulation requires every landlord and property manager to perform thorough investigations on potential tenants, which includes verifying their criminal history and registering sex offenders in all 50 states as well as the District of Columbia.
Miya's law pertains to property management firms and landlords who oversee dwellings that are either temporary or non-temporary.
Mandatory Use of E-Verify System
As per the Florida Statute § 448.095 of 2022, private employers in Florida are required to verify the citizenship status of their employees by either utilizing the E-Verify system or collecting the necessary documents from the USCIS.
As of January 1, 2021, this regulation came into effect.
Expungement Law
Compared to numerous other states, Florida's expungement policy is significantly restricted.
The statute§ 943.045(16), Fla. Stat. (2022) defines expunction as the act of eliminating a criminal record through a court decree.
If a record has been expunged, it cannot be viewed by employers or anyone else. However, authorities may keep a record of the expunged incident for future reference if the person is charged with another crime.
Florida does not have an automatic process for getting rid of or hiding records after a certain amount of time, unlike some other states.
According to Section 943.0585 of the Florida Statutes (2022), individuals who wish to have their criminal records expunged must file a formal request known as a petition. It is important to note that this option is only permitted once in a person's lifetime.
Individuals who have committed certain criminal offenses that result in disqualification are not eligible for expungement.
If a person who makes a request is granted an expungement, then they are not required to reveal that record to their employers. Moreover, it will not be a part of the information obtained during a background check.

Sealed Convictions
Applicants aren't required to expose arrests that have been expunged. Even if an applicant revealed such convictions, the employer shouldn't consider that when hiring.
Negligent Hiring
If an applicant performs a Florida background check before employment, but their employer overlooks all red flags and employs them, they are presumed innocent if any potential negligence Happens. This protects the employer should the applicant cause any harm to a colleague or customer.
Private Employers
Private employers have the right to consider all criminal records during the employment process. However, if the employer doesn't feel the applicant's relevance to the position, the applicant can face employment discrimination action under Title VII of the Civil Rights Act of 1964.
Read More about 5 Things You Need to Know About Pre-Employment Background Checks

Types of Background Checks in Florida
Florida background check for Employment 101: What are the Screening Requirements?
Florida has two types of background checks(Screening Requirements): Level 1 checks and Level 2 checks:
►Level 1 checks
These are state-only, name-based checks. They check the applicant's employment history and state or local criminal history. Level 1 will also check whether an applicant's name is on the national sex offender registry. To be subjected to this check, an applicant should neither be awaiting arrest nor hold a delinquency record, as the state's statutes ban.

►Level 2 checks
This is a broader criminal background check that also covers national records. Unlike level 1 check, this is a state and national check that includes fingerprinting and a thorough examination by the Federal Bureau of Investigation (FBI) and Florida Department of Law Enforcement (FDLE). This type of check is required for positions that require a certain level of honesty and trust. If an applicant is found with offenses like murder, assault, kidnapping, sexual offenses, and other related crimes, they'll be rejected by their employer.
Background checks via FDLE will check whether an individual has been arrested or convicted of a crime. According to the Florida Government website:
Level 1 and 2 standards provide that no persons have been arrested for and are awaiting final disposition of, have been found guilty of, regardless of adjudication, or entered a plea of nolo contendere or guilty to, or have been adjudicated delinquent. The record has not been sealed or expunged for any offense prohibited under any of the following provisions of state law or similar law of another jurisdiction2 :
(a) Section 393.135, relating to sexual misconduct with sure developmentally disabled clients and reporting such sexual misconduct.
(b) Section 394.4593, relating to sexual misconduct with certain mental health patients and reporting of such sexual misconduct.
(c) Section 415.111, relating to adult abuse, neglect, or exploitation of aged persons or disabled adults.
(d) Section 777.04, relating to attempts, solicitation, and conspiracy to commit an offense listed in this subsection.
(e) Section 782.04, relating to murder.
(f) Section 782.07, relating to manslaughter, aggravated manslaughter of an older adult or disabled adult, or aggravated manslaughter of a child.
(g) Section 782.071, relating to vehicular homicide.
(h) Section 782.09, relating to the killing of an unborn child by injury to the mother.
(i) Chapter 784, relating to assault, battery, and culpable negligence if the offense was a felony. (j) Section 784.011, relating to assault if the victim of the offense was a minor.
(k) Section 784.03, relating to the battery if the victim of the offense was a minor.
These are some of the disqualifying offenses an employer should take note of. For more, you can visit the Florida Government site.
►Is there a Level 3 Background Check in Florida
There are only two background checks in Florida – Level 1 and Level 2- as statutorily defined in Ch. 435, Fla. Stat. (2021).
There isn't a level 3 background check FL. However, some refer to the Florida Department of Law Enforcement (FDLE) background check as a level 3 check.
Further Reading about FDLE/FBI Florida Criminal History Reports are Barriers to Occupational Employment
What Shows up on a Florida Background Check?
When conducting a pre-employment background check in Florida, employers typically request various types of information to assess their applicants. The following details are commonly included in these reports:

Criminal Records: A Florida background check may reveal an individual's criminal history, providing information such as charging details, case filing dates, case dispositions, offense levels (misdemeanor or felony), sentencing information, and disposition dates.

Employment Verification: Verifying an applicant's employment history is crucial in background checks. Employers can obtain dates of employment and the positions held by the applicant at each job, helping ensure qualifications and trustworthiness while reducing liability risks.

Education Verification: Employers hiring for positions requiring degrees often request education verification reports. These reports confirm the applicant's educational background, including the name and address of the educational institution, dates of attendance, and any diplomas or degrees earned.

Professional License Verification: For roles involving professional licenses, employers may seek professional license verification. This process validates license details, such as issuance date, license number, license type, licensee's name, license validity, expiration date, and any sanctions or disciplinary actions against the licensee.

Employers tailor their background checks based on the specific requirements of the position in question, aiming to gather relevant and reliable information about their applicants.

What Information is Contained in the FDLE Background Check?
Many employers use the terms background check and criminal background checks interchangeably. This causes a lot of confusion for applicants and their employers. To clear the air, here's what FDLE says about the information that's contained in their background check:
From the FDLE perspective, a background check is a criminal history record check to determine if a person has been arrested and convicted of a crime. Although some companies use the phrase "background check" to include driver's record checks, credit checks, or interviews with neighbors and employers, for FDLE purposes, it consists of a search of the following databases:
The Florida Computerized Criminal History Central Repository for Florida arrests (state check).
The Florida Computerized Criminal History Central Repository for Florida arrests AND the national criminal history database at the FBI for federal arrests and arrests from other states (state and national check).
The Florida Crime Information Center for warrants and domestic violence injunctions (warrant files check).
The national record check is based on the submission of fingerprints. For state record checks, recommendations may be based on names (and other descriptors) or fingerprints for state record checks.
Limitations to the Background Check Information Employers can Use?
Florida background check information is subject to changes to the FCRA's "7-year rule, which states that a particular criminal record must be removed from an applicant's history after seven years.
These include lawsuits, judgments against an applicant, and arrest records. FCRA also imposes additional restrictions on employers.
Also, FCRA gives employees the right to dispute the result of their background check if it's not current and accurate. Thus the investigating agency will perform an investigation, and if the report is incorrect, both the applicant and the employer will receive written notices.
If the background check agency or employer refuses to adhere to these instructions, an applicant has the right to file a claim under FCRA.
How to Stay Compliant With FCRA as an Employer
If you're an employer wishing to conduct background tests on your applicants, you must comply with the state, FCRA, Title VII, and local laws.
Violating any of these rules might have you face penalties or huge fines.
Here are some tips to stay safe:
1► Conduct Background Check at the Approved Time:
If you're a public employer in a city that has passed ban-the-box laws, you must consider those rules before and when performing a criminal background check.
After interviewing an applicant, you can only conduct a background check in some counties.
2► Send Written Notices to your Applicants and Obtain Written Consent
Before conducting a background check on any applicant, ensure you've notified the applicant.
Also, make the notice in writing in a standalone form. Make sure you've obtained written consent from your applicant before moving forward.
3► Access Convictions Individually
If it comes to your notice that an applicant has a criminal conviction, you're to individually access that crime and see how it relates to the job before making a decision.
The EEOC requires employers to consider these before making a hiring decision:
The severity of the crime
How the crime relates to the job
When the conviction was passed
Also, you should give your application a chance to explain the conviction and how it took place.
4► Send a Pre-Adverse Action Notice
As an employer, if you find any information on your applicant's background check result and feel it's not safe to hire them, you are to send a pre-adverse action notice. The notice will include the conviction information and a copy of the report.
You should give your applicant time to provide pacifying evidence or file for correction if the information is inaccurate.
5► Send a Final Adverse Action
If you aren't satisfied with hiring the applicant after completing the pre-adverse action, you should send a final adverse action notice.
In the notice, you are to provide the name and contact of the CRA that provided the report, a copy of the applicant's right, and a statement showing you made the hiring decision.
How Can You Get a Florida Background Check for Employment?
In Florida, the Florida Department of Law Enforcement (FDLE) maintains a central repository of the state criminal record, which keeps information on all the arrests and convictions of Florida citizens.
Applicants' criminal history can be found on the agency's website via instant certified or non-certified search. You can also conduct an ORI search if you work for an authorized agency with an ORI number.
However, these checks will likely not give you the full information you need about your applicant, like their education and work history.
How to Get a Background Check in Florida for Employment
Employers in Florida have two options for conducting a background check. They can attempt to do it themselves by searching local courts for your applicant's criminal records; however, this can be time-consuming, especially if the applicant has lived in several areas.
Or They can employ a trustworthy third-party company specializing in background checks, "professional background check service providers." to avoid making adverse hiring decisions that will lead to breaking FCRA's rules

1. DIY Background Check
Certain employers opt to conduct their own background checks. This could entail making requisitions to several parties including the Florida Department of Law Enforcement's Division of Criminal Justice Information Services, academic institutes, and prior employers of the applicant. They may also run checks on the state's register of sex offenders.
Employers who want to conduct a background check on their own may also look up information about job candidates online and attempt to gather information using alternative methods.
Examining a candidate's previous activity on social media or conducting name-based inquiries on Google may not provide reliable data.

There are situations where you could obtain unfavorable data that, if utilized to make an unfavorable employment determination, may result in legal violations.
It may take several weeks to finish a self-made background check, and the obtained data could be inaccurate, obsolete, or belong to someone else.
Some of the information obtained through these searches may not adhere to the FCRA and other applicable regulations, which could put you at risk for legal action.
There are some employers in Florida who have the misconception that StateofFlorida.com is an authentic website of the state government.
This website is not connected to the government of Florida and has a statement at the bottom of its page stating that it is not possessed, run, supported, or permitted by the state.
Although this website promotes that it delivers background checks, it is still being determined regarding the kind of background checks they offer or their preciseness and current status. Moreover, there is no indication on the website if the reports they provide comply with FCRA regulations.
Employers are advised to collaborate with a trustworthy provider of background checks with a proven track record of offering reliable, Federal Credit Reporting Act (FCRA)-approved, and current employment background information, due to the lack of knowledge about such details.
2-Collaborate with a Third-Party Background Check Provider (subheader)
To perform thorough background checks that adhere to FCRA regulations, it is recommended to collaborate with a dependable organization that specializes in background checks.

They utilize sophisticated research techniques and use their ability to access trustworthy databases to provide clients with background investigation reports promptly.

You have the option to choose the specific information necessary to conduct a thorough background check for potential employees, ensuring it aligns with both the FCRA and relevant laws at the state and local levels.

Employers can also search local courts for your applicant's criminal records. However, this can be time-consuming, especially if the applicant has lived in several areas.
To avoid making adverse hiring decisions that will lead to breaking FCRA's rules, it's recommended for employers to work with professional background check service providers.
Further Reading about New Law Passed in Florida for Health Professional Background Screening
Florida Background Check Policy
It is important for your company to establish a background check policy to maintain consistency in your screening and hiring process while also ensuring compliance with relevant employment laws. To provide you with guidance, here is a sample background screening policy specifically tailored for Florida.
Sample Florida Background Check Policy
BACKGROUND CHECK POLICY FOR [COMPANY NAME]

Purpose:

At [COMPANY NAME], we are committed to ensuring a safe and secure work environment for our employees and making informed hiring and promotion decisions. Our Background Check Policy is designed to establish guidelines and procedures for conducting employment background checks in compliance with all applicable state, local, and federal laws.

Background Check Scope:

Employment background checks will be conducted on all applicants under consideration for employment and on employees when making other employment-related decisions.

Background Check Procedures:

Notice and Consent:

Before conducting any background checks, [COMPANY NAME] will provide written notice to the applicant or employee, informing them of our intention to conduct a background check. This notice will include the opportunity for the individual to request a free copy of any background check report completed. Background checks will not be initiated until the company obtains the applicant's or employee's signed authorization and consent for the background check.
Compliance with Laws:

All background checks conducted by [COMPANY NAME] will adhere to relevant state and federal laws, including the Fair Credit Reporting Act (FCRA) and Title VII of the Civil Rights Act of 1964. We will also comply with any local laws that apply to specific business locations.
Consumer Credit Reports:

Consumer credit reports will only be requested by [COMPANY NAME] in limited cases and are not typically required for most positions. However, if a position involves access to the company's financial accounts or credit card information, a consumer credit report may be requested. When obtaining consumer credit reports, [COMPANY NAME] will follow all applicable federal and state laws
Use of Information and Confidentiality:

Information obtained through background checks will be used solely for employment purposes and in compliance with applicable laws. The confidentiality of background check information will be maintained, and access to such information will be limited to designated and authorized individuals within the Human Resources department. Background check reports will not be disclosed to employees or the general public.
For further information about our Background Check Policy, please contact the Human Resources department.
By adhering to this Background Check Policy, [COMPANY NAME] aims to ensure a fair and objective evaluation of applicants and employees while upholding legal compliance and safeguarding the confidentiality of background check information.

How Far Do Background Checks Go in Florida?
The FCRA has rules on how far back criminal background checks can go. Under these laws, it is forbidden for CRAs to report arrest records that didn't result in a conviction and is more than 7 years old to be used in employment decisions.
A CRA is forbidden from reporting the following information except if the company pays more than $75,000:
►Civil judgments and civil lawsuits over seven years or past the limitation status.
►Arrests record older than seven years.
However, FCRA's limitations don't include education and employment histories. Therefore this information will be added to your record no matter the years.
How Much Does a Florida Background Check for Employment Cost?
The Florida Department of Law Enforcement (FDLE) charges $24 per criminal background check.
However, some private Background Check Providers offer the same service at different prices.
How Long Will a Background Check Takes in Florida
The time it takes to receive your criminal background check report depends on how it is completed. Getting a criminal report history from FDLE can take 2 weeks or less.
The process can take longer if you're using local courts for employment criminal background checks.
Get Fingerprinting Live Scan Service Near You With Us.

Wrap Up
Conducting a criminal background check for applicants before hiring saves you from employing the wrong applicants. However, you must ensure you perform checks in compliance with the laws passed by FRCA.

Ensure you send a written notice and get written approval from your applicant. Also, make sure you send a pre-adverse and final adverse action notice before making a hiring decision.
You Might Also Like:
Get your Live Scan Fingerprinting Near You
Live Scan & ink Card Fingerprinting
Schedule an Appointment Now!
We Offer a Nationwide Network of 1200+ Fingerprint Enrollment Centers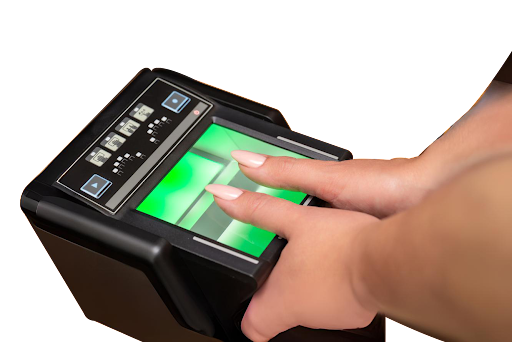 Frequently Asked Questions
What is a level 1 background check in Florida?

A Level 1 background check is a basic background check that includes name, address, and prior criminal history. It also consists of any information that is available from the public records.

A level 1 background check is not very detailed, but it can help determine whether or not the person has a criminal history. If a person has a criminal record, then it will be revealed through this type of background check.

What is a Florida level 2 background check?

A Florida Level 2 Background Check is a type of background check conducted by the state to verify an individual's criminal history. This type of background check does not include fingerprinting, and it will only show up in the database if the person has been convicted of a crime.

How long does a background check take in Florida?

Background checks take time and patience. The process is comprised of three phases:
1) the in-depth background check;
2) the application review; and
3) a waiting period for approval.

How far back do employment background checks go in Florida?

One of the most common reasons employers perform background checks is the liability associated with hiring. As an employer, you are responsible for what your employees do while on the job.

How much does a background check cost in Florida?

A background check is a search of someone's criminal history and other publicly available information to determine whether the person is eligible for certain activities.
Background checks are performed for many reasons, including employment, adoption, immigration, and volunteer work.
The cost of a background check varies depending on the search type and the company conducting it.

How far back do HOA background checks go in Florida?

The Florida Department of Law Enforcement is the agency that manages the Florida Criminal Justice Information System. This system has a criminal records database and other information from across the state.
It is a centralized database, meaning any law enforcement agency in Florida can access it. It also means that any arrest records created in any part of the state are added to this database.
This system does not include juvenile records or records for people who have been arrested but not convicted.

How to get a criminal background check in Florida?

A criminal background check is a search of an individual's criminal history records and is usually conducted by a potential employer. It is an integral part of the hiring process because it helps weed out individuals convicted of crimes that may be incompatible with the job at hand.
There are two ways to get a criminal background check in Florida: your county clerk or your local sheriff's office.
The county clerks can provide you with information on felony and misdemeanor convictions. Still, they cannot provide information on arrests that did not result in convictions or cases that were dismissed.
So if you want to know about all types of cases, you should contact your local sheriff's office and ask for their records division.

Where to get a level 2 background check in Florida?

The background check is a process in which the employer checks the applicant's criminal history.
In Florida, employers are required to get a level 2 background check for any job applicant who will be working with children or vulnerable adults.
Get Florida Fingerprinting Live Scan Near You With Us.

Are background checks required in Florida?

Background checks are required for most jobs in Florida. One must submit their fingerprints and undergo a background check to get a job. This can be done through the Department of Law Enforcement or by going to an authorized agency in your area.
If you are looking for work, you will need to have a background check done. Background checks are required for most jobs in Florida and can be done through the Department of Law Enforcement or by going to an authorized agency in your area.

Are there background checks at gun shows in Florida?

Background checks are not required at gun shows in Florida. However, most gun show vendors will run a background check on someone if they ask for it.
Gun show vendors are not legally obligated to run background checks on people who want to purchase guns from them. However, they may do so if the customer asks for it.

Who pays for FBI background check for employment in Florida?

The Florida Department of Law Enforcement is responsible for conducting background checks for prospective employees. The Florida Department of Law Enforcement performs these checks and charges a fee to the employer who pays the fee.
View All Questions
Enjoy this article? Don't forget to share.