Florida Board of Nursing Licensing Requirements [Ultimate Guide]
Share This Article
Registration and licensing for registered nurses in Florida are handled at the state level by the Florida Board of Nursing. Before you become a registered nurse in Florida, you've to complete the Board-approved program, which takes a minimum of two years.
As of 2018, the mean hourly income of registered nurses in Florida was under $32, and they earn about $65,000 annual income.
Do you want to know more about the Florida Nursing board licensing requirement and how to make things easier for yourself? Then this article got you covered!
Let's start by knowing background information about Nursing jobs in F.L.
Background Information About Nursing Jobs in Florida
Recently, the U.S. Bureau of Labor Statistics has regarded Florida as one of the best places for registered nurses to find work. In addition, the state offers a wide range of employment opportunities.
In 2018, the U.S. Bureau of Labor Statistics ranked Florida as the 4th highest employer of nurses by state. There's also an expectation that the demand for nurses in Florida will rise in a few years to come. Therefore, employment rates will also increase.
There's a high number of Nurses and nursing jobs in Florida because the state is a good retirement location. In addition, due to many retirees, the state constantly demands nurses to care for the aging population.

Apart from government healthcare facilities, home healthcare agencies and nursing facilities also hire R.N.s to provide high-quality healthcare services.
The demand for Nurses in Florida has constantly been rising. In 2010, the Florida Center for Nursing reported that there will be over 50,000 nursing job vacancies in the state by 2025. This is likely because of the state's aging population and new healthcare trends.
When we talk about salary, R.N.s were paid a respectable amount in F.L. In 2018. The U.S. Bureau of Labor Statistics reported that the median annual wage for R.N.s is $66,210. The salaries usually range from $46,550 to $83,390 annually, with R.N.s earning about $31.1 per hour.

Though it's slightly less than the national average salary for Nurses, you'll still be able to save more income as an R.N. in Florida since you're not required to pay individual income taxes.
How to Apply for Your Initial Nursing License in FL
As a prospective R.N., you're to enroll in a professional nursing program that the Florida Board approves of Nursing.
The state has an approval process for nursing programs operated in the state and other U.S. states. Also, ACEN and CCNE offer program-level accreditation.
After finishing your educational program, you'll be required to take a licensing exam. However, before you are authorized to take the exams, you must first apply to the Florida Board.
The online Application form can be found here.
Livescan fingerprinting is another critical step in the Nursing licensing process. Ensure you have an Originating Agency Identification (O.R.I.) so that your fingerprints will be electronically transmitted to the Florida Board. You must apply with a $175 that serves as licensing and application fee. The fee for fingerprinting varies from one place to another.
Once the Florida Board has reviewed your application, you'll be given instructions to register for the licensing exams (NCLEX exam) through Pearson V.U.E.

The Florida Licensure Process for International and Out-of-State Nurses
For licensure by endorsement, the requirements can be found in section 464.009, F.S. Part of the section says:
Applicants are eligible for Licensure by endorsement when they have a valid license to practice practical or professional nursing in another state or the territory of the U.S.A. obtained by one of the following measures.
Applicants are eligible for licensure by endorsement when they have practiced nursing in another state, jurisdiction, or territory of the U.S. for two of the preceding three years without any criminal history or having their license acted against by licensing authority.
Or
Applicants are eligible for licensure for endorsement after completing the SBTPE or NCLEX.
As an R.N. licensing applicant, you must:
Submit a license application and pay the appropriate fees to the Florida Board of Nursing.
Schedule a livescan fingerprint appointment. Once your fingerprints are taken, they're instantly sent to the Florida Department of Law Enforcement.
Contact the licensing boards where your initial and active licenses are held and request them to forward them to the Florida B.O.N.
You're expected to pay $110 for Florida Licensure endorsement and a fee to the livescan fingerprint technician for taking your fingerprints.
After the state board has received the required documents and fees, you'll receive your license within 4-5 weeks. The time is taken usually depends on the number of applications received.
Nurses License Renewal Process in Florida
RNs licensed under the Florida Board of Nursing must renew their license biennially to continue the practice.
To renew your license, here are the steps to follow:
Insert your Personal Identifying Information (PII) and click the login button.
Confirm your M.Q.A. Services email address, and click on the continue button.
You'll be redirected to the dashboard. During renewals, a 'Renew my license' option will show no later than three months before your license expiration date.
If you have a credit or debit card, you can renew your license online, print a copy of your application summary together with your cashier check, and send it to:
Division of Medical Quality Assurance
P.O. Box 6320
Tallahassee, FL 32314-6320
Renewing a license and receiving a newly printed license may take ten working days. Therefore, initiating contact to confirm receipt of payments to your license source before a status update will not hasten your renewal process.
Suppose you're a licensee that has been on the inactive status for more than two consecutive biennial licensing cycles, and you wish to reactivate your license. In that case, you might be required to take a special examination to show how competent you're to resume working.
What are the Requirements to Become a Certified Nurse Assistant in Florida?
To become a certified nurse assistant (C.N.A.) in F.L., you must:
Be at least 18 years.
Has a high school diploma.
Graduate from an accredited nursing assistant school in F.L.
Submit livescan fingerprints.
Do criminal background screening.
Pass the state exams.
Complete the Enterprise Florida Jobs and Education Partnership Grant curriculum.
Then register as a Certified Nurse Aide!

Fingerprinting For Florida Nursing License
To apply for R.N., L.P.N., and other nursing licensing within the Florida Board of Nursing, you'll have to undergo a level 2 background check that includes a photo and livescan fingerprinting.
What is LiveScan Fingerprinting, and How Can It Help With Getting Your Florida Nursing License
Live Scan fingerprinting is the process of capturing fingerprints electronically using the livescan machine.
Unlike traditional ink fingerprinting, there's no ink and paper in livescan fingerprinting. Instead, you roll your fingers across a glass plate and scan your prints. Your fingerprints are automatically sent to the D.O.J., saving time and money.

Most of the problems of ink fingerprinting, like ink smudging, smearing, and over or under-inking, are avoided in livescan fingerprinting. Also, since your prints are directly sent to the D.O.J., they'll conduct criminal background checks within 1 to 2 days, and the results will be sent to your Care Provider Background Screening Clearinghouse.
If you're an initial licensure applicant, you must submit your fingerprints via a live scan to the D.O.J. to search your criminal history in Florida and nationwide. The results will be sent to the Clearinghouse, and they'll be made available to the department for consideration during your licensing process. the FDLE and the clearinghouse will also retain your fingerprints

Additional Information:
As an applicant, you will pay the cost of all criminal background checks.
The Florida B.O.N. doesn't accept Ink fingerprints; all fingerprints should be live scanned and sent electronically to the clearinghouse.
Ensure you put in your correct Originating Agency Identification (O.R.I.) when submitting your fingerprints. Else, the board will not receive your fingerprint results.
You can only submit your fingerprints to an FDLE-approved Livescan provider. Check here for a list of all the approved livescan providers in F.L.
Final Thoughts
Many benefits come with becoming a licensed R.N. in Florida. Your job search will be less tedious, and you've likely gotten a lifelong career. By being a nurse, you'll always have this sense of accomplishment whenever you touch the lives of your patients positively. As an R.N., you've to privilege to help, educate, and treat patients every day. So quickly go and get your livescan fingerprint to start processing your Nursing licensing in Florida. Certifix livescan offers you an accessible and professional livescan service that expedites the whole process.
You Might Also Like:
Image Credit: floridasnursing.gov / doh.state.fl.us

Get your Live Scan Fingerprinting Near You
Live Scan & ink Card Fingerprinting
Schedule an Appointment Now!
We Offer a Nationwide Network of 1200+ Fingerprint Enrollment Centers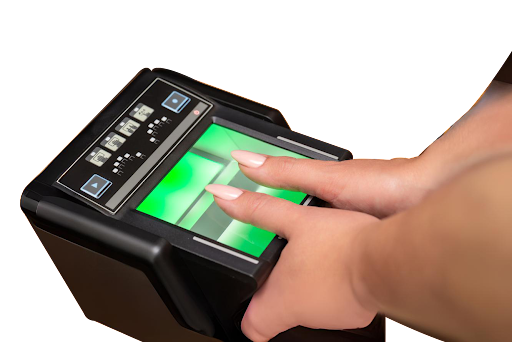 Frequently Asked Questions
How much does a Live scan Fingerprint Cost?

The cost of Fingerprint scans in Florida ranges from $44.0 to $88.0. This depends on the submission of the O.R.I. number. There are different O.R.I. numbers and different rates.

How Long Does it Take?

Livescan fingerprinting takes between 10 to 15 minutes. First, you submit your request for a livescan service form and a valid Photo ID. Then, the livescan technician will enter your information and scan your fingerprints into the machine. To make this process as fast as possible, choose a livescan service provider in Florida with professional and convenient services like Certifix Live Scan.

How to Get Fingerprinted For a Nursing License in Florida?

The Florida Board of Nursing only accepts live scanned fingerprints. However, you can get one by visiting an FDLE-approved livescan provider near you. One of the best livescan providers in Florida is Certifix Livescan. Their user-friendly site makes this process a lot easier for you.
View All Questions
Enjoy this article? Don't forget to share.