Florida Electronic Fingerprinting Services Support Home Healthcare Workers with Livescan Services
Share This Article
The importance of background checks in hiring home health workers can't be understated in light of the immense responsibility they have in inpatient care and safety and the access to vulnerable populations like people with disabilities or seniors.
However, while there are no federal regulations or laws that require home health care providers to conduct background checks before or after hiring an individual, there are state regulations in Florida.
The Agency for Health Care Administration (AHCA) is tasked with regulating and licensing health care centers in Florida. In this article, we'll discuss what you need to know about Florida electronic fingerprinting services support home healthcare workers with live scan fingerprinting services.
Level 2 Background Screening (Criminal History Background Check)
Health care providers regulated or licensed by AHCA must make sure that their workers and/or contracted staff have Level 2 Background Screening pursuant to s. 456.0135, Florida Statutes within 10 business days of hire. Plus,
if a potential employee has not been employed in the last 90 days, the person will need to go through background screening, even if the individual had previously had level 2 background screening done.
In addition, each employee or contractor that has undergone the level 2 background screening must renew it every five years in order to continue working with an Agency for Health Care Administration regulated or licensed health care provider or be eligible for employment.
To do this, the applicant must submit fingerprints electronically through a Florida fingerprinting services approved by the Florida Department of Law Enforcement (FDLE).
Fingerprint Retention Period
After the fingerprint retention period expires, FDLE will purge your fingerprints from the storage, which means if you do not request for fingerprint retention renewal before the 5 years period,
you will have to start the entire fingerprinting process again. FDLE doesn't offer a grace period, meaning after your retention period expiry, you will no longer technically be eligible to work for any AHCA licensed provider.
In addition, if the health care provider is in the process of an Agency for Health Care Administration accreditation, survey, or licensure renewal and they do not have a current Level 2 Background Screening for their employee, their licensure renewal application may be denied, or they may be subject to administrative fines or statement of deficiency.
The renewal period for an individual's fingerprint retention starts 60 days before their 5-year expiration date and ends 14 days before the expiration date.
Live Scan Fingerprinting Service
The fingerprinting process required by the Florida Department of Law Enforcement for you to perform a background check is known as the "Livescan Fingerprinting." This process is an inkless,
the electronic method of capturing applicant fingerprint images in a digitized format and electronically transmitted to the Florida Department of Law Enforcement (FDLE) or/and FBI for the sole aim of conducting a search for any criminal history records.
The information is disseminated to the health care provider or agency you are applying for certification or job.
Summary
Employment background checks are an important component in the hiring process for home health care providers. Besides Agency for Health Care Administration requiring health care providers to conduct a background check before or after hiring an individual,
this process is also one of the most effective ways to ensure that employees don't have a criminal record that can jeopardize the firm and its clients.
If you are considering a Florida livescan background check, it is vital that you choose an FDLE approved livescan vendor.
live scan certifix offers fast livescan fingerprinting for AHCA Level 2 Background screening requirements for licensing or employment purposes. If you have questions about the service provider or what to bring, contact Certifix today.
Read more about: What is the FDLE Approved Live Scan Service Provider in the USA?


Get your Live Scan Fingerprinting Near You
Live Scan & ink Card Fingerprinting
Schedule an Appointment Now!
We Offer a Nationwide Network of 1200+ Fingerprint Enrollment Centers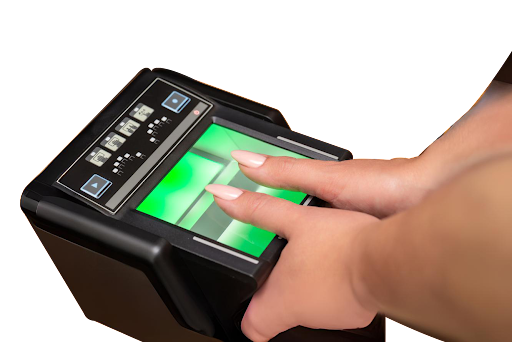 Frequently Asked Questions
How does Live Scan work?

The requesting agency provides the applicant with a Request For Live Scan Service Form.  

The applicant then takes the form along with proper identification to the nearest live scan location to get fingerprinted via live scan.  

This is then sent to the DOJ, FBI or both to be processed. 

The DOJ then sends the results to the requesting agency only.

What do I need to get a live scan?

The requesting agency should provide you with a "request for live scan service form". You will need to fill that out, you will also need to bring a primary form of I.D. such as a Driver's license or a CA ID

How much does live scan cost?

The fingerprint rolling fee typically ranges between $25-35, these are in addition to the applicable government fees depending on the level of service required by your agency. 

The typical fees are Department of Justice (DOJ) $32 and FBI $17. 

These fees may range depending on the type of agency requesting your live scan.

If I get a live scan done, can I get a copy of my fingerprints?

The only way to obtain a copy of your live scan results is to ask for a copy from your requesting agency. It is at their discretion to release that information. If you would like to obtain a copy of your personal background check, you can visit https://oag.ca.gov/fingerprints/record-review for more information about how that process works.
View All Questions
Enjoy this article? Don't forget to share.