FDLE/FBI Florida Criminal History Reports are Barriers to Occupational Employment
Share This Article
These days, most companies require prospective employees to submit to a criminal background check in order to obtain a job. The results of these background checks are oftentimes the difference between landing the job you want and getting back to the job hunt.
When an employer runs a criminal background check, they could be looking for several things. They could be looking at all criminal convictions, arrests, or only felonies.
For certain positions, employers will also require driving records or credit checks. In most cases, a criminal background check will only show the last 7 years, although some employers will look back 10 years or longer.
So, what does this mean for you? Let's take a closer look, and find out!
What Barriers Does a Background Check Present?
The barriers presented by a criminal background check will vary depending on the nature of the job and the type of check being performed. Here are some of the obstacles you might face.
Past Criminal Convictions
To begin with, a criminal background check is going to contain a record of any criminal convictions. That said, there are some limitations to what employers can and can't do. For one thing, many states have regulations limiting what employers can and can't ask.
In many states, for example, employers aren't allowed to ask about convictions on your initial application. In other cases, employers may not be able to look at arrest records that did not result in a conviction.
The precise impact of a criminal conviction will vary from job to job, from employer to employer, and from crime to crime. In most cases, misdemeanors are a non-issue, although it can depend on the job. For example, if you've been arrested for shoplifting, you'll probably have trouble getting a retail job, but a call center isn't going to care.
That said, felonies and other serious offenses can be a major issue. If you've been convicted of a violent crime, a sex offense, or fraud, your employment options are going to be limited.
In most cases, a background check won't show convictions that happened longer than seven years ago, but other checks can go back as far as 10. For certain jobs, such as those that require a security clearance, background checks can go back even further. In that case, your best option is to consult a lawyer and see if you can have your record expunged.
Credit Issues
Another potential issue you may run into is a credit check. If your job requires a credit check, this will be explicitly stated during the hiring process. The credit check will include information on your financial accounts, credit records, loans, bankruptcies, and missed payments.
Most jobs will not require a credit check. However, accounting positions and people who handle large quantities of cash will often be subjected to a check. This can also be the case for high-level positions, where people are responsible for handling investments.
Major Traffic Infractions
A driving record check is a lot like a credit record check-in that it's only required for certain jobs. If you're trying to drive a truck, a bus, or a taxi, the company is going to want to make sure you won't wreck their vehicle.
Minor infractions like a lapsed registration or a speeding ticket won't keep you from getting a job in most cases. On the other hand, if you have a recent history of DUI or reckless driving, you'll probably want to look for work in a different field.
Exaggerations on Your Resume
Unfortunately, many applicants exaggerate or even outright lie on their resumes. Some people simply inflate their previous job title or claim to be experienced with the software they're not. Others will go so far as to claim fake degrees, or even make up entire jobs.
For this reason, many employers will follow up claims about work and education. They'll call your previous employers, and verify your job title and time of employment. They may ask you to have your university send a transcript. Regardless, don't lie on your job application. It's just not worth it.
Past Drug-Related Charges
If you've been convicted of a drug-related charge in the past, this could pose a challenge at some jobs. These are normally positions where you'd be responsible for other people, or where you would have access to medication. Even if you haven't been convicted of anything, most employers require pre-employment drug testing.
Honest Mistakes
In rare cases, a criminal background check could return erroneous results. For example, someone may invert two digits in your Social Security number when they're entering your information into a computer. There might be someone with a similar name. Someone may have stolen your identity, and this is the first you're hearing about it.
Fortunately, before you're turned down due to an adverse background check, employers will need to send you a letter explaining the results. If you see a criminal charge you don't recognize, you'll have the opportunity to file a dispute.
The same thing applies to traffic record checks and credit checks. If you're turned down for a job for any of these reasons, remember that you have the right to dispute the results.
A live scan is a simple background check system that's used for checking federal criminal records. Your prospective employer issues you with a Request for Live Scan Service Form. Then, you take that form and your government-issued ID to any live scan provider.
At that point, the provider takes your fingerprints and forwards them to the FBI, DOJ, or both. Once the results are processed, the DOJ will send them to your prospective employer.
Summary
At this point, you're probably wondering "How can I find a livescan Florida near me? Where can I get fingerprinting near me?" If you're in Florida and need a live scan, Certifix is tough to beat. We have over 500 locations throughout the states of Florida and California, and we're certified by the DOJ and the FBI.
Read more about: How Background Check Errors Can Kill a Job Opportunity?
You Might Also Like:
Get your Live Scan Fingerprinting Near You
Live Scan & ink Card Fingerprinting
Schedule an Appointment Now!
We Offer a Nationwide Network of 1200+ Fingerprint Enrollment Centers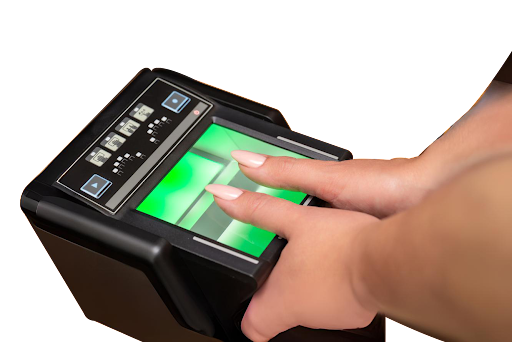 Frequently Asked Questions
What do I need to get a live scan?

The requesting agency should provide you with a "request for live scan service form". You will need to fill that out, you will also need to bring a primary form of I.D. such as a Driver's license or a CA ID

Where do I get the Live Scan request form?

The agency that is requesting the Live Scan must provide you with the Request For Live Scan Service form. Your requesting agency should have their information entered for you on the "contributing agency information" section of the form. Livescan locations will not have the live scan request form for you on-site.

Do expungements show in the Live Scan?

Expungement Law – US. Criminal "Expungement" is the process of going to court to ask a judge to seal a criminal record. When a record is sealed, it does not show up in a criminal background check. It is important to remember that a sealed record is not destroyed.

How can I find my criminal background for personal use?

The requesting agency should provide you with a "request for live scan service form". You will need to fill that out, you will also need to bring a primary form of I.D. such as a Driver's license or a CA ID
View All Questions
Enjoy this article? Don't forget to share.