How to Perform Online Booking Appointment for live scan fingerprinting Service
Share This Article
The need for live scan fingerprinting usually starts when you are instructed to take a live scan for employment, permit, immigration, license, or certification.
Live scan fingerprinting is the technique used to capture your fingerprints electronically rather than the traditional process, which requires ink and paper.

During this process, your fingerprint is electronically captured into a computer. The computer encodes the data, then sends your data and prints to the Department of Law Enforcement, then to the FBI.
This guide provides an overview of how to perform online booking appointments for a live scan fingerprinting service.

Get Your ORI Number
ORI (Originating Agency Identifier) Number is the digital address states use to direct your fingerprinting results to the right regulatory agency for review. Some live scan fingerprinting service providers may refuse to scan your fingerprint without the ORI number.
If you are not sure what your ORI number is, your licensing authority, regulatory agency, or employer will be able to provide you with the right information.

Schedule a Visit Online
While most live scan fingerprinting service providers do accept walk-ins, we suggest that you make an appointment as availability can't be guaranteed in the event that the equipment is mobile or the schedule is fully booked.
Make use of your preferred live scan fingerprinting services scheduling tool to book an appointment.

Some service providers have multiple locations, so you'll have to select your preferred office location, in addition to the date, and the list of available open appointment slots will pop up.
After selecting your preferred time, you can then input your name, phone, ORI number, email, and password.

Go for Your Appointment
When going for your appointment, you'll need to take along one form of government issue identification, preferably an identification card or driver's license. You'll also need to take along a request for a live scan form and tender your social security number.
You can find payment information on the service provider's website.

The whole live scan fingerprinting process takes approximately 10 to 15 minutes. Once completed, the scanned fingerprint will be submitted to the state for processing, and you will be emailed a receipt with pertinent information.
Keep in mind that the email contains important details you may require to reference at a later date, so do not delete it.

Check Your Results
According to the Department of Justice, it will take up to five business days to completely process your fingerprint. The FBI, on the other hand, usually takes about 30 days.
In most cases, you won't be given a copy of the results, so you'll need to inquire with your regulatory agency or employer about the outcome of your background check.

There are usually fees for each application unless otherwise stated by the requesting agency.
In addition, the Sheriff's Office may also charge a certain fee depending on the level of service required by the agency that requests your fingerprint.
However, you can check the submission status of your fingerprinting scan at any time, as most service providers have a section of their website that will take you directly to the Department of Law Enforcement.

Summary
Livescan digitizes the fingerprint attributes that make fingerprints distinctive and allows fingerprints and personal information to be electronically transferred to DOJ and/or FBI.
And with the process above, you can easily perform online booking of live scan fingerprinting service and get them done as quickly as possible. If you are considering fingerprinting near me, you may want to contact Certifix Live Scan today.

Certifix Live Scan is a California-based live scan company that offers digital fingerprint scanning. The digital live scan fingerprinting service can greatly help reduce the turnaround time for your fingerprint checks. Contact Certifix Live Scan today to learn more about their live scan fingerprinting service.
Read more about: What are the Safest Ways to Complete Your Live Scan during the Covid-19 Pandemic?
Get your Live Scan Fingerprinting Near You
Live Scan & ink Card Fingerprinting
Schedule an Appointment Now!
We Offer a Nationwide Network of 1200+ Fingerprint Enrollment Centers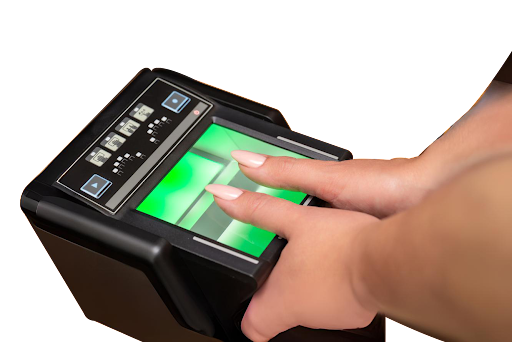 Frequently Asked Questions
How does Live Scan work?

The requesting agency provides the applicant with a Request For Live Scan Service Form.  

The applicant then takes the form along with proper identification to the nearest live scan location to get fingerprinted via live scan.  

This is then sent to the DOJ, FBI or both to be processed. 

The DOJ then sends the results to the requesting agency only.

What do I need to get a live scan?

The requesting agency should provide you with a "request for live scan service form". You will need to fill that out, you will also need to bring a primary form of I.D. such as a Driver's license or a CA ID

How much does live scan cost?

The fingerprint rolling fee typically ranges between $25-35, these are in addition to the applicable government fees depending on the level of service required by your agency. 

The typical fees are Department of Justice (DOJ) $32 and FBI $17. 

These fees may range depending on the type of agency requesting your live scan.

If I get a live scan done, can I get a copy of my fingerprints?

The only way to obtain a copy of your live scan results is to ask for a copy from your requesting agency. It is at their discretion to release that information. If you would like to obtain a copy of your personal background check, you can visit https://oag.ca.gov/fingerprints/record-review for more information about how that process works.
View All Questions
Enjoy this article? Don't forget to share.