Get Your AHCA Fingerprints Taken Today
Share This Article
One of the measures the State of Florida put to avoid bad hires or undeserving issuing licenses in its healthcare industry requires prospective or existing employees to undergo an AHCA background screening.

This process is done by transmitting their fingerprints and photos to appropriate state agencies such as Florida's Agency for Healthcare Administration (AHCA) for further processing.

This background screening allows healthcare givers to identify individuals who are eligible to work and those who are not due to their disqualifying criminal offenses.

If you want to know more about AHCA fingerprinting, this article is perfect.
---
What is AHCA Fingerprinting?
AHCA fingerprinting is a fingerprint-based background screening health workers undergo before they can obtain licensing, employment, or certification. This process involves checking applicants' past criminal records against state and federal databases.

AHCA, which stands for Agency for Health Care Administration, is a Florida-based agency charged with licensing and regulating health care providers, including post-acute facilities and ambulatory surgery centers. In addition, the AHCA Background Checking Unit is responsible for reviewing all background Level 2 criminal history results of background checks submitted by health care providers or individuals.
How Does AHCA Background Screening Work?
To get your AHCA fingerprinting done, you will need to submit your fingerprints and photo to any FDLE approved live scan vendor. Transmission of your fingerprints to the Florida Department of Law Enforcement (FDLE), where they will be checked against the state database.FLDE has a database of all criminal records as far as Florida is concerned.

Once FDLE completes its background check, submission of the screening results to the Federal Bureau of Investigation (FBI) will be checked against nationwide criminal record databases. This will enable the FBI and, by extension, a healthcare employer to know if an applicant has any committed disqualifying criminal offense in another state.

Once that is complete, the FBI will send the screening back to AHCA Medicaid Clearinghouse. This is how the AHCA fingerprinting process works.
AHCA Background Screening Application for Exemption
An individual who has been found guilty of any "disqualifying criminal offenses as listed in sections 435.03(2), 435.04(2), and 408.809 Florida Statutes might be deemed ineligible to work with minors or senior citizens. However, they can still apply for AHCA's exemption from disqualification.

The following factors are taken into consideration when granting an exemption:

● The severity of the crime or the level of harm inflicted on the victim
● The nature of the situation leads to the crime for which an exemption is sought.
● The criminal record of the offender since the criminal incident
● Any other convincing evidence or circumstances that show the individual no longer poses any threat to patients or fellow health workers.

However, you are not qualified to apply for an exemption from disqualifying criminal offenses until at least three years after your release from confinement or probation. Also, individuals designated as sexual offenders, sexual predators, or career offenders may not be allowed to seek exemption from disqualification.

Types of information that must be included with your application form:

● A completed Level 2 screening
● Arrest reports for all arrests
● Court dispositions for all arrests
● A letter from probation or parole concerning your present state.
● 2-4 letters of recommendation or reference. At least one of the letters must be from your present or recent employer.
● Any information or evidence concerning your education, technical training, counseling, community involvement, employment history, or awards.
How to Apply for an Exemption From Disqualification
Obtain An "Application for Exemption," AHCA Forms #3110-0019 at any AHCA fingerprinting locations and fill out the form.

Ensure you include all required information or documents in your application form as indicated in the checklist. Try cross-checking before you submit your form. If you can't provide a particular document at the moment, you can include a statement explaining why the document is not a part of the application.

Please, NOTE that an incomplete application will slow down the processing of the case.AHCA will not review your application for exemption from disqualification until all the required information or documents are provided.

If there is a missing document on your application, the Agency will send you an INCOMPLETE NOTICE via certified mail. You have 30 days to forward the missing information or document to the Agency. But if it will take longer than one month, you can reach out to the analyst reviewing your exemption case to seek an extension. The name of the analyst is on the incomplete notice. If the Agency doesn't receive all the required information within an extended period, the Agency will be forced to end your case and ask you to send in a new application.

Once the Agency completes the process of reviewing your application, they will send you one of the following notices:

Hearing Notice: theAgency's hearing committee will schedule a personal interview with you to decide. The initial consultation is typically held over the phone. During this telephone interview, you will be asked a series of questions concerning your work history, criminal record, circumstances surrounding the crime you committed, or why you want to work in a healthcare facility.
After the hearing, the committee will recommend approving or denying your application for exemption. The head of the Agency is authorized by the law to make the final decision regarding your application. Once your application is granted, you will receive a grant letter from the Agency.
Grant Letter: this letter confirms your eligibility for employment as a healthcare provider. However, the issuance of an exemption letter by the Agency does not change your AHCA background screening results or expunge your criminal records. The exemption only allows you to be hired or licensed despite disqualifying offenses. You must give a copy of the grant letter to any prospective health care employer.


However, suppose your application is denied based on the severity of your crime or the incorrectness of the information supplied. In that case, you will receive a denial letter, and your potential healthcare employer will be notified via certified mail that you are not eligible to work in a healthcare environment.
A denial letter: is issued when the Agency's secretary confirms that presence in a healthcare facility poses a threat to the patients or other residents. However, under Chapter 120, Florida Statutes, you are at liberty to appeal the Agency's final verdict. You have 21 days from receipt of the denial letter to request an appeal.
FDLE and AHCA Level 2 Background Screening
Suppose you are looking to get licensing or land a job in the healthcare industry where you will be working with children, senior adults, or other vulnerable groups. In that case, you will have to undergo FDLE and AHCA Level 2 fingerprint-based background checks. This screening exercise will provide your potential employer or any requesting agency with your criminal record, employment history, educational qualification, certification, and other personal information.

You will visit any FDLE-approved live scan provider and an AHCA approved vendor near you to kick-start the process. Once you enter your data on the AHCA form, your fingerprint and photo will be taken simultaneously and then transmitted to FDLE for further processing.
AHCA Level 2 Background Screening requirements
The requirements for an AHCA background check vary depending on whether the applicant is doing a national or state background check.

If you are conducting a state check, you will be required to submit any of the following information or documents:
● A valid, government-issued ID
● A state driver's license,
● A passport,
● A military ID
● A green card
● A concealed weapons permit
● A voter registration card
● A credit card
● The ORI number where the results will be sent.

For a national level 2 background check, you will require the following requirements:
● The background check must be carried out in line with public policy.
● Your fingerprints must first pass through the state agencies.
● The organization receiving the report must be a government agency
● The organization must adhere strictly to the FBI's terms and conditions.
Background Screening: Clearinghouse Renewals
Health care providers are required by Florida law (statutes) to subject their employers to another background check once every five years from the date FDLE retains their fingerprints. The term "Retained Prints" refers to the fingerprints that FDLE includes when a person undergoes a criminal history screening.
---
Final Thoughts
Once you have all the required information and documents at your disposal, you can visit a livescan vendor near you and get your AHCA fingerprints taken and electronically transmitted to the requesting Agency in no time.

If you want to get a reputable livescan facility in Florida, you can visit Certifix Live Scan: The Fast Convenient Fingerprinting for Florida.
Certifix Live Scan is a market leader in live scan service at over 600 locations in California and Florida. In addition, we are a live scan fingerprinting provider certified by DOJ, FBI, and the FDLE.

You Might Also Like:
Get your Live Scan Fingerprinting Near You
Live Scan & ink Card Fingerprinting
Schedule an Appointment Now!
We Offer a Nationwide Network of 1200+ Fingerprint Enrollment Centers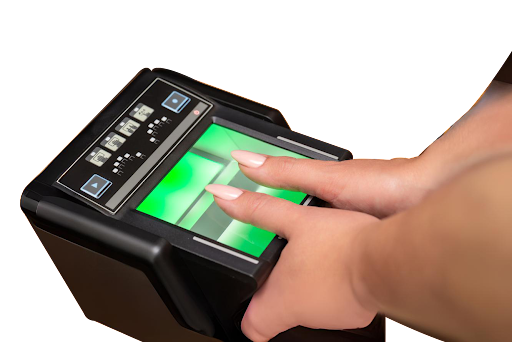 Frequently Asked Questions
How long are live scan fingerprints good for in Florida?

Once you've submitted your Live Scan transaction, a fingerprint-based background check report will be sent to your requesting agency and they will have a copy of this in their records. However, if you have a need for a different application type or job title, you will need to submit a second Live Scan as the agencies cannot share the results of your background check. 

How long does a Level 2 background check take in Florida?

Background Screening typically takes between 5-7 business days per request once the results are received from FDLE. Before any person is hired in a position that requires Level 2 background screening, they must first submit to a screening process.

How much is a Level 2 background check in Florida?

Level 2 background checks in Florida will either be $37.25 or $61.25 based on your application type, this fee is paid in addition to the rolling or service fee charged by the location offering the Live Scan fingerprinting service. 

How long does it take for a background check in Florida?

The Florida Department of Law Enforcement has an automated system that will receive your Live Scan transaction and run a background check, a report is then automatically sent to your requesting or licensing agency. Background check reports may be delayed due to poor quality fingerprint capture or other issues that may come up during the fingerprint search.

Can you work at a daycare with a felony in Florida?

The Florida Legislature passed changes to its teacher licensing bill that makes it so offenders with criminal records can't teach in public schools. That's not true for jobs at daycares, though — if a person has committed a misdemeanor within the last 10 years and not been convicted of felonies, their record may be cleared for these positions.

How do I get my TCN for a Florida Live Scan?

The Live Scan service provider can provide you with a TCN that you can use to search for the status of your fingerprint-based background check. It's important to ensure you get the TCN before you leave the Live Scan site, as this is how we can follow up on the status of your Live Scan transaction.

How do I get my Live Scan results in Florida?

The Live Scan results are sent electronically to your requesting or licensing agency, so it's important that you contact them directly to ensure they have received the fingerprint-based background check report provided to them by the Florida Department of Law Enforcement (FDLE).

Do I need an appointment?

Some of our Florida locations accept online registration and enrollment of your Live Scan transaction, this allows you to provide all of the required information along with the ability to pay for the service online. If you do not have easy access to a PC or credit card, you can simply walk into the location or schedule an appointment either over the phone or online.
View All Questions
Enjoy this article? Don't forget to share.