Instructions for LiveScan Fingerprinting
Share This Article
Livescan fingerprinting is available in many parts of the United States. The results of live scan fingerprinting are digitally sent to the Department of Justice (DOJ) and the Federal Bureau of Investigation (FBI).
Many organizations require a livescan fingerprinting as a part of the process of employing workers. As mentioned above, many Live scan areas are situated at different locations within the nation.
To locate a live scan area in your locality, visit the official website of DOJ.
Follow the instructions below to complete your live scan fingerprinting:

Locate a Live Scan Site in Your Area
Your fingerprint can only be taken in an approved livescan fingerprinting center. Some local sheriff's offices, police departments, and large school districts offer live scan fingerprinting. There are also certified areas like Certifix that offer livescan fingerprinting.
Get Fingerprinting Live Scan Service Near You With Us.

Call and Ask for Working Hours, Fees, and if an Appointment is Necessary
When you've settled on the livescan fingerprint provider, the next is to call and ask for their working hours, charges, and if you can make an appointment.
The fees for livescan fingerprinting vary depending on the site; the costs are paid to the live scan fingerprinting site and not to the board that asks you to take a fingerprint.
Apart from service fees, you'll also be required to pay the DOJ Fingerprint Processing Fee, which is $32.00, And FBI Fingerprint Processing Fee, $17.00.
If you're on a busy schedule, you can go for mobile fingerprinting service. Here, you'll book in your free time, and a fingerprint agent will come to your home or workplace and take your livescan fingerprint.
Complete the Livescan Service Form
The next thing is to complete your livescan fingerprinting form. You can find the pre-printed forms available for download here. 

Make sure you provide valid information while filling out this form. Once your fingerprint is taken, the livescan agent will complete section 4 of the structure and give you back the second and third copies, which you'll use as proof of payment.
Send a copy of the Form to the Board
Once your scanning process is completed, your operator will give you two copies of the form. The next thing is for you to send a copy of the processed document to the board that asks you to take your livescan fingerprint.  Ensure you take a valid photo ID when going to a fingerprint site, as you'll be required to present one.
You Might Also Like:

Get your Live Scan Fingerprinting Near You
Live Scan & ink Card Fingerprinting
Schedule an Appointment Now!
We Offer a Nationwide Network of 1200+ Fingerprint Enrollment Centers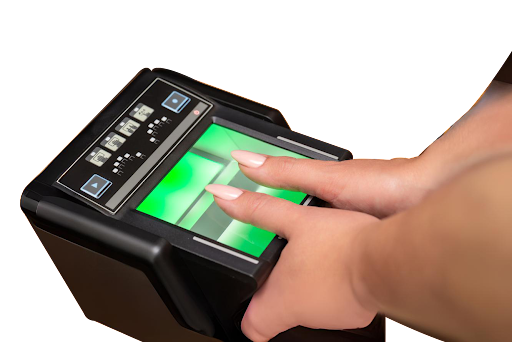 Frequently Asked Questions
How much is the Fee for a Live Scan?

The fee for a livescan fingerprinting is $49, plus a fingerprint rolling few that vary from location to location.

Who Needs a Live Scan Fingerprinting?

Live scan fingerprinting is a legal requirement for most civil and criminal applications. Therefore it's needed by most individuals, including lawyers, doctors, nurses, foster parents, caregivers, security volunteers, notaries, e.t.c.

Is Live Scan Fingerprinting Better than Ink Fingerprinting?

Yes, livescan fingerprinting is more accurate and convenient than ink fingerprinting. In livescan fingerprinting, there's no inking or under-inking. All you've to do is roll your hand on a machine, and your fingerprints are automatically taken.
View All Questions
Enjoy this article? Don't forget to share.