Who Needs LiveScan Fingerprinting [Complete Guide]
Share This Article
Live Scan fingerprinting is a process used to collect fingerprints and other biometric data. The process can be done by law enforcement agencies, government agencies, or private companies. The fingerprints are then stored in a database for future identification.
The Live Scan process is simple and easy to do. You can Get Fingerprinted at your local law enforcement office or another authorized location.
You will need to bring one form of identification, such as a driver's license or passport. The fingerprinting process does not take long, and you will receive your results in about 24 hours.
You may need Live Scan fingerprinting in several situations: when applying for specific jobs or licenses, when applying for citizenship, or when applying for particular permits or licenses.
What is Live Scan Fingerprinting?
Livescan Fingerprinting is the process of capturing fingerprints electronically using a live scan machine. This type of printing doesn't require ink or paper.
Instead, you roll your fingers across a glass plate, automatically scanning them. It is faster, cleaner, and more efficient than the old ink and paper method.
Some of the population have difficulty reading fingerprints. This is due to health concerns, age, type of work such as construction, welding, or chronic exposure to certain chemicals.
With the advent of the live scan fingerprinting machine, the quality of fingerprint images obtained has been maximized, thereby reducing the likelihood of fingerprint crimes and the stress of the overall application process.
The fingerprints are then submitted to the Department of Justice.
How Does Live Scan Fingerprinting Work?
If your employer or agency asked you to do a live scan background check, you'd need to do a live scan fingerprinting. The process is the same regardless of why you're getting a fingerprint.
First, you'll need to request a livescan fingerprinting form, which your employer or agency will provide. On this form, there are different sections, including the applicant submission, applicant information, and details of a third-party live scan fingerprint provider.
The form also contains the necessary information for the applicants, such as a privacy act statement, privacy notice, and non-criminal justice applicants' privacy rights. All this information convinces you that the law enforcement agency will handle your biographic and biometric information to protect your privacy.
You'll need to file a request for a livescan fingerprinting form and take it to the live scan service provider you've chosen.
You must know there are different requests for live scan fingerprinting forms and various livescan fingerprinting forms. Contact your employer to learn the right one you're supposed to get.
Once you've filled the form, move on to your fingerprint service provider to get your fingerprints captured.
History of Livescan Fingerprinting
The history of livescan fingerprinting dates back a few decades back. Before the advent of live scan fingerprinting technology, ink-paper methods were the only way of capturing fingerprints.
Live scan fingerprinting isn't just about setting up a livescan fingerprinting machine and collecting an individual's fingerprint. Instead, it requires an extensive infrastructure that enables you to manage the fingerprint of individuals from different locations and maintain them at a decentralized location.
This is made possible by setting up an Automated Fingerprint Identification System (AFIS), which enables sorting, exchanging, and comparing data of digital fingerprints. The AFIS is supported by superior computational power to allow it to process billions of records in a short time.
Law enforcement agencies are also responsible for maintaining the database of identities associated with biometric identifiers. For example, the FBI holds the largest database of biometric identities of citizens, and it has already started developing an Integrated Automated Fingerprint Identification System (IAFIS), which is more sophisticated than the AFIS.
Since the late 1960s, the FBI started putting significant effort into developing a computerized fingerprint recognition system. In 1961, the FBI gave the National Institute of Standards and Technology (NIST) a contract for the research on automation of fingerprints.
In 1975, the FBI pushed forward by funding the development of fingerprint sensors and minutiae extracting methods. However, since digital storage was costly back then, only the minutiae were stored while processing fingerprints. Later, NIST developed a fingerprint machine algorithm, M40, which became the first operational algorithm used by the FBI.
In 1999, the large-scaled AFIS of the FBI became operational. This makes it possible for the FBI to access fingerprints collected on any system. It also makes the integration of other systems possible.
As of today, IAFIS can accept electronic submissions of fingerprint services from AFIS.
Who Provides Livescan Fingerprinting Services?
A third-party vendor that the FBI has approved as a fingerprint service provider can capture and submit the livescan fingerprints of individuals. A fingerprint service provider must have certified FBI IAFIS livescan equipment and access to the FBI's system for digitizing fingerprints.
You can easily find a live scan fingerprint vendor anywhere in the US except in some remote regions. These fingerprint service providers are primarily located in metropolitan areas. If you can't find one close by, consider checking a Live Scan Fingerprinting location on Google.
Other service providers have a nationwide network for providing live scan fingerprinting. For example, USP provides live scan fingerprinting in all its shops nationwide.
Also, there are onsite mobile fingerprinting service providers. This service is more convenient for people with a tight schedule who can find it hard to visit a fingerprint location.
All you've to do is a book, and a professional fingerprint operator will visit your location at a chosen time with a livescan fingerprint machine to capture your fingerprints.
However, an onsite live scan fingerprinting service costs more than an in-store live fingerprinting store.
Get Fingerprinting Live Scan Service Near You With Us.
Why Should I Get it?
LiveScan fingerprinting is a process that law enforcement and other agencies use to identify an individual. It is also used for background checks for employment, security clearances, volunteer work, and more.
There are many reasons why someone might need to get fingerprinted. Some of these reasons include:▼
►Employment – The employer may require a LiveScan as part of the hiring process.
►Security Clearance – You may need to submit fingerprints for a security clearance at your place of employment or another organization you volunteer with.
►Volunteer Work – If you want to be a volunteer firefighter or work in other capacities where you may come into contact with children, you will need to submit fingerprints for a background check.
►Other Reasons – There are many other reasons why someone might have them there.
Who Needs a LiveScan Fingerprinting?
Live scan fingerprinting has become a legal requirement in most civil and criminal applications. Many individuals are required by the state and federal government to get a Livescan. They include;
State and government agencies
Religious groups
Churches
Youth organizations
Sports leagues
Gambling establishments
Vocational schools
Colleges
Security volunteers
Lawyers
Caregivers
Foster parents
Notaries
Licensed DMV professionals
Nurses
Doctors e.t.c.
The reason why some of these individuals require livescan fingerprinting are:▼
►Lawyers
They're required To Do Fingerprinting to ensure the state bar complies with Business and Professions Code Section 6054, which says state bars should receive notification of attorney arrest and conviction from the Department of Justice (DOJ).
►Health Care Workers
Since Healthcare is a matter of public concern, it is required that healthcare professionals be verified that they've not been convicted of a crime before.
►Churches and Religious Groups
Most churches require missionaries To Do Background Checks before preparing to live, work, or travel to a foreign country for missionary service.
►Gambling Establishment
Livescan Fingerprints are Required in gambling establishments to scan for criminal history. Since most establishments have certain crimes that would disqualify an applicant from working with them, background checks are often requested before admission.
►Sports Leagues
Sports leagues Require Livescan Fingerprints before accepting an individual to ensure the person has not been convicted of certain crimes before.
►Foster Parents
Individuals must get their Live Scan Fingerprint Taken before being approved to be foster parents. This is done to prevent evil individuals and criminals from becoming foster parents.
►Notaries
Before an individual is granted a commission as a public notary, they must complete a Criminal Background Check to ensure they don't have a criminal history.
Cost of Live Scan Fingerprinting
Live scan fingerprinting Service Providers charge a cost for capturing your fingerprints. However, this cost is way cheaper than buying, setting up, and collecting a license to operate your livescan fingerprinting machine.
An efficient livescan fingerprint vendor would itemize the cost depending on the application type on your livescan fingerprint form request. Check out a great Livescan fingerprint company to find a location nearest to you.
Wrap Up
Live Scan Fingerprinting has enabled us to avoid many problems associated with ink and paper fingerprinting, such as smudging, inking, and under-inking. Also, a top-notch Livescan fingerprint service eliminates human error, and inconveniencing mix-up is eliminated using a top-notch Livescan fingerprint service.
Once your fingerprints are taken, they're directly transmitted to the Department of Justice (DOJ), which will conduct a criminal background check and send the results to your employer or agency within 48 to 72 hours.

You Might Also Like:

Get your Live Scan Fingerprinting Near You
Live Scan & ink Card Fingerprinting
Schedule an Appointment Now!
We Offer a Nationwide Network of 1200+ Fingerprint Enrollment Centers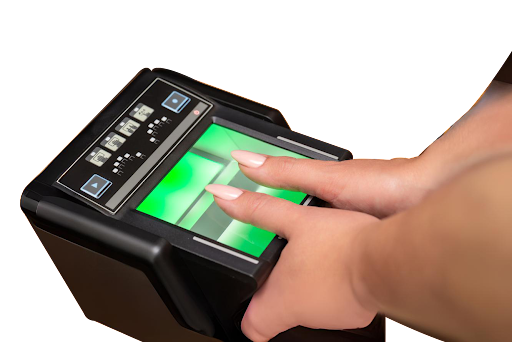 Frequently Asked Questions
What do I need to get a live scan?

The requesting agency should provide you with a "request for live scan service form". You will need to fill that out, you will also need to bring a primary form of I.D. such as a Driver's license or a CA ID

 

If I get a live scan done, can I get a copy of my fingerprints?

The only way to obtain a copy of your live scan results is to ask for a copy from your requesting agency. It is at their discretion to release that information. If you would like to obtain a copy of your personal background check, you can visit https://oag.ca.gov/fingerprints/record-review for more information about how that process works.

Where do I get the Live Scan request form?

The agency that is requesting the Live Scan must provide you with the Request For Live Scan Service form. Your requesting agency should have their information entered for you on the "contributing agency information" section of the form. Livescan locations will not have the live scan request form for you on-site.

 

Who can I contact to check the status of my live scan?

You can check the status of your live scan on the Department of Justice Applicant Status Check website: https://applicantstatus.doj.ca.gov/checkstatus which will let you know if it is still processing or if it has been completed. You will need your date of birth and ATI number. The ATI number should be located at the bottom of the live scan form you received after you did live scan.

 
View All Questions
Enjoy this article? Don't forget to share.