Why Should I Request A Mobile Live Scan?
Share This Article
Live Scan is the go to when it comes to background checks for a number of reasons. One of the reasons is that Live Scan is better than traditional fingerprint background checks is convenience.
Live Scan will come to you. If you have 3 or more people in need of Live Scan fingerprinting you can call your nearest Live Scan location and request a mobile unit to come to your business and the friendly, trained, and certified technicians will come out and do the fingerprinting on site.
Again, proving why Live Scan is the convenient, hassle free way to run fingerprint background checks for your business.
With using mobile live scan service the quality is the same as it is if you send prospective employees into one of the Live Scan physical locations too.
There is also no need to worry the results are just as fast with mobile Live Scan as well. The results will still be back within 72 hours just like if you are to send them to a Live Scan physical location.
Each Live Scan fingerprint background check takes the same amount of time regardless if you send your prospective employees to one of the numerous Live Scan physical locations or if you have a mobile Live Scan come to you.
You really can't go wrong using mobile Live Scan just as you can't go wrong using a Live Scan physical location to do a number of background checks at once.
Related Post: Who needs Live Scan fingerprinting?
Using mobile Live Scan just assures that the prospective employees all get their background checks done at the same time and their are no delays waiting for them to fill out the paperwork or setting up their own appointments at a time they can work into their schedules.
As the employer you can use the time with the prospective employees waiting for their turn to get their Live Scan fingerprinting to get to know them a little better or have them fill our any other pre employment paperwork that you may require as well.
Mobile Live Scan is also great for large group volunteer settings, schools, hospitals, and any situation where you may need a number of Live Scan fingerprint background checks to be done at once.
Please visit us at CertifixLiveScan.com to find your nearest location, or give us a call at (800) 710-1934, or email us at support@certifixlivescan.com.
Read more about: What are the Safest Ways to Complete Your Live Scan during the Covid-19 Pandemic?
Image Credit:Background vector created by pikisuperstar – www.freepik.com
Get your Live Scan Fingerprinting Near You
Live Scan & ink Card Fingerprinting
Schedule an Appointment Now!
We Offer a Nationwide Network of 1200+ Fingerprint Enrollment Centers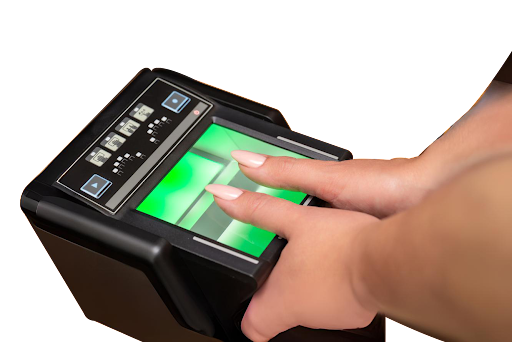 Frequently Asked Questions
Who would I speak to about setting up a mobile event?

How much is a mobile live scan?

The pricing for a mobile event depends on the number of applicants. Please see our Pricing Table

In order to get Live Scan, do I need to go to a location?

No, we also provide mobile live scan services. 

We can send our certified Mobile Operator out to your office. 

(Look at the Mobile Scheduling Guide for the rolling fees and service fees that we charge.) 

(You can also call us at 1-800-710-1934 for details.)

What do I need to get a live scan?

The requesting agency should provide you with a "request for live scan service form". You will need to fill that out, you will also need to bring a primary form of I.D. such as a Driver's license or a CA ID
View All Questions
Enjoy this article? Don't forget to share.