Live Scan Fingerprinting vs. Online Background Checks
Share This Article
Online Background checks are getting very popular but are they as secure as you think? What if the person that you were hiring happened to give questionable identification? How can you really make sure that the person standing in front of you is really who they say they are?
Online background checks and regular background checks lack one very important aspect, fingerprints! Fingerprinting is the only true form of identification, don't get fooled by the very easy to attain fake ID
Read more about: Livescan Background Check in California
Let's give you a classic scenario where an online background check would be useless:
Jane Doe committed a violent crime in New York for which she was arrested, a few years later Jane Doe is released from prison and is free to travel to the U.S.
Jane Doe is not able to find a job because no one will hire her due to her past, so what does she do? She does what thousands of other people have done in the past, and obtains fake or fraudulent identification.
Jane Doe then travels to California and responds to a Craigslist ad for a mother who is seeking a babysitter for her kids. The mother takes Jane Doe's fake ID and runs an online background check on Jane Doe. Jane Doe has nothing on her online background check report and is cleared!
The mom decides to hire Jane Doe because she feels that the online background check is sufficient! Now her kids are being taken care of by a violent criminal and she doesn't even know it. Don't let yourself be a statistic, do a Live Scan or fingerprint based background check on anyone you hire.
How to get a fingerprint based background check?
If you are in California, you can use the Record Review live scan form that is provided by the California Attorney General's office for a Personal Use background check.
If you are a large employer, you will have to apply with the DOJ to become an authorized applicant agency.
If you are in any of the other 50 states, you can do a FBI fingerprint based background check.
How can Certifix Live Scan help you?
We offer mobile fingerprinting services nationwide for groups of people. We also have a large network of Live Scan fingerprint locations nationwide, most of our locations are just minutes away from your home or work.
We provide both the DOJ Live Scan and the FBI Ink Fingerprint card service.
Read more about: 4 Things to Do Before Visiting a Livescan Location
Do you have questions or concerns about someone you have hired?
The Certifix Live Scan support team is available 24/7/365 and we'll be able to answer any questions or concerns that you may have. Our direct call-in number is (800) 710-1934 or you can send us an email at support@certifixlivescan.com


Image Credit: Background photo created by jcomp – www.freepik.com
Get your Live Scan Fingerprinting Near You
Live Scan & ink Card Fingerprinting
Schedule an Appointment Now!
We Offer a Nationwide Network of 1200+ Fingerprint Enrollment Centers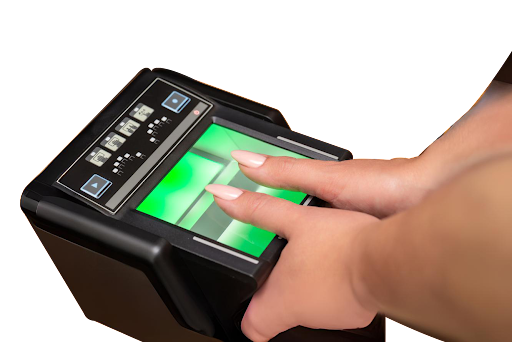 Frequently Asked Questions
Is live scan the same as fingerprinting?

Live scan is fingerprinting done electronically performed for an agency or an individual to receive a background check from the DOJ and FBI.

How does Live Scan work?

The requesting agency provides the applicant with a Request For Live Scan Service Form. 
The applicant then takes the form along with proper identification to the nearest live scan location to get fingerprinted via live scan.  
This is then sent to the DOJ, FBI or both to be processed. 
The DOJ then sends the results to the requesting agency only.

Who can I contact to check the status of my live scan?

You can check the status of your live scan on the Department of Justice Applicant Status Check website: https://applicantstatus.doj.ca.gov/checkstatus which will let you know if it is still processing or if it has been completed. You will need your date of birth and ATI number. The ATI number should be located at the bottom of the live scan form you received after you did live scan.

What do I need to get a live scan?

The requesting agency should provide you with a "request for live scan service form". You will need to fill that out, you will also need to bring a primary form of I.D. such as a Driver's license or a CA ID
View All Questions
Enjoy this article? Don't forget to share.