What Will a Background Check Show After My Expungement?
Share This Article
This is a concern for anyone with an expunged or sealed record. Background checks are a necessity for new hires, adoption, volunteering, and licensing, among other reasons. It can mean the difference between being hired or not, so knowing what your potential employer will see before they do is important.
Unfortunately, there isn't just one direct answer to this question because it varies from case to case and depends on the different laws of each state. For example, in California, an expunged record remains available in the court's records even though it was dismissed whereas, in Nevada, expunged records aren't available to the public,
but only to the Nevada Gaming Commission. For a better understanding, we've put together a guide with everything you need to know about expunged records like what it means, whether it will show up on a background check or not, and what to do if it does.
What is an expunged record?
Applying for an expungement is the process of requesting the court and law enforcement agencies to erase or seal a criminal record as to not appear in public records under dismissal pursuant Penal Code 1203.4.
The court decides whether to erase the conviction completely or to seal it from public records, where it would still exist but can only be accessed by a court order.
The applicant does NOT need to disclose any information about an expunged, dismissed, or sealed case, and an employer is not allowed to ask about it, under Penal Code 851.8, 851.91, or 851.92.
An expunged record is a fresh start and an opportunity for individuals to move on from the past and positively contribute to society. Every state has specific laws to what is considered eligible for expungement but it usually applies to misdemeanor arrests and convictions.
If your conviction was expunged, you can say no when asked about previous criminal records or arrests as the record legally doesn't exist anymore.
What are the different types of background checks?
There are two different types of common background checks, using fingerprinting (this can either be ink fingerprinting or by Live Scan fingerprinting) or using an SSN.
Employers sometimes hire third-party agencies to run background checks on their applicants using personal information like the name, birth date, and social security number.
These agencies use multiple resources for their reports like court records, public and private criminal databases.
Many background check agencies can provide you with outdated or incorrect info, so you need to be very careful when choosing the agency you want to work with.
It is best to get a background check done through law enforcement agencies directly, like the DOJ and FBI, to ensure accuracy. So don't waste your time, go to the source itself using a live scan.
Livescans are where your fingerprints are captured electronically and submitted to the DOJ or other government entities to run a background check .
A background check that uses a Social Security number may not show an expunged record but a live scan background check is more thorough and more commonly used. It shows everything on your record, even an expunged record.
Live scans are supposed to include criminal convictions within the last seven years only, except for law enforcement employment where it may be required to look deeper into one's record. You may also be required to get a Level 2 FBI check, where everything on your record will show – including an expunged record.
This is especially true if the job position requires dealing with children or the elderly. However, an employer is not allowed to ask about an arrest that did not lead to a conviction and as mentioned before, you don't need to disclose any information about an expunged record.
In California, the California Labor Code 437.2 (c) bans an employer from considering an expunged conviction during the hiring application for most jobs.
A background check cannot be done without written approval from the applicant and so your permission is always needed for an employer to run a background check on you.
How long does it take for an expungement to reflect on a Background Check?
Sometimes even after you've applied for an expungement request, the conviction can still show on your record and can negatively impact your chances of getting that job you're applying to.
When will expungement reflect that you were not convicted?
Unfortunately, there is no specific time range as to how long it takes for an expungement to reflect on your record. Sometimes it can take a few days and in other cases, it could take weeks.
We suggest waiting for two weeks before getting a background check done. You can send the order of dismissal to the DOJ to try and expedite the case, but there is no guaranteeing it will make a difference.
In some rare cases, a conviction would still appear in a background check even after the order of expungement was given and the court files were updated.
The court doesn't necessarily update public and private criminal record databases with the dismissal of the case, so they'd still have the old conviction on file before it was expunged.
You can go to the court yourself where the case was held and confirm that it was expunged. If it was, then you'll need to find out which background checking agency ran the background check and provide proof of expungement so that they'd update their database.
And finally, how to be sure what will show on your record?
Before applying for your dream job, take all of the precautions necessary to ensure nothing gets in your way of getting the job. We advise you to get a live scan done on yourself so that you know what your employer might see. With an expunged record, it is well within your rights to tell an employer that you were never convicted, so don't hold back when applying to jobs.
Please visit us at CertifixLiveScan.com to find your nearest location, or give us a call at (800) 710-1934, or email us at support@certifixlivescan.com.

Read more about: What are the Safest Ways to Complete Your Live Scan during the Covid-19 Pandemic?
Image Credit: Man photo created by karlyukav – www.freepik.com
Get your Live Scan Fingerprinting Near You
Live Scan & ink Card Fingerprinting
Schedule an Appointment Now!
We Offer a Nationwide Network of 1200+ Fingerprint Enrollment Centers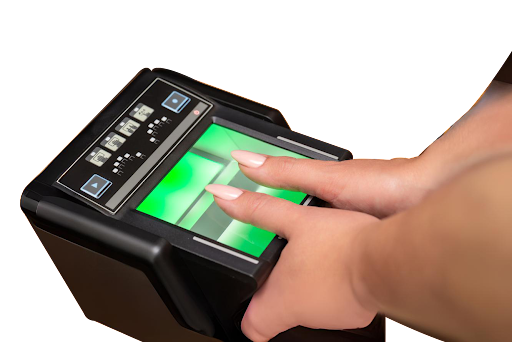 Frequently Asked Questions
Do expungements show in the Live Scan?

Expungement Law – US. Criminal "Expungement" is the process of going to court to ask a judge to seal a criminal record. When a record is sealed, it does not show up in a criminal background check. It is important to remember that a sealed record is not destroyed.

Where can I get a copy of my live scan request form if I cannot find it?

You would have to contact the location where you got your live scan done. 

They will need to see identification before they can give you the form. 

If it has been over a year since the live scan was performed they will not have it, because they are instructed to shred the forms per the Department of Justice rules and regulations.

I obtained an expungement pursuant for an offense, why is it still on my record?

Section 1203.4 does not obliterate the fact that a defendant has been "finally adjudged guilty of a crime." 

It merely frees the convicted felon from certain "penalties and disabilities" of a criminal or like nature.

Why was my live scan rejected?

A live scan can be rejected either for poor fingerprint quality or data entry errors. 

Your employer or agency can find out what the reason was by emailing appagencyquestions@doj.ca.gov. 

You or your agency may also receive a rejection letter from DOJ that states the reason for rejection.
View All Questions
Enjoy this article? Don't forget to share.