Need for Speed: Why does a Background Check Need to Be Fast and Reliable?
Share This Article
In today's competitive job market, top talent isn't easy to come by and so, having a precise and fast hiring process in place is very important. When you've gone through recruiting, interviewing, and assessments, a delay in the final stage of hiring,
running background checks, can be frustrating. This isn't only a problem for the employer but the potential employee as well. According to a survey conducted by CareerBuilder, nearly 2 in 5 employers have lost a job candidate due to a poor experience with their background check process.
A background check consists of various screenings, not just one. They are mostly a criminal background check, credit history check, employment verification, education verification, drug & alcohol test, and more. Each job requires different background checks,
depending on the job. Since there are different checks, a delay can be caused because of multiple reasons, like incorrect or missing information, nonresponsive previous employers, outdated criminal databases, or slow progress in courthouses.
Why do speed and reliability matter when running a background check?
A background check is essential when hiring a new employee, it verifies how reliable and honest this person is and reassures that they won't be a dangerous or negative addition to the work environment.
When you reach the final stage and have one or two top candidates, the background check may seem like an easy step but it can take up to weeks to finish in some cases.
Background checks matter but employers need to make sure they're not experiencing candidate fall off because of the tedious process. A bad candidate experience can risk you losing the candidate to another employer.
Nothing is stopping the candidate from accepting an offer with another company so you need to ensure the background check process is fast to avoid losing your candidate.
The background check process reflects on your business and a poorly executed strategy would result in a bad image. CareerBuilder stated that up to 34% of employers lost candidates because of background screening that took too long.
How to ensure the background check process is going as fast as possible?
Have a solid background check strategy in place. As an employer, you need to know how background checks work, how long they take, the different types of background checks, and how much they cost. You need to check the experience yourself and ensure it is quick and straightforward. There are different types of background checks with a different level of diligence, you need to analyze and understand them to define what screenings are required per job position. Having a tried-and-true strategy in place will save you time during the hiring process and will give you an idea of how long it'll take.
Make quicker, but smart decisions. If the whole hiring process lasts for over a month then you need to do something to make it faster. Since knowing for sure how long the background checks would take isn't possible, you need to ensure there isn't any wasted time during the recruiting and interviewing process. For example, it shouldn't take weeks for you to get back to an applicant with rejection or approval. This will impact the candidate experience and how candidates view your company.
Communication is key. Engaging with the candidate and updating them during the process will reassure them that you're interested. Over 50% of candidates look for other employment if the background process is taking too long. You'll need to contact the candidate anyway for info like the SSN, birthdate, or to fill out applications to avoid any delay so communicating with them throughout the process creates friendliness and trust.
Make conditional employment offers. After a long interviewing process, finding and then losing the perfect candidate is the worst. If you're afraid of losing the candidate, make them a conditional employment offer. Running a background check after sending the offer will save you money from screening multiple applicants. This way the candidate will be reassured and wouldn't look for other jobs.
Pick the right screening company. If you're going to hire a screening company to expedite the turnaround time of a background check, be sure to pick a reliable company. The cheapest option isn't necessarily the best so do your research and look for reputation before cost. Be sure to provide the company with all of their requirements early on to avoid causing lateness from your end.
Run multiple background checks simultaneously. Most candidates will require more than one type of background check. For example, a driver would probably need a criminal background check, drug & alcohol test, motor vehicle and driving record, and previous employment verification. Don't wait for one screening to finish to start the next; some of these checks can be done in a day. Speed the process by doing the checks simultaneously.
Conclusion:
Business owners and recruiters need to understand the importance of the background check process in hiring and have the required knowledge to get it done efficiently and quickly.
Rushing a background check or doing the job half-done isn't in your best interest.
But instead of keeping a candidate waiting,
follow a well-built strategy and be communicative with the candidate. But instead of keeping a candidate waiting, follow a well-built strategy and be communicative with the candidate.
Please visit us at CertifixLiveScan.com to find your nearest location, or give us a call at (800) 710-1934, or email us at support@certifixlivescan.com.
Read more about: What are the Safest Ways to Complete Your Live Scan during the Covid-19 Pandemic?
Image Credit: Car vector created by macrovector – www.freepik.com
Get your Live Scan Fingerprinting Near You
Live Scan & ink Card Fingerprinting
Schedule an Appointment Now!
We Offer a Nationwide Network of 1200+ Fingerprint Enrollment Centers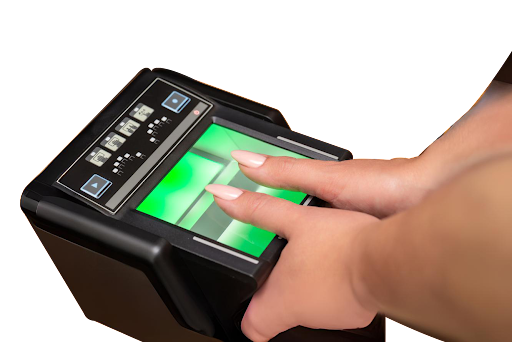 Frequently Asked Questions
How far back does a live scan background check go?

The live scan results will contain your entire criminal history. 

This will not include expungements.

Who can I contact to check the status of my live scan?

You can check the status of your live scan on the Department of Justice Applicant Status Check website: https://applicantstatus.doj.ca.gov/checkstatus which will let you know if it is still processing or if it has been completed. You will need your date of birth and ATI number. The ATI number should be located at the bottom of the live scan form you received after you did live scan.

What if the agency didn't get the FBI results or background check?

1. Ask if they submit a California live scan. 

2. If yes, they have to contact the Department of Justice. 

3. They can check on the status on the DOJ Hotline (916) 227-4557 and their applicant agency can send an email to "appagencyquestions@doj.ca.gov" for more information. They should not include any personal information such as date of birth or social security number.  They need to include the ORI #, ATI # and the first and last name. 

4. There isn't a separate email contact for the FBI for these transactions.

How can I find my criminal background for personal use?

You can print out a Record Review Live Scan Form, take it to the nearest live scan location and the results would be sent to your address. 

DOJ fee is $25, plus rolling fee at location. 

This can be used if you need to visit someone in prison. Read More
View All Questions
Enjoy this article? Don't forget to share.