Fingerprinting Requirement When Applying for US Citizenship and Naturalization
Share This Article
Part of applying for US citizenship is going through a criminal background check. The U.S Citizenship and Immigration Service (USCIS) requires every foreign national to submit their fingerprint, which will be forwarded to the FBI and other government departments to check records of matching fingerprints. The FBI uses its National Name Check Program to search for the applicant's name in law enforcement agencies' ledgers.
A foreign national has to pass this stage before proceeding to a naturalization interview. This guide will discuss all you need to know about fingerprinting requirements when applying for US citizenship and naturalization.
U.S CitizensOverview
How to Get US Citizenship
Naturalization is the process through which an immigrant or citizen of another country voluntarily becomes a U.S citizen. Only immigrants with green cards for at least three years or th
Meet eligibility requirements, some of which are to be at least 18 years old, be able to read, write and speak English and be of good moral conduct.
Pass through the 10-step naturalization process, which includes:
Determine your eligibility to become a U.S citizen.
Complete the form N-400, and create a free account to submit the account online.
Take the naturalization test and go through a personal interview.
Time Frame
The naturalization wait time from when an immigrant applies for citizenship to when they'll attend their Oath of Allegiance ceremony is between 18 to 24 months.

However, this can be shorter or longer depending on where the applicant resides.
Here's a breakdown of the time each step of naturalization takes:

Step 1: Processing Form N-400: An average of 14½ months.
Step 2: Getting your biometrics taken: 0 months average.
Step 3: Attending your citizenship interview and test: An average of 4 months.
Step 4: Receiving a decision on your application: Between 0-4 months.
Step 5: Taking the Oath of Allegiance and getting your certificate of Naturalization: 0 to 1.5 months.
Total time took: Between 18 to 24 months.
Cost
As of the time of compiling this guide, the current government filing fee for naturalization is $725, which includes $640 for processing and $85 for biometrics.

However, military applicants don't have to pay the application filing and biometrics fees. Also, applicants aged 75 years and older are exempted from paying the biometrics fees.
Refer to the following for more information on How to Apply for FBI Criminal Background Check?

Immigrating to America: The Naturalization Process
If, after acquiring a permanent resident card for five years, an immigrant wants to become a legal citizen of the United States, they'll have to go through the naturalization process.
As explained above, naturalization is a ten-step process that takes 18 to 24 months to complete. One of the steps of naturalization is going through a criminal background check by submitting your biometrics.
USCIS Biometrics Appointment – Everything You Must Know in 2022
Are you waiting for a USCIS Biometrics appointment? Don't fret; it's pretty easy to do.

This guide will discuss all you need to know about USCIS biometrics and what to expect during your appointment.
What Types of USCIS Applications Require a Biometrics Appointment?
A USCIS biometric appointment is usually required for applicants that have filed an immigrant benefit application. The most common applications are green card permits, naturalization, and work permits.
However, other USCIS applications require applicants to submit their biometric data. They include:

►Form I-821, Application for Temporary Protected Status
►Form I-751, Application to Remove Conditions on Residence
►Form I-485, Application to Adjust residence status or register for permanent residence
►Form I-90, Application for replacement of Green Card
►Form N-400, Application for Naturalization.
However, there are a few circumstances whereby USCIS will outlaw the requirement of applicants' biometrics.
When applicants submit their biometric data to the USCIS, they have the right to use it to conduct a thorough criminal background check with the FBI and for other purposes allowed by law.
Is the USCIS Biometrics Appointment an Interview?
Biometrics is much more than your fingerprints taken. While many think it's an interview, it's not.
A biometrics appointment allows the USCIS to verify an applicant's identity to confirm they are who they say they are.
To confirm their identity, applicants are required to perform these actions during their appointment:

►Provide a copy of the appointment notice
►Provide a photo ID which can be a passport or driver's licensee
►Provide a Digital scan of fingerprints
►Provide passport photograph and their electronic signature
No specific questions would be asked during the USCIS biometrics appointment.

While there's no need to worry much, applicants are expected to be as ready as possible.
What is the Appointment Notice (Form I-797C)
If USCIS requires the biometric data of an applicant, they'll send an original biometric appointment notice via the email they use for the application.
This biometric appointment notice is known as Form I-797C. If an applicant has a legal representative on their application, this form will also be sent to the legal representative.
It's recommended that applicant update their mailing address with USCIS if they move during their application. To receive notice from USCIS on time.
Also, applicants should ensure that they keep this form safe as they'll have to provide it during their appointment.
Important COVID-19 update
Due to the ongoing COVID-19 pandemic, Form I-797C includes an Applicant's Information Worksheet (AIW), which has to be reviewed and filled out before the appointment.
How long does it take for USCIS to send a biometrics appointment notice?
Many applicants ask how long it takes USCIS to send a biometrics appointment notice.
Unfortunately, there isn't a general answer to this. It depends on your type of application and the USCIS center where you applied.
Also, with the COVID-19 pandemic, the processing time at most USCIS centers has increased.
It will take 4 to 12 weeks for applicants to receive their biometric appointment notice after applying with the USCIS. But as said earlier, the waiting time varies depending on your application and the center you used to.
What does the Biometric Notice Code mean?
USCIS places a biometric code at the top right-hand corner of the ASC appointment notice to tell an applicant the needed data. The code shows either 1,2 or 3. And each number stands for a specific type of data.
♦Code 1
This indicates the USCIS needs the ten fingerprints of an applicant. This will automatically be sent to the FBI for investigation.

The FBI will check the database to see if the prints match with that of any criminal or individuals of interest, then send the results to USCIS.
Code one is a very crucial part of a background check and determines whether a person will get a green card or not.

♦Code 2
This indicates that the USCIS will take your photo, signature, and index fingerprint. It is mainly used for cards of immigration benefits such as green cards and Employment Authorization Document (EAD).
♦ Code 3
USCIS will need your photo, signature, ten fingerprints, and index fingerprint here. An applicant receives this code when USCIS wants to perform a background check and generate an EAD or green card for them.
What if you did not receive your Biometrics Notice?
If applicants don't receive their biometric notice after some weeks of application, they should call the USCIS help center via 800-375-5283.
Where is My Biometrics Appointment Held?
On the appointment notice sent by USCIS, the date, time, and location of the USCIS Application Support Center (ASC) where an applicant will have their biometric appointment will be added.
For US residents, they'll have their biometrics taken at the ASC that serves the address they added on their application form.
Applicants can also check the USCIS office locator tool to find the nearest ASC to their location.
However, if the applicant is not residing in the US, they'll have their biometric data taken at the US embassy to process their immigration application.
How to Reschedule Your Appointment
USCIS allows applicants to reschedule their appointment if they have a good reason. A good reason that USCIS accepts is health-related issues. If an applicant falls sick and thinks they can't make it on their appointment day, they can reschedule it.
Applicants can contact USCIS at 800-375-5283 to reschedule their appointment to a date and time that fits them.
However, if an applicant wishes to reschedule their appointment, they should do so before the USCIS scheduled day of their work.
Documents to Bring to your Biometrics Appointment
When going for their biometric appointment, an applicant is supposed to go with their:

►The ASC Appointment Notice (Form I-797C)
If applicants have received numerous ASC notices, they should bring them all.

►Valid Photo identification
An applicant is also expected to bring a valid photo ID issued by the government, such as a passport or a driver's license.
If the name on the photo ID is different from the one on the ASC application form, an applicant should bring original documents to certify all that belongs to him.

►Green Card
If an applicant is applying for naturalization or replacement of a permanent resident card, they are to bring their green card with them.
What to Expect During Your Biometrics Appointment in 2022
An applicant is expected to check office closures and the USCIS website to see if there's any updated information about biometrics appointments.
Also, they should arrive at their appointment center no earlier than 15 minutes before their scheduled time, as stated on their Form I-797C.
Once an applicant arrives at the ASC, they'll see a notice on the door saying that the use of electronic devices is banned. It's recommended that applicants leave their cell phone at home; if they've to bring it, it should be shut down.
Due to the COVID-19 pandemic, some ASC centers require applicants to wear a face covering. So, it's also recommended for applicants to bring masks to their appointment facility to avoid being denied entry.
Upon entering the facility, a receptionist will check an applicant's ASC appointment notice and photo identification. When the receptionist confirms an applicant's identity, they'll be given a ticket and processing numbers.

Afterward, they'll wait for the biometric officer to call their ticket number.
If an applicant is lucky, there are few people on that; they'll be able to finish early. Otherwise, they'll have to follow a long queue.
What happens when you get your fingerprints and photographs taken?
When the biometric officer calls the ticket number of an applicant, they'll proceed to the officer's booth, where the biometric officer will review their documents, processing form, and a ticket number.
If you're a code 2 or code 3 on your ASC, an applicant will be asked to sit on a chair where your photo will be taken.
After that, they'll be asked to scan their fingerprints. The number of fingers to be checked depends on their ASC code. If it's code 1 or 3, all fingers will be reviewed, while if it's code 2, only left and right index fingers will be scanned.
Also, if an applicant has code 2 or code 3, they'll be asked to provide an electronic signature after their fingerprints are taken.
►Once Fingerprinting is Completed
Once an applicant's fingerprinting is collected, they're done with the biometric collection process. Then they'll go to the next step.
►What happens after my biometrics are collected?
After collecting an applicant's biometric data, the biometric officer will stamp their Form I-797C, indicating that they've completed their biometrics.
The stamped Form I-797C and the photo ID will then be returned to the applicant. These should be kept safe as they will prove that an applicant has done their biometrics if USCIS lost their documents.
Further Reading about Where to Get Your Fingerprints Taken in Your Area for Different Purposes

How long does the scheduled appointment last?
A USCIS biometric appointment usually takes between 20 to 30 minutes. However, this depends on the number of people an applicant meets, the available biometric officers, and how fast they're.
As an applicant, ensure you're in the ASC facility on time.
What Happens after my Scheduled Appointment?
After USCIS collects the Biometric information of an applicant, they'll digitally send it to the FBI to perform a criminal background check on the individual.

The result of this check is what will determine whether an individual's immigration-related application will be approved or canceled.
It may take weeks or even months before an applicant will hear from USCIS again. However, applicants can always check the USCIS website to see the status of their application.

Final Thoughts
Every applicant for U.S naturalization must undergo biometrics irrespective of age. Also, USCIS will ask an applicant to undergo fingerprinting in the support center nearest to their area.

Taking biometrics will ensure that a person doesn't have a criminal history before being accepted as a legal citizen of the United States.
You Might Also Like:
Get your Live Scan Fingerprinting Near You
Live Scan & ink Card Fingerprinting
Schedule an Appointment Now!
We Offer a Nationwide Network of 1200+ Fingerprint Enrollment Centers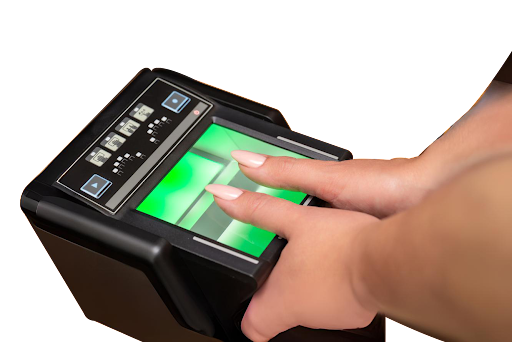 Frequently Asked Questions
Why does the US Citizenship and Immigration Services require applicants to provide fingerprints?

Fingerprints are used for identifying individuals. They are also used to determine whether an individual has a criminal history. Fingerprints are also used to verify that a person is who they say they are when applying for a visa or citizenship.

It is essential to provide fingerprints because it helps with the identification process and can help detect if someone has been convicted of a crime in the past.

What are the benefits of using fingerprinting for immigration?

The process of fingerprinting is often used as a way to identify people. This process is done through the use of scanners that are connected to computers. The scanner will take an image of the person's fingerprints and then match it with a reference database to find out who the person is.

The benefits of using fingerprinting for immigration are that it can be used to identify people for both legal and illegal purposes. It can also track down criminals who have committed crimes in other countries but left their fingerprints behind on items they touched or handled during the crime.

Do all US citizens have to submit fingerprints when applying for citizenship?

Generally, all US citizens must submit fingerprints when applying for citizenship. However, there are some exceptions. For example, those with a criminal record or those born outside the country have only been in the US for a few years.

The United States Citizenship and Immigration Services (USCIS) has a list of exceptions to this rule. They also offer fingerprinting services in specific locations around the nation.

What is the process for fingerprinting for US citizenship?

To fingerprint for US citizenship, you must be a lawful permanent resident and have a valid Green Card.

You will need to fill out Form DS-260 and answer all of the questions on the form.

The cost to fingerprint is $50, but other fees are associated with the application process.

If you are convicted of a felony or specific crimes, you may not be eligible to apply for citizenship.

You will also need to have your fingerprints taken at an Application Support Center (ASC) in person.

For more information about how to fingerprint for US citizenship, please visit USCIS's website at https://www.uscis.gov/fingerprint-services
View All Questions
Enjoy this article? Don't forget to share.